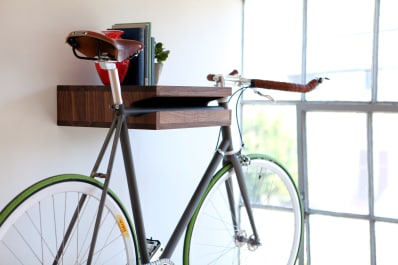 (Image credit: Courtesy of Knife & Saw)
If you live in a city, opting out of traffic jams and overcrowded trains for life in the bike lane is seriously tempting. More and more U.S. cities are building bike lanes and actively trying to grow a more bike-friendly culture, prompting commuters to view their bikes as necessities rather than luxuries. This trend, while positive, comes with a catch-22: bikes are incredibly practical in cities, but city dwellers are lacking in space to store bikes. To help solve this problem, we've rounded up our favorite indoor bike storage solutions, from shelves to hooks and everything in between.
How This Works
Every week we research new product categories and bring our final picks into the office, where we haggle and decide which ones make the final list. Everything is based on quality, appearance and price. These are what we could choose for our own home.
---
Maxwell's Top Pick
I'm a big biker and store my bike inside my front door. It was therefore a total luxury to get to test my top picks in bike racks this week. Here at the office I had help installing the final four, and really started to see the pros and cons of each one. Bottom line: it all depends on the shape of your available space. If you have no space—go to the ceiling with the lift. If you have only an upright wedge of space—go vertical with one of the two bike hooks below.
BUT, if you have at least one good clean wall which can take your bike sideways using The Bike Shelf is, far and away, the nicest and easiest solution. From a design perspective, The Bike Shelf gives you a yummy warm material—solid walnut—which is easy to get your bike into and provides a nice hall table. From a storage perspective, having your bike flush to the wall where you can still see it nicely, is the wisest use of space. Plus, this approach doesn't give your home as much of a storage locker feeling as some of the other options.
---
Our Best Bike Storage Posts:
---
LOW
Simple and reliable, the Leonardo is a favorite among the bike crowd. The top wheel hooks onto the handle, and a second piece is included to keep the bottom wheel from scuffing up your wall. It's nothing fancy, but it's highly effective — and at a great price.
---
The least invasive bike storage solution, these hooks are seriously heavy duty and perfect for hanging your bike from the ceiling or the wall — your choice. Each hook is made of steel and finished with a non-slip grip that protects your bike from marks. And again, the price can't be beat.
---
Touted as the "world's smallest bike rack," the CLUG mounts to any surface and is available in three sizes to accommodate most bikes. What you see is what you get here — this little clip is the only piece, and it latches onto one of the wheels, no other hardware necessary.
---
This pulley system solution may look complicated, but it's actually quite easy to assemble and use. All it involves is attaching the hooks onto opposite ends of the bike and pulling the ropes, and in no time at all your bike is hanging from the ceiling. It might not be as convenient as other options, but it works well if you truly have no floor or wall space to spare (and want to have some fun).
---
MEDIUM
For a classier storage solution, check out this wood shelf from CB2, a less expensive version of the Original from Knife & Saw. The bike's crossbar fits perfectly in the shelf's nook, with room to hold smaller objects inside (like keys or a water bottle). If you don't have much in the way of an entry, then this little shelf could add just the warm welcome and convenience you're looking for.
---
From the experts at Cycloc, this pick is similar to the Leonardo — with a bit more style. Front and rear wheel sections let you hang up your bike without worrying about dirtying up your wall, and the hinge conveniently accommodates a bike lock. If pink isn't your jam, there are six other colors to choose from.
---
Another option from Cycloc, the Solo mounts your bike to the wall in a way that keeps the wheels off and the walls clean. It works by locking the crossbar in place, with space in the center for bike accessories, and comes in six colors.
---
HIGH
If you really want to store your bike in style, take a cue from Europe. Berlin-based bike company Mikili designed this highly functional shelf, which folds up and away when not in use. Understated and actually very attractive (as bike racks go), this option is a no-brainer for the design-obsessed.
---
If you have room to spare outside but are desperate to get some indoor breathing room, check out this bike capsule from Alpen, which protects your bike better than anything else on the market. It's really more of a personal bike garage, acting as shelter from the weather and potential thieves, just as you would store a car. It's not on the market yet, but Alpen has just started taking pre-orders on their site.
---
The designers at Italian company Vadolibero decided to take bike storage a step further and created a true bike shrine. The DOMUS can be designed exactly as you like, but every style comes with a clothes rack (shaped like a handlebar) that doubles as an LED lamp, so your bike can get the glamorous lighting it deserves. Other features to add include lower compartments with drawers, side units and extra partitions, depending on your bike's needs.
---
Tips for Storing Your Bike Indoors
Look up. You might be lacking wall space, but have you considered ceiling space? If you're lucky enough to have high ceilings, then a pulley system or heavy duty hooks might be your solution.
Protect your walls. Some wall-mounted storage options require the wheels to touch the wall, which could easily create a scuffing mess. Look for ones that have pieces for both wheels — your walls will thank you.
Think of your bike as decor. Sometimes a change in perspective is all you need. Using wall space to store your bike might seem annoying or unattractive at first, but it can actually contribute to your home's aesthetic — especially if it becomes part of the decor, like with bike shelves.
---
Other Good Resources:
Apartment Therapy supports our readers with carefully chosen product recommendations to improve life at home. You support us through our independently chosen links, many of which earn us a commission.