This Is the One Book You Should Read in November
We
independently
select these products—if you buy from one of our links, we may earn a commission. All prices were accurate at the time of publishing.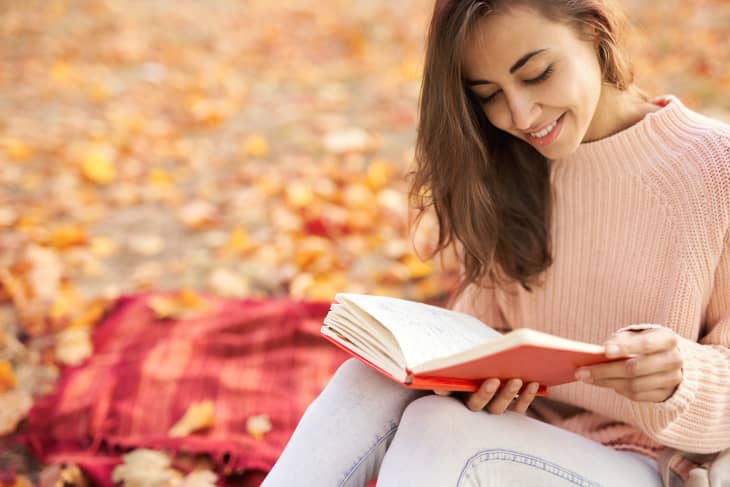 November is Native American Heritage Month, and this striking release tells the family stories of the Tongkeamhas, members of the Kiowa tribe and part of the Saddle Mountain community found in southwestern Oklahoma.

Henrietta Apayyat (1912–93) began writing her memoirs in 1968. Along with the accounts of her son, Raymond, "Stories from Saddle Mountain" is their experiences of growing up in 20th century Kiowa life — sharing the rich culture and history not often spotlighted. 
Here are some other great reading options this month:
Set between Tamil Nadu, India, and NYC, "Blue-Skinned Gods" is the story of Kalki, a young boy born with blue skin and raised as the tenth incarnation of the Hindu god Vishnu by his strict father. The novel follows his adolescence and early adulthood, giving a reader a view into Kalki's life: trying to navigate growing fame, familial strife, first love, and heartbreak, as his faith in himself is challenged.

Kalki's journey comes to a head when his father takes him on a long-planned world tour. Then, in New York City, Kalki's life is turned irrevocably upside down when he joins a queer alt band, the Blue-Skinned Gods (book title alert!), and he takes a leap of faith into new realms of identity, sexuality, and faith. Enthralling and heartwrenching, "Blue-Skinned Gods" takes hold of you and doesn't let go. 
In this remarkable genre-bending novel, a young Black woman named Lou wakes up in 1930s Los Angeles and has no idea how she got there or where she came from. However, that doesn't stop Lou from living the best life possible, and she becomes the first Black female journalist at the Los Angeles Times. But then Lou meets a firefighter who just seems so familiar, causing her life to veer in a whole new direction.
The start of Jung Yun's sophomore novel "O Beautiful" almost feels like a thriller, opening with forty-something former model Elinor Hanson sitting next to a shady man on a plane. Elinor is traveling from NYC to North Dakota for an assignment in hopes of reinventing herself as a freelance writer. This small North Dakota town also happens to be where she grew up as the daughter of a Korean mother and Caucasian father.

After falling asleep on the plane, Elinor can't shake the feeling that something is wrong, that the man did something to her. This moment sets the scene for the rest of the book, one of insiders and outsiders, race, class, gender, and the unrefined male gaze. However, those themes only begin to scratch the surface of "O Beautiful." This exquisite book is one to take your time with to absorb its complexity fully.