10 of the Best (and Most Realistic) Budgeting Tips We Heard This Year
We independently select these products—if you buy from one of our links, we may earn a commission. All prices were accurate at the time of publishing.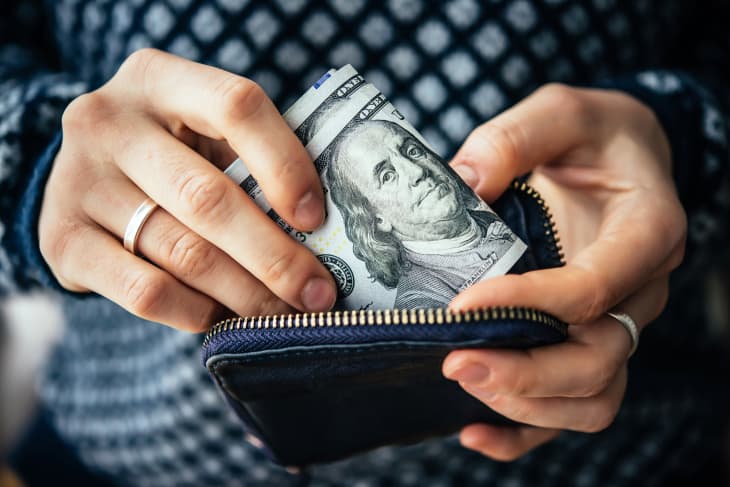 It's nearly the end of 2022 — time to reflect on everything you learned over the previous 12 months and set goals and intentions for 2023. Even if you aren't a fan of making big plans on Jan. 1 and sticking to them, it's never a bad idea to take stock of where you're at as one year closes and the new one begins, especially when it comes to your finances.
Follow Topics for more like this
Follow for more stories like this
If you're looking to spend less and save more, reframe your relationship with money, or just get on more solid financial ground, these are some of the best budgeting tips we heard this year to get you started on your money journey, straight from the pros who informed some of our most-read financial stories. 
1. Start a side hustle, but don't go too hard.
Picking up a side hustle is a common financial tip, but it's easy to burn out when you're spreading yourself too thin. Courtney Campbell was able to save $10,000 by making some changes to her spending and by picking up extra work as a freelance writer. Instead of loading her plate with deadlines, she learned to say no when an opportunity wasn't the right fit or at the right time in order to maintain a healthy work-life balance. If you're considering turning a hobby into a money-making opportunity or hopping behind the wheel of a Lyft, remember to save some free time for yourself, too.
One thing experts say you should always do with your savings is pay yourself first — and setting up automated withdrawals from your checking to your savings is a super easy, set-it-and-forget it way to keep that balance growing. Even $10 a month counts! 
3. Look at your credit report.
Your credit report shouldn't be scary. If you want to improve your credit score, starting at the source is essential. You can pull a free report once per year to see what's helping your credit (on-time payments, responsible credit use) and what's hurting (big balances, late payments). Experts recommend doing this as part of your financial health routine to know exactly what's going on with your credit and get to work fixing anything that needs a boost.
4. Consider investing in real estate via REIT shares.
If the metaverse or crypto aren't your thing, you can still invest in real estate if you'd like to via real estate investment trusts (REITs), companies that own real estate across industries like hotels, healthcare, and office spaces. It can be a more stable option for your investment portfolio, and you should hang on to them for at least five years.
5. Try the TEN-TEN-TEN tool when shopping.
Trying to buy less stuff? It can be hard to identify your shopping triggers or say no to a great deal, but wealth advisor Matthew Grishman's TEN-TEN-TEN tool can help. The first "TEN" is waiting 10 minutes to buy something. Just set it down or close the browser window and walk away. Still want it after 10 minutes? Move on to the next "TEN": How will you feel about this purchase in 10 weeks? Will you be wearing it or using it frequently? If so, move on to the final "TEN." Ten years from now, will you be using this item or thinking of it fondly, or will it be a regret? That can help inform your purchase and give you time to move past any impulses.
6. If you're a freelancer, take advantage of tax deductions.
Self-employed people or small business owners need all the tax deductions they can get. If you work for yourself, take advantage of things like creative programs, business meals, and so much more — just remember to save the receipts or store them in an app for tax time. This helpful list is a great reminder of all the things you can write off when you're self-employed.
7. Reconsider refinancing your mortgage.
Rising interest rates may have this home finance trend on the way out. Closing costs may make the savings practically negligible. 
8. Don't close paid-off credit cards.
It sounds like the opposite of what you should do, but keeping paid-off cards open is actually good for your credit. Credit history is part of your credit score, and keeping that card open shows long-term, responsible use. Consider putting a small recurring payment on the card, like your streaming services, and paying it off each month.
9. Join your neighborhood Buy Nothing group.
Take it from me: These groups are a fantastic way to get rid of things you aren't using, like kitchen gadgets, too-small shoes, or baby items, and to score things you'd otherwise have to pay for. If you're looking to spend less, joining the Buy Nothing group in your area can help you stick to your goals while still accessing things you need for the low price of $0. It's also a great way to meet your neighbors! 
10. Remember that enjoying your life doesn't have to mean spending major cash.
Despite what TIkTok and Instagram influencers may tell you, getting the most out of life doesn't have to involve running up your credit card bill. When writer Bahar Anooshahr left a job as an oral and maxillofacial surgeon in favor of a writing career, she had to make some lifestyle changes. But she ultimately found that you can still have so much fun on a budget, including taking advantage of museums' free days, using the library, and taking community classes to learn something new, meet people, and have fresh experiences.