7 Cleaning Hacks We Couldn't Get Enough of in 2021
We independently select these products—if you buy from one of our links, we may earn a commission. All prices were accurate at the time of publishing.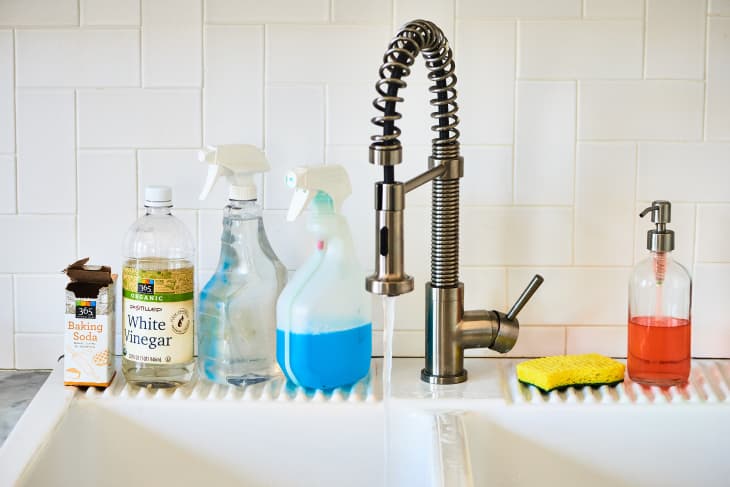 Apartment Therapy's editors see a lot of great ideas, brilliant tips, and inspiring photos throughout the year. But which of these are the most memorable after a jam-packed 12 months? Every day this week, we're sharing the best hacks, advice, homes, and more that we saw and heard in 2021. Check out all of our picks here!
It can sometimes feel like the entire internet is one big reminder that you've been doing things the more complicated way all your life without realizing it. One minute, you're spending hours scrubbing away cloudy stains on glassware, the next you're learning that you could have just thrown them in a water-vinegar mixture and they'd come out like new.
Follow Topics for more like this
Follow for more stories like this
It often seems like cleaning hacks, productivity hacks, and life hacks in general are everywhere. It's hard to go online without being tempted to click an article about The One Trick That You Didn't Know About, But Only Takes 30 Seconds and Will Change Your Entire Life and Make Your Dreams Come True. You know the one. Often, these types of service-based articles really are chock-full of helpful tips, but it's still easy to be skeptical or to feel overwhelmed by the sheer amount of life hacks you don't know, but apparently should.
What's easier is hearing straight from real people about the hacks they've tried and tested and fully believe in now. Knowing that someone really did try out the water and vinegar hack and ended with their glassware shining like new, or that someone's been successfully using a certain Magic Eraser cleaning trick for years is just a little more believable than something less personal. That's why we've compiled seven of the best cleaning hacks our editors uncovered in 2021.
Using Vinegar to Clean the Shower Head
"I did the old 'fill a bag with white vinegar and tie it to your shower head overnight' trick. It was both extremely easy and incredibly satisfying. I don't want to talk about how much junk it cleared from my shower head, so you don't think I'm an animal, but let's just say I feel so much better showering now than I did before." — Terri Pous, managing editor
This Fruit Fly-Exterminating Trick
"I consider this cleaning… cleaning my house of pesky fruit flies, that is. I've been getting a LOT of fruit flies lately, so I used the old trick of putting some wine in a glass, covering it with plastic wrap, and poking a bunch of holes in it. Works like a charm" — Nicoletta Richardson, entertainment editor
Finally Cleaning the Oven Gap Area
"I'm a sucker for cleaning how-tos about things I'm probably forgetting to clean. The oven gap — that little sliver between the oven and the counter — is one of those things. When I learned the butter-knife-wrapped-in-a-washcloth trick this fall, it practically blew my mind. My oven gap is gross no longer." — Maddie Bilis, real estate editor
Changing the Clean House Mindset
"I can get a little… fixated on my cleaning habits, so the tip to reframe how I think about cleaning in the first place was my favorite timesaver. Of course it's okay if my apartment isn't picture-perfect at all times, or if there's cat hair more places than not. Dropping everything to clean isn't sustainable, and this article led me to a lot of soul-searching as far as cleaning goes." — Ella Cerón, lifestyle editor
Learning How to Wash the Dishwasher
A Zero-Effort Way to Steam Clothing
"I still use the old 'hot shower to steam clothes' trick from time to time. I'll hang a dress on the over-the-door towel rack I have and then shower… so it's wrinkle-free once I'm done!" — Danielle Blundell, home director
Finally Cleaning the Everyday Item That's Never Been Cleaned
"It sounds dumb, but I had just never thought to wash my tote bags before? I would just use them for groceries until they got too gross, and then they got demoted to more utilitarian uses like in the laundry room or garage. But of course you can just put them in the washing machine? I feel 100 times healthier now that my collection of totes is being cleaned regularly." —Adrienne Breaux