One Thing That Agents Wish They Could Tell Their Buyers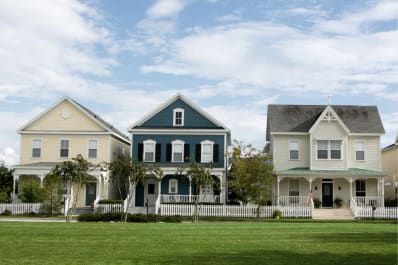 (Image credit: PattieS/Getty Images)
Have you ever wondered what your real estate agent is thinking — like really thinking? Well, now's your chance to find out.
Agents have to stay pretty neutral with their buyers — there are legal protections governing some of what agents can and cannot say in order to ensure buyers are making their own decisions. But we reached out to a few real-life agents to learn the truth: What's the one thing you wish you could tell your clients?
Here's what they had to say:
Don't be afraid of a little dust
"If you find a structurally-sound house that's otherwise a good fit for you, try and look past cosmetic flaws. It can be hard to imagine, but you can add a lot of value — especially if you do some of the work yourself — by taking down things such as ugly wallpaper and ripping out carpeting. Replacing old appliances and applying a few fresh coats of paint may take some time, but it's often worth it in the long run.
"On the other hand, factors like location, size, and commute to work can't be changed as easily. To alter these, you'd have to consider making a move. These are the things that should be your deal-breakers."— Usha Subramaniam, of Houlihan Lawrence in Chappaqua, New York
Do a 360 before you buy
"Many buyers rely on their agent for information about the property and neighborhood, which is a wise choice. However, you should do some of your own research since agents legally can't offer their opinion on quality of life. Getting to know the neighborhood on Google Maps can be a great first step. Look for names of businesses and amenities in the area to give you an idea of the style of the community and to see if it's a good fit for you.

"Talking to the neighbors is also advisable. Be open about your upcoming purchase with friends and colleagues and gather their opinions or insights. Getting as much information about the area, as well as the property, will help ensure that your new home will be the right one for you." — Karolina Craig, CLV Group in Ottawa, Ontario
You need your own representation
"Too many buyers think that they can save on fees by just working directly with the listing agent. Unfortunately, this puts them at risk to be taken advantage of. A listing agent legally has to negotiate in the seller's best interest. Whatever these buyers tell the agent can (and will be) shared with the sellers.
"By choosing to be represented by a buyer's agent, buyers can ensure that they have someone negotiating on THEIR behalf and looking the get the best deal for them." — Eric D. Rosen, Halstead Property LLC, New York, NY
Your first home probably won't be your dream home
"And, that's okay! Often times I work with clients who have a certain budget but their search criteria is that of another price range. For example, I had a client that was pre-approved for $300,000 and they wanted an updated kitchen, master suite with walk-closet, fenced in backyard, and a three-car garage. Those properties just don't exist in that price range.
"It's okay to compromise to meet your budget, especially as a first-time buyer. Keep in mind you will probably only live in your first home for 3-5 years. It might not meet every one of your requirements from the start, but that doesn't mean you can't make it yours along the way." — Alex Hubler, Keller Williams Premier Realty Lake Minnetonka in Wayzata, Minnesota
When you see a home you love, don't wait
"I totally understand the hesitation to pull the trigger on something right away. But, too often, I see people that have waited years and years to find a home that's exactly what they want, that's in the location they want, and in their price range.
"Too many times people pass up on a home that was perfect for them because it was early on in their search. What ends up happening most of the time is they end up settling for something that wasn't as great as the 'one that got away.'
"If you're one of those lucky few that find a home that meets your criteria early on, count your lucky stars and go for it!" — Vittorio Faricelli, Citi Habitats in Brooklyn, NY