This $65 Folding Desk Will Upgrade Your WFH Setup for Good
We independently select these products—if you buy from one of our links, we may earn a commission. All prices were accurate at the time of publishing.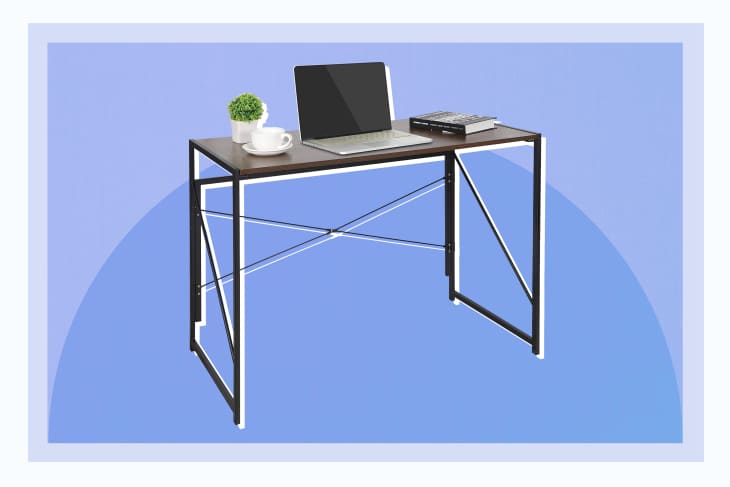 If you're working from home but still haven't taken the time to create a dedicated home office space… I totally get it. I pass zero judgement on anyone who's currently balancing their latte and laptop on a sofa arm for eight hours a day. That's mostly because I did it myself for a number of months while working from home in a teeny-tiny apartment that definitely had no room for a dedicated office space.
That said, I've grown a bit wiser and now realize there are lots of solutions to make working from home a little more bearable and a lot more comfortable, even if you're working in a tiny space. This $65 folding desk is the perfect example. Thanks to its generous surface area, it's a definite step up from a tray table (or a sofa arm), and you can still fold it away at the end of the day when it's time to disconnect from work and take some time to relax.
The best thing about the Zenstyle Folding Desk (besides its seriously spacious surface area) is that, when folded, it's slim enough to tuck behind your sofa or under your bed. For studio dwellers or anyone whose living space is doubling as a WFH space these days, that's a really big deal. It also arrives pretty much fully assembled, so all you have to do is unfold the frame, tighten a few screws, and place the desktop on top. And, according to reviewers, the Zenstyle Folding desk has been a WFH lifesaver.
"I live in a small studio apartment and this desk is PERFECT. I love being able to fold it down and hide it when I'm not using it," says one reviewer. "It's super easy to assemble, I was able to put it together in under 15 minutes (did it all by myself – am very proud about this lol). Holds a pretty decent amount of weight too. I can put 2 large monitors + a laptop + my cats and it still holds up great! Can't recommend this item enough."
So if you're looking for a sturdy folding desk to upgrade your WFH setup (and possibly a new favorite perch for your cats), this desk is an affordable solution.