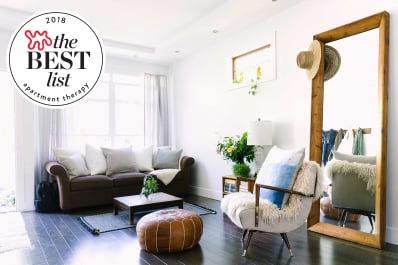 (Image credit: Sophia Hsin/Stocksy)
A good floor mirror can be a total game changer for your home. Not only are they a savvy way to open up a dark room (they bounce tons of light around!), but an attractive floor mirror can bring instant character and style to even the smallest of spaces. Since separating stylish floor mirrors from the rest of the pack can be tricky, we searched the web high and low and gathered some of the sleekest options we could find in multiple price ranges and styles. From floating wood mirrors to ones with hidden storage space, here are our favorites.
STANDING MIRRORS


This white mirror is classic IKEA: inexpensive, minimal and multi-functional. The back has a handy rail and hooks, which is perfect for both extra storage space and for days when you're trying on a few different options. Best for bedrooms and bathrooms, this is a great pick for those who are always seeking decor that serves more than one purpose.
---
This low-key mirror found on Wayfair is made of wood and comes in both white and walnut finishes. The more traditional style and sleek shape means that it won't overpower a small space, but can also serve as a great accent piece in a larger room. Plus, it works well with most styles — we can see this in rustic, minimalist and coastal homes.
---
For a true industrial look, consider this mirror from Urban Outfitters. Simple with a touch of edgy, the pipe construction gives it a one-of-a-kind look. While this mirror is plain enough to work well in most rooms, it'll look especially at home in more urban, eclectic spaces.
---
CB2's Infinity Mirror takes minimalist to the next level and truly blends into its surroundings. The focus is entirely on the mirror, with the frame adding just a touch of interest (you can choose between brass, silver and black finishes). At a height of 69", this mirror is ideal for elegant, sophisticated spaces — preferably ones with high ceilings.
---
LEANING MIRRORS


Suitable for leaning against the wall or hanging, this boho style mirror is a great addition to any space. The carved wood and dot pattern are enough to stand out without being too much, freshening up any room. We love this for a bedroom or even on the back of a hallway door — anywhere that needs a little something extra.
---
Another option from Urban Outfitters, this slim mirror works well in narrow spaces. The small shelf at the bottom adds a nice touch, even if it's not entirely practical for storage. Props also to the tapered design, which adds more style and interest to an already perfectly nice but plain mirror.
---
Similar to the CB2 mirror above, this pick from West Elm blends in with its surroundings, making it not so much a focal point but rather decor that elevates everything around it. Streamlined and lightweight, it works well in any room in your home (and can be moved around if you so choose). With finishes in brushed nickel, antique brass and the ever popular rose gold, this mirror is suitable for any style and space.
---
Another tapered option that's much higher in price, DWR's Georg mirror comes in both black and oak and is perfect for the Scandi-inspired home. Designed by Chris Liljenberg Halstrøm of Denmark, it's meant to maximize functionality while still preserving the minimalist style. Move it around your home with ease, or use it to hang up purses and jewelry — there's a lot you can do with this unassuming mirror.
---
OVERSIZED MIRRORS


At 30" wide and 72" high, this large mirror from West Elm commands any room it's in. With its wood frame and solid construction (the sides are 3" thick), this mirror is a real statement piece without being too overwhelming. It'll fit well in a bedroom or living area, plus will make a smaller space seem much bigger.
---
This Pottery Barn mirror comes in both silver and gold finishes, but we prefer the gold to really showcase the bamboo design. Classic with a contemporary twist, it'll look particularly stunning surrounded by greenery, like in a living area. The silver gives off a much more glam vibe, high end vibe, and is best suited to a bedroom or bathroom.
---
Inspired by African murals, this CB2 mirror is eclectic and thoroughly modern. It's also big — 36" x 72" of pure decorative glory. The gorgeous mosaic is framed by two thin brass bands, adding a sophisticated touch to an already distinctive piece. This mirror will look right at home in a room with a lot of natural light — imagine how gorgeous it'll look with sunlight bouncing off it?
---
Anthropologie is full of statement decor pieces, including mirrors, and this one perfectly embodies that special Anthro aesthetic. This particularly mirror belongs in a collection of four different mirrors of different sizes, each displaying a different animal. The largest of the group has an owl at its head and stands tall at 84.25" high and 49" wide — a real stunner that adds romance to whatever space it lives in.
---
Make your space seem bigger! You've definitely heard this before, but it bears repeating: adding mirrors to right spaces tricks the eye into making the area seem larger than it is. Place one in hallways, nooks or any small room and you'll instantly see the difference.
Create more light. In spaces with limited natural light, strategically placed mirrors can make a huge improvement. Mirrors placed in spots that reflect the light will brighten up your space and even create the illusion of another window.
Fill in empty wall space. Eager to fill out your walls but don't want to spend a large chunk of money (or time) on art and framing? Buy a mirror—they're typically much more cost-effective and easy to find. The right mirror can become a focal point of your room, and will easily minimize the feeling of an empty room.
Apartment Therapy supports our readers with carefully chosen product recommendations to improve life at home. You support us through our independently chosen links, many of which earn us a commission.