8 New Can't-Miss Trader Joe's Groceries to Try This Month
We
independently
select these products—if you buy from one of our links, we may earn a commission. All prices were accurate at the time of publishing.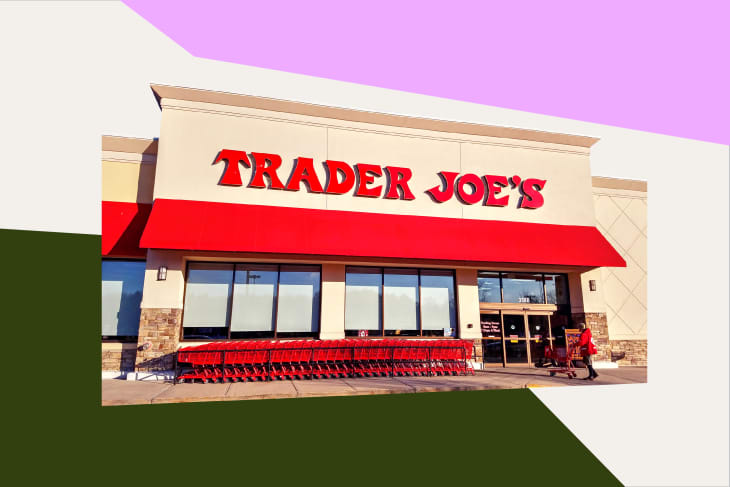 Somehow, someway, my grocery cart got the memo that I'm ready (very ready) to switch over to fall this month. Cue: the montages of Gilmore Girls rewatch parties, cozy nights around cheese boards, and fall updates to my typical "Girl Dinner"-style spreads.

And wouldn't you know, Trader Joe's has rolled out new items that'll fit the bill for all three of those situations. Yes, while the grocer is not quite 100% solidly into Pumpkin Spice Territory, the selection at Trader Joe's is definitely giving us the hint that we might be able to take our sweaters out at long last. So what is making its way into my early fall hauls? Here's what I picked up this month. 
1. Onion Confit Swirls, $2.49 for 2.64 ounces
Sometimes there are items at Trader Joe's with names so compelling that you just have to say "yes" immediately. That was absolutely the case with these Onion Confit Swirls, a spiral of crunchy puff-pastry umami goodness (think: palmier cookie, but savory).

Flaky and buttery with a caramelized onion sweetness, these Emmentaler cheese-laced crackers are just the upgrade for your cheese board this fall. I'm not sure how the food nerds at Trader Joe's did it, but they somehow packed an Everlasting-Gobstopper experience of a full bowl of French onion soup in each bite, which got me thinking that these would be wildly good as a topper for your next batch of French onion soup (with plenty of broiled cheese on top!). Speaking of cheese …
2. Pickle Cheese Curds, $2.99 for 4 ounces
This one has become quick friends with the Onion Confit Swirls, and what a beautiful match they make. These squeaky, briny curds are absolutely proof that we're living through a great curd awakening, and I'm so glad about it — especially now that curds are now much more widely available than just in the Midwest. 

Made by acclaimed cheesemaker Beehive Cheese, these creamy curds are rich and absolutely loaded with all the herbs and spices (like dill, mustard seeds, and coriander seeds) that always have me reaching into a pickle jar for just one more spear. I ate these right out of the bag, on an Onion Confit Swirl, and debated just how good they'd be melted onto a burger (or on top of poutine), and I have a feeling you will too. 
3. Pretzel Breadsticks, $2.99 for 5.3 ounces
One of the greatest joys of my monthly search for new Trader Joe's items involves all the absolutely ingenious ideas I get from the crew and managers that work in the stores. This month, one such manager took me on a full-on tour of the store and allowed me to find one of my new favorite snack combos: these Pretzel Breadsticks (and another, dare I say, unexpected dip coming up shortly). 

Let me just say that I'll never be the same after breaking open this package of airy, crispy sourdough-adjacent pretzel breadsticks reminiscent of the breadsticks you might find at your local Italian joint. To be completely honest, these hefty sticks are the size I now believe all pretzel sticks should be. I hope other pretzel makers make note of these, because they're truly the only thing I want to dip into hummus or fondue, or eat right out of the box. 
4. Kimbap, $3.99 for 8.1 ounces
I had many reservations over just how good Trader Joe's frozen Kimbap could be. Would it be mushy, bland, or a sad attempt at capturing all the fun flavors and textures of this Korean standby? And how is it going to hold up once you take it from the freezer? But it's as incredible as people say it is. I really do commend the Trader Joe's folks for nailing this one.

A quick zap in the microwave is all it takes to reheat this party in a roll and have it ready for dipping into spicy-sweet gochujang sauce. Each seaweed-wrapped roll is packed with seasoned rice, crunchy root vegetables, pickles, and braised tofu, which made for a delightfully budget-friendly dinner on a night when I really, really wanted to order takeout. I have one note: Give these a tiny pan-fry to take them to the next level. 
5. Peanut Butter Chocolate Granola, $3.99 for 12 ounces
Chocolate and peanut butter is a combination that's hard to mess up, so I immediately tossed this bag right into the cart. If you, too, want to make a decision this easy and this tasty, you should do the same. These rich, chocolaty clusters get my highest compliment: not being too sweet at all. 

Slightly toasty and nutty, the peanut butter essence comes out loud and clear, even alongside the big diva vibes that chocolate can often bring to the table. I simply enjoyed these in a bowl with milk and, let me tell you, the resulting cereal milk became liquid gold. Buy a bag for breakfast, and also buy a bag to toy around with creating your own cereal-milk concoctions (like ice cream or panna cotta) ASAP. 
6. Unexpected Cheddar Cheese Spread with Hatch Chile, $4.99 for 9 ounces
This is the unpopular opinion of the century, I know, but the Unexpected Cheddar (widely the most popular cheese at Trader Joe's) is not at the top of my list of best cheeses the store offers. Don't get me wrong — it's a uniquely delightful combo of nutty Parmesan and sharp cheddar, but just not one I use super often. That is, until TJ's created this Unexpected Cheddar Cheese Spread with Hatch Chile. 

Like the original Unexpected Cheddar Cheese Spread, this schmear-able version of the popular cheese is ideal for digging in with pretzels, folding into mac and cheese, and spreading onto a pressed sandwich. This Hatch chile version just might be the better of the two, in my opinion; the spice cuts through the sharpness of the aged cheddar and makes it delightfully reminiscent of the bite I used to love about Easy Cheese as a kid. Coupled with the Pretzel Breadsticks that also came out this month, you've got two components of my new favorite Girl Dinner (and Girl Lunch, and Girl Snack). 
7. Celebration Cake Gelato, $3.79 for 16 ounces
With fall comes all the back-to-school slumber-party vibes that scream for a well-stocked freezer full of ice cream and gelato. And as I've said before, Trader Joe's seasonal gelatos are always a must-buy for me. Soft and creamy right out of the container, this birthday confetti cake-inspired tub is a shining example of just how good a supermarket gelato can be. No trip to Italy required! 

This pint is the stuff of dreams: a cake batter-flavored gelato, with plenty of sprinkles and rainbow-speckled cake pieces folded in? It instantly makes you feel like it's your birthday party and, yes, someone got you a pony. It earns its name — it's a pint-sized celebration, and that's very much reason enough to celebrate really anything you've got going on this month. 
8. Fudgy Cookie Dough Ice Cream, $3.79 for 16 ounces
To complete those slumber-party vibes, you've got to have a chocolate option, right? Right. Along with your confetti cake pint, make sure the fudge-lovers in your group have their own pint (or two). 

Truth be told, chocolate, to me, is kind of well … fine. It takes a lot for me to be impressed by chocolate. But this? This pint gets it all right. More than the sum of its parts (which includes creamy vanilla ice cream, dense cookie dough chunks, and crunchy chocolate chips), this sundae-inspired pint packs in all that you'd ever want in a dessert, but without the drive to the beachside ice cream shop. 

The real star, though? The fudgy, salty swirl. If you've got a salt-tooth like me, this swirl will make you feel oh-so-very seen. It's got a punch of sea salt that has my spoon consistently digging into the pint, ready to make the most ideal spoonful of creamy, salty, fudgy bliss. Am I maybe a chocolate fan? I think I just might be.