The Best Places to Live in Texas, According to Your Lifestyle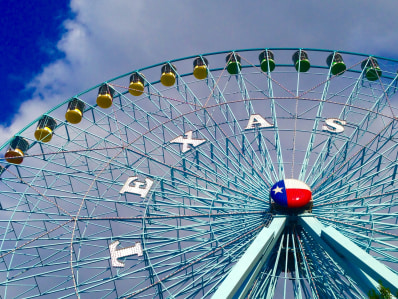 (Image credit: Donovan Reese Photography/Getty Images)
Texas is a big, big place—it takes an incredible 14 hours to drive across it!—which is why you need a solid game plan if you're moving to the Lone Star State. Each of its cities and towns are unique, and all have different things to offer, depending on what you're looking for.
But whether you're looking for the right spot to start your life or a bustling community to welcome you during your sunset years, there's a vibrant place for you. Here, the best place to live in Texas, according to your lifestyle.
Best City for Young Professionals
Metropolitan Population, via Austin Chamber of Commerce: 2,056,405
Median Home Value, via Niche: $257,800
Median Rent, via Niche: $1,106
Austin ranks as the #1 Best Place to Live in the USA, due in large part to its thriving job market. It's earned the nickname of "Silicon Hills;" and numerous businesses in the city are backed with venture capital investment, creating quite a healthy startup environment. Austin also has an unemployment rate of 3.2%, which is lower than the national average.

If you're a young professional looking to hustle in your career, then Austin is the place to be. Join one of the hundreds of community-centered, young professional organizations from BossBabesATX to Austin Young Chamber, or check out this directory here.
Now, go forth and hustle.
Best Cities in Texas for Retirees
Austin is great and all, but if you're done with all the hustle and bustle of the city, it could mean that you're ready to settle down somewhere quiet and peaceful. But finding an affordable city for retirees can be doubly hard for Texans, as the poverty rate of retirees in Texas is higher than the national average. In addition, property costs are more expensive. Because of this, I focused on finding cities that were safe, friendly, and easy on the wallet (both with low cost of living and tax rates). Less financial worries, more time to enjoy your city!
Population, via Niche: 1,964
Median Home Value, via Niche: $643,000
Median Rent, via Niche: $782
Olmos Park is a city for the young, the wise, and everyone in between. It tops Niche's ranks for both Best Place to Retire in Texas and Best Suburb for millennials. Obviously, the town must be doing something right.

It's a village-like place that emphasizes community. They even have a welcome committee to greet you once you arrive (just make sure to give them a call before the moving van arrives).

What's even better about this enclave-city is how close it is to the city. You're near major attractions like the San Antonio Zoo, or, if you're feeling a bit whimsical, you're only a 6-minute drive from Barney Smith's Toilet Seat Art Museum.
Population, via Niche: 3,581
Median Home Value, via Niche: $56,700
Median Rent, via Niche: $429
If you're looking to build a house on good and affordable land, you only have to look towards Haskell, Texas. Haskell is the sort of town where you sit on the back porch in a rocking chair, sweet tea in hand. Haskell has the second lowest cost of living in Texas and has repeatedly been ranked as one of the cheapest places to live, and the community will tell you the atmosphere of the town is light and friendly. Everyone pretty much knows everyone, but if someone new comes to town, there's no doubt that someone will make them feel comfortable within Haskell.
Locals partake in BBQ competitions, cornhole tournaments, and a yearly rodeo, in true Texas tradition.
Best Cities in Texas to Raise a Family
Population, via Niche: 20,015
Median House Value, via Niche: $304,100
Median Rent, via Niche: $2,067
Murphy is another Dallas suburb, but one with a younger, family-friendly feel. Here, families can participate in activities like the Daddy Daughter Dance or the awesome ShangriLlama just five minutes down the road (please let me live vicariously through you if you go).
The town is also known to have a tight-knit community, and it tops the charts when it comes to safety, diversity, affordability and friendliness. Let's not forget the easy access to the 18 public schools that serve Murphy, all of which are given an A-rating from Niche.
Population, via Niche: 94,710
Median House Value, via Niche: $234,600
Median Rent, via Niche: $1,299
Schools, community, affordability and access to family-friendly activities—these are all the things that make up a great city to raise a family. And Allen has all of these and more. Here are some other cool things about the city, according to a report done by Nerdwallet:
The Collin County Housing Finance Corporation helps homebuyers with down payment assistance, low-interest mortgage rates, and mortgage credit certificates.
Homeowners can make the 25-mile drive south to work in Dallas or work locally at large employers including Experian, the consumer credit agency, Texas Health Presbyterian Hospital or retail jobs at Allen Premium Outlets.
For fun, Allen turns on the "Friday night lights" at Allen High School's football stadium, a $60 million field that holds 18,000 fans.
Best Cities in Texas for Diversity and Culture
Population, via Niche: 2,240,582
Median Home Value, via Niche: $140,300
Median Rent, via Niche: $898
Houston often ranks as one of the most diverse cities in the United States. In fact, it was ranked by WalletHub as the second in the country, coming behind Jersey City, New Jersey, at number one. If culture and diversity are a must-have for your next destination, you have to consider Houston. Check out melting-pot hotspots like Chinatown, the Museum District, or the Third Ward to find a unique blend of tradition, innovation, and fusion.
Best Cities in Texas for Aspiring Artists
Population, via Niche: 1,823
Median Home Value, via Niche: $115,600
Median Rent, via Niche: $688
Marfa is an "art oasis in a small desert town," as NPR calls it. It's the art town of Texas, a sort of boutique neighborhood that has recently seen people flock to it for the experience of jumping in front of the lonely Prada Installation, à la Beyonce. However, it's also home to the large artist community of artists integral to the town's uniqueness. Marfa itself is a web of interactive art, with minimalist pieces popping up in the most surprising places. It has long, blue skies, and a sort of spirit to it that wants you to sit back and grab a paint brush.
You can find art installations and galleries in this directory, and check out the active artist community starting here.
Best Cities in Texas for Outdoor Activities
Population, via Niche: 320,050
Median Home Value, via Niche: $118,900
Median Rent, via Niche: $920
From swimming at Whitecap Beach, to surfing at Bobhall Pier, to oceanfront camping at Malaquite Beach, to even watching sea turtle hatchling being released—the "Sparkling City by the Sea," has enough activities to thrill any outdoor adventurer.