Hang It: Best Sources for Cheap Frames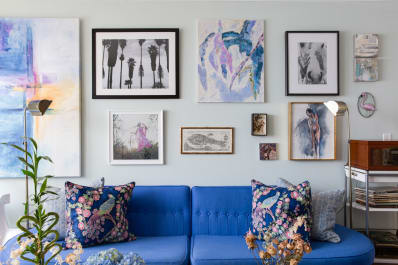 This is a problem we always seem to struggle with...finding a way to display artwork without paying huge amounts of money for framing. Since the type of framing we choose usually depends on the artwork, we're always having to come up with new solutions to the problem. Along the way, we've found a few cheap sources for frames that we keep coming back to. Read on to check them out.
With frequent sales on top of already good prices, craft stores like Michaels are a good bet for affordable frames. We're partial to the basic Studio Décor® Belmont line which comes in several colors including white, black, red and teal in several sizes, all under $20.
The Ribba frame is a cheap classic: simple, unadorned, available in a variety of colors and sizes (including sometimes hard-to-find square shapes). Ribbas range from $1.99 to $19.99.
This is a great solution for a collection of posters, although it doesn't protect the artwork under glass. We like the look for small-scale pieces, but when you go big the artwork can resemble a hanging slideshow screen. $16.95 - $79.95, depending on size (12" - 72")
Their Gallery frames (in white, carbon, silver or brass) come in five sizes and range from $24.95 - $69.95. Stick with one color or mix it up for a large gallery wall.
You'll find a huge selection of frames here, but we think the best value are the large poster frames, most of which are in the $20-50 range.
The in-store offerings can be hit or miss depending on inventory and demand (especially when college students head back to school), but you'll find a variety of affordable frames you can order online. We especially like that you can filter by frame size to find just what you're looking for. The best deals are the poster frames for $9-10.
You probably think of Zara as just a clothing store but they have a robust home goods selection online. The frames in their collection are smaller, tabletop frames, but the prices are good and so is the style factor. We especially like these bamboo-shaped ones ($25-35).
Wayfair has a nice selection of inexpensive but attractive wood hanging frames most in the $20-40 range.
Their selection ranges from petite instant film-sized frames and dowel hangers to (more expensive) wood frames in a variety of sizes. But if you want to frame your albums or other square art work, they offer cheap square 12.5" x 12.5" frames in rose gold or marble print for $15.
Another clothing brand with a seriously impressive home selection, H&M stocks on-trend options that range from $10-25.
Both in stores and online, you'll find a variety of cute, decorative frames at this beloved discount shop. Just be aware that if you find something you love, it could be gone by tomorrow, so buy it now!
If you're looking for something that goes beyond the basics, World Market is a great bet. The site stocks an eclectic array of frames in a variety of sizes and materials. You can even score a great deal on sets of two, like these stylish Shibori Mini Bone Frames for $13.98.
But if you are in the market for basics, look no further than Walmart. You can find everything from simple poster frames in any size you could need to cool geometric options for less than $15.
Really looking to save a few bucks? Head to Dollar General where frames will set you back anywhere from $1-6. It's the perfect place if you really need to stock up.
The home department at Kohl's is another great source for affordable frames. One of our favorites? The Malden Great Value Basic Frame, which comes in 10 colors and starts at just $6.99.
Frame Your Art Without Spending a Fortune
Re-edited from a post that originally appeared 4.14.16. — AH
Apartment Therapy supports our readers with carefully chosen product recommendations to improve life at home. You support us through our independently chosen links, many of which earn us a commission.