This $14 Amazon Frame Is One of My Most Luxe-Looking Desk Accents
We independently select these products—if you buy from one of our links, we may earn a commission. All prices were accurate at the time of publishing.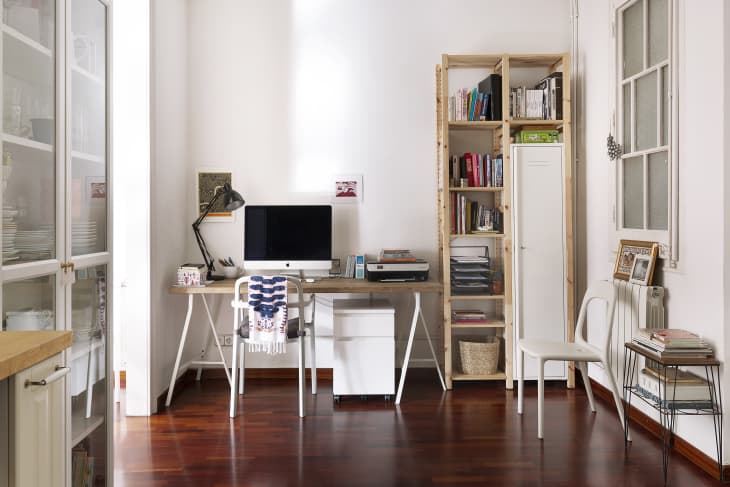 Formerly an editor at a bridal publication, I came across a wedding decor idea years ago that I mentally bookmarked: paying tribute to late relatives by displaying their old photos in pretty pressed-glass, brass-framed floating frames. Fast forward to today and I'm still very far from applying this vision to any wedding of my own but, more recently, I did find a way to bring it to life on a micro level in my apartment.
It all started with a little 3-inch x 3-inch picture I discovered of my paternal great grandparents, presumably circa 1950s, while home for the holidays last winter. Even though I never knew them, I was instantly enamored with the black-and-white image — here, they're seen wearing swimsuits (which look very cool, I might add), smiling broadly while knee-deep in the ocean. It's so simple, sweet, and feels like pure vacation euphoria personified. I knew I had to bring the photo back to New York with me and properly style it.
The picture itself has a lovely fringed white border, so I wanted to pair it with a frame that could fit the entire shot — there's no way I would risk trimming any of it, ever. That's when I remembered the beloved pressed-glass wedding visual. Vintage picture inside a vintage-inspired frame? Hello, perfect.
Thanks to Amazon, I didn't have to search far. The site had me covered with just the picture frame I'd imagined: minimalist antique brass finish, locket frame closure, and a size small enough to fit my photo. I went with the 4-inch x 4-inch option, which allowed just enough breathing room to pull off the "floating" image look (and yes, I taped the back of the picture in place).
This easel-style piece has since remained a permanent fixture on the corner of my desk, where it still wows me how glam the combo ultimately looks. . . for just $14, to boot. And know that you don't need to dig through the family photo archives to get the same antique-inspired allure, if you so desire. Choose from a number of tabletop sizes — starting with 2 inches x 3 inches and going up to 7 inches x 5 inches — to incorporate this timeless, luxe-for-less accent into your own film collection, black and white or not. Show off everything from Polaroid snaps to travel memories to pretty prints. Note that whatever you do frame, though, I would recommend sizing up.
The best part? They're all priced less than $20 (even the larger versions!) which you'd never know at first glance. And the simple, compact aesthetic means these can look right at home on your own desk, bookcase, nightstand, console table, kitchen counter. . . or, naturally, all of the above. Small but mighty, this Amazon frame is ultimately one of my favorite home purchases to date — and I don't see myself stopping with just the one.
This piece is part of Money Month, where we're covering everything from side hustles to down payments to a beginner's guide to investing. Head over here to read more!