This $20 Amazon Find Will Make Sure Your Stovetop Stays Spotless
We
independently
select these products—if you buy from one of our links, we may earn a commission. All prices were accurate at the time of publishing.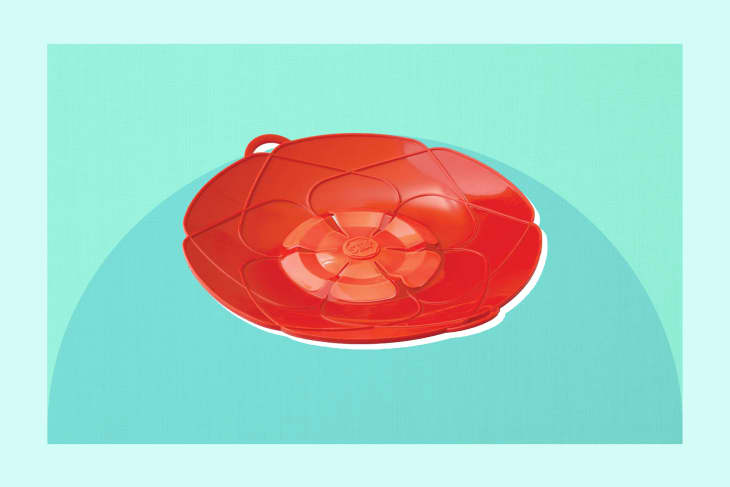 I am definitely that guy who leaves boiling pasta unattended for five seconds (it was just five seconds, I swear!) to go chat with dinner guests, only to race back to the kitchen as soon as I hear that dreaded hissssssss of hot water overflowing onto the stove. It's the absolute worst and a nightmare to clean!
So it was a relief to learn I am not alone in creating starchy stuck-on messes when I discovered the Kuhn Rikon Spill Stopper on Amazon. And if the positive reviews and 4.7-star rating are any indication, this humble silicone spill stopper is restoring dignity for those of us who may or may not sometimes get distracted and let a pot boil over. Even better? It costs just $20.
So what makes Kuhn Rikon's spill stopper such a must-have? For starters, the lid is designed to trap boiling water when placed on top of a pot, while the little flower in the center lifts to diffuse excess foam and prevent nasty spill-overs. And if that wasn't already clever enough, the spill stopper also doubles up as a steamer basket. Just place the spill stopper over a pot of boiling water, add your vegetables, top it with a glass lid and you're good to go.
"Wow wow wow I have no words to describe how great this product is I'm a mom with a large family that cooks and bakes all the time there is never a time that something doesn't spill over even when standing and watching the pot but with this life has just gotten easy."
The silicone spill stopper also doubles (or triples, actually!) as a splatter guard for frying. If you've ever owned a traditional wire mesh splatter screen, you'll know they get grimy pretty quickly and are frustratingly hard to clean. But the spill stopper's smooth silicone surface doesn't trap any grease or simmered-on stains and can easily be tossed in the dishwasher. Plus, it can handle heat up to 400 degrees, which means it's safe to use for microwave cooking, frying, or as one reviewer noted, "even candy making." 
The Kuhn Rikon Kochblume Spill Stopper is on sale for a limited time, so it's best to grab this deal while you can — especially if, like me, you hate being stuck in the kitchen while entertaining.
As one reviewer put it best: "Where the heck has this useful gadget been my whole life?! So many years of Mac and cheese or spaghetti flaming and bubbling over, even when I'm stirring. This thing is amazing. Game changer."