Here Are the Best and Worst Places to Rent in America, According to a New Report
We independently select these products—if you buy from one of our links, we may earn a commission. All prices were accurate at the time of publishing.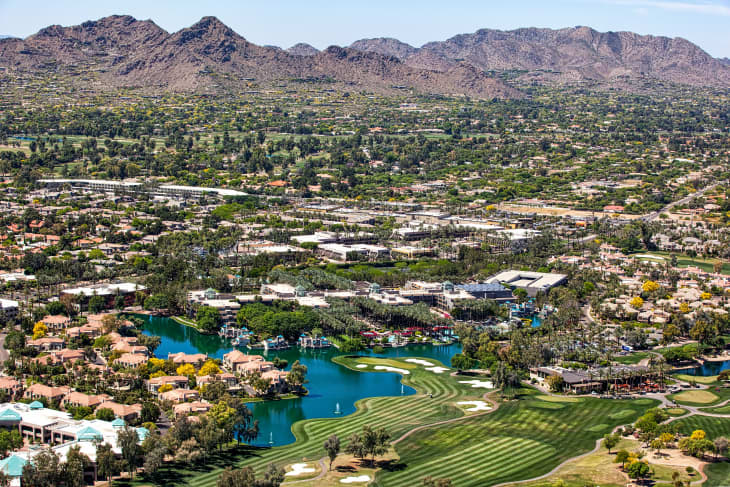 We all know that "the rent is too damn high." Cutting that check each month is nobody's favorite activity. But there are benefits to renting, and some people prefer it over buying a home for a wide variety of reasons, whether it's due to cost or convenience.
Follow Topics for more like this
Follow for more stories like this
To determine which locations across the country are the best to be a renter, finance site WalletHub compared more than 180 rental markets, evaluating them based on 22 key measures of rental attractiveness and quality of life. Here's a look at their results. 
When it comes to the best cities for renters, Columbia, Maryland, scored the number one slot. It was followed by Overlook Park, Kansas, and Sioux Falls, South Dakota. Rounding out the top five were Bismarck, North Dakota, and Lincoln, Nebraska. Continuing into the latter half of the top 10: Chandler, Arizona; Scottsdale, Arizona; Gilbert, Arizona; El Paso, Texas; and Casper, Wyoming.
There are a variety of variables that go into determining a city's spot on the list. For example, Cheyenne, Wyoming, has the highest rental affordability, with the lowest median annual gross rent divided by median annual household income at 15.43 percent. A city's rental vacancy rate also comes into play, with Little Rock, Arkansas having the highest rental vacancy rate at 12 percent. Some cities are more conducive to renting because they have a high share of renter-occupied housing units. Newark, New Jersey, took the cake for that criteria, with 76.5 percent of housing units being renter occupied. Several other issues come into play, including the cost of living and rate of violent crimes. 
Naturally, you're probably wondering which cities in the United States aren't particularly conducive to renters. The top honor in that category went to Augusta, Georgia, followed by Ontario, California, and Vancouver, Washington. The fourth and fifth slots went to Shreveport, Louisiana, and Columbus, Georgia. New Orleans, Cleveland, San Bernadino, Memphis, and Detroit rounded out the top 10 worst cities for renters. As you'd probably expect, New York City scored the highest on the cost-of-living index, while Memphis, Tennessee, had the highest rate of violent crimes. 
If you're a renter, it's often not the best bet to choose one of the country's fastest-growing cities as a place to put down roots. While these booming locations often have access to great cultural and entertainment options, as well as extensive work opportunities, that heavy demand often bolsters rent prices. 
"If possible, look for cities in the range of 50,000 or less in population. They are more manageable from a municipal viewpoint," says David Fiorenza, an assistant professor at Villanova University. Of course, the pandemic brought growth to some cities that have a lower cost of living, since many individuals took hold of the opportunity to work remotely.
If you're looking to find the best value in an apartment, experts suggest focusing on the location over more square footage. 
"People with shorter commutes are happier than those with longer commutes to a much greater degree than people with more space per person. Getting some movement during the day is also excellent for our mental health so, if you have a choice, choose a neighborhood that lets you walk to a few basic amenities and/or take transit," says Andra Ghent, a professor at the University of Utah. "The typical American now has about 3 times as much personal space as in 1950. It is very hard to find evidence that that increase in square footage has increased our health or happiness."