The 3 Bidding War Strategies That Can Help You Buy a Home in 2022
We
independently
select these products—if you buy from one of our links, we may earn a commission. All prices were accurate at the time of publishing.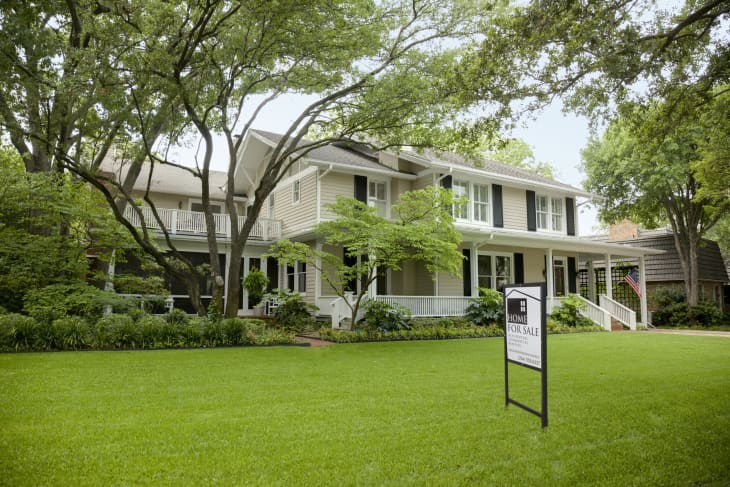 Step right up! You're the next contestant on "Buying a Home in This Wacky Real Estate Market," an ultra-competitive game in which homes are flying off the market and selling way above list prices. To win the grand prize — a home! — you'll need to come armed with strategies, specifically some bidding ones.
It's possible the 2022 housing market will ease up on buyers. But according to a Redfin report, in May 2021, not only did median home prices hit a record high ($377,200, a 26 percent year-over-year increase!), but 54 percent of homes sold over their list price. 
If you're in a competitive real estate market, it's highly likely you'll end up in a multiple-bid situation when you're putting offers in on homes. We asked real estate agents for their best bidding war strategies. Here's what they had to say.
Look for Homes Under Your Budget So You Can Bid a Little Higher
As you launch your home search, look for homes that are a smidge under your budget. That way, you have some wiggle room to make a competitive offer by bidding over the asking price. A general rule of thumb is to bid 1 to 3 percent over the asking price, says Brian Burke, owner and managing broker of Kenna Real Estate in Denver. So, if the home is listed at $350,000, you'd bid between $3,500 to $10,500 over.
Be Super Specific in Your Offer
Want to stand out as a serious buyer? "Be thorough with your offers," says New York City licensed associate real estate broker Michael Shapot. "Include all of the terms and conditions, as well as the professionals that you intend to work with — mortgage, title, attorney, home inspector, etcetera." He also suggests including timelines, and have those timelines be flexible to meet the seller's needs. (The seller's agent will be able to communicate with the buyer's agent about whether the seller is looking for a fast close or needs a little more time in the home).
If you're a risk taker, you may be able to remove some contingencies to help your offer stick out. But beware: Unless you've got a cushion of cash, this can be super risky. Contingencies are the clauses in real estate purchase agreements that spell out the things that need to happen and the conditions that need to be met so that the contract can become a legally binding sale. 
The mortgage contingency, also known as the financing contingency, allows a buyer to back out of the contract if they don't qualify for a loan or fail to secure their financing in a set time. In multiple-offer situations, sellers might favor the offers that waive a mortgage contingency because it could allow them to close faster. Cash buyers can waive the mortgage contingencies and, while risky, some buyers with strong pre-approvals may be inclined to do the same. 
In most scenarios, real estate agents also caution against waiving a property inspection, which is an optional step that can uncover costly fixes (i.e. a deck that's corroding) and allow you to back out of the deal and take your earnest money with you. But, waiving a property inspection (or limiting requests to health and safety fixes only) could make your offer stronger.
"I don't recommend first-time home buyers waive inspections unless they have some building knowledge or if they have the option to bring a contractor through the showing," Solo says.
With these strategies in mind, you'll enter a bidding war armored with some savvy real estate knowledge.