Bill Goes All Black
We
independently
select these products—if you buy from one of our links, we may earn a commission. All prices were accurate at the time of publishing.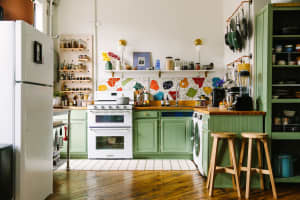 Can't-Miss House Tours Straight to Your Inbox
Keep up with our latest house tours each weekday with our House Tour of the Day newsletter
Name: Bill Indursky
Location: Chelsea — New York, New York
Size: 350 square feet
Years lived in: 17 — owned
Paint it black? Only a true design maverick like Bill Indursky would have the courage to paint a tiny studio such a rebel color. But Bill is a confident character. He's the man behind VandM.com, the site that has been taking on 1stdibs. Take a look at his fearless and fabulous apartment.
It takes a great deal of inspiration and intuition to create something that defies accepted conventions and the status quo. The last time I visited Bill's home in early 2008 VandM.com was just an idea and his studio was all white. Today VandM.com has 100's of international dealers offering an array of desirable objects and Bill's studio is a paradigm of small studio sophistication. Kudos to Bill Indursky for not only creating a viable alternative to 1stdibs but also creating a chic and cozy apartment that is all black!
Apartment Therapy Survey:
My Style: Because of VandM.com, I review approximately 500 items each week…it can become hard to tune out all the noise — so my preference is for items and interiors that make bold statements and stand out from the crowd. My apartment, which I have been living in for the last 17 years, has become slightly more luxe and I describe it as "London Bachelor Pad Chic".  It is bold, masculine, and filled with small ironic counterpoints without being too cold and formal. 
Inspiration: It started with the idea to break the cardinal rule of interior design "don't paint a small space dark colors".  Like all things, I took it to the extreme.  First, I painted a wall a flat chalky black.  Then after much convincing, and a trust that developed over the past ten years, my boyfriend who lives with me and our dog, agreed to allow me to paint the ceiling black as well.  Painting the walls black dematerialized the space's definition and made it seem larger.  Other elements crept in based on their look and ability to live with the existing items from the previous makeover.  Furniture and accessories with an African feel, with an Asian feel, items with an industrial look, and lush smoking room and pub styles started to combine to build the space. I used to call the apartment (because it was an all white box before I made it over) Urban Adirondack — the Manly Loft — a more butched up version of the once popular Shabby Chic style. Most of the original elements stayed but a more more bold look developed.
Favorite Element: The Murphy bed. It folds down, but is hidden by what the manufacturer calls a "cabinet".  Real wood was out of my budget but I was able to design the laminate. I added hardware from the Home Depot and it became a real feature in the room.
Biggest Challenge: Space!  When you live in a 350 square foot studio apartment with two people and a dog, designing the layout of the room and its furnishings for multi-tasking is not easy.  I was able to create distinct areas in the room: TV watching, sleeping, home offices etc. — but it was tricky! We have a rule that unless you can eat it, it does not come into the apartment.  I don't think most people realize just how much junk they accumulate in their lives that is weighing them down and is useless.  If the show Hoarders teaches you only one thing, it should teach you that memories are not things.
What Friends Say: They are often surprised how an all black room can feel warm, inviting and big. People who like beige on beige don't always get it.
Biggest Embarrassment: Nothing embarrasses me.  There are so many people in the world suffering — to be embarrassed about silly things seems self-indulgent.
Proudest DIY: I refinished and stained the floors, did all the painting, installed the bathroom sink, made my own backsplash for the kitchen — I will attempt anything.
Biggest Indulgence: The club chairs. They are 1940's deep block arm chairs purchased from one of VandM.com's Las Vegas-based dealers.  I had sat in well over several hundred chairs throughout Manhattan's design districts. The chairs where going to be in lieu of a couch so we planned to spend the same amount on them as a single couch.  After you include shipping, the original purchase, the Ralph Lauren fabric, and the custom upholstery work it cost about $5,000 for the two chairs.
Best Advice: Think about creating symmetry and balance in your interior through lines, colors, textures and most of all of hard and soft surfaces.  People who are drawn to hard surface Modernist spaces need to remember to balance it with some soft curtains or warm pillows.
Dream Sources: Of course I love my own web site VandM.com for all things home decor, collectible, art, and jewelry.
Resources of Note:

PAINT & COLORS

• Benjamin Moore Regal Interior Flat 100% Acrylic paint, Black
• Custom laser cut media console and radiator cover in one out of Medium Density Fiberboard (MDF) and hand faux teak painted
• 300 gram weight Flokati 6′ Round Rug 100% wool in natural white from http://Flokatirug.com
• Petrified stump table from local Chinese import/export store
• Kevin O'Brien pillows made in USA in burn out silk velvet
• Chairs VandM.com with Ralph Lauren fabric
• Cast resin mule deer antler chandelier custom painted white from eBay dealer in Canada
• Keith Haring Lithograph "Cock Fight" Pencil Signed & Numbered, 1985 1 of 80 in the edition 40″x32″ framed with glare proof and UV protected Lucite with black frame
• Top Left: Vanitas with Sea Shells, 2008 by artist William Eric (Bill Indursky) 12″x12″ Oil on canvas panel with custom Italian wood frame painted from life. ($1000 available for sale)
• Top Right: What is a Man? by artist Edward Dillon, 2009 Charcoal on Paper, 8″x11″ Framed (purchased for $800)
• Bottom Left: Portrait of a Brazilian Man, 2006 by artist Bandon Soloff 18″x12″ Oil on canvas laid on panel with custom frame painted from life. (gift of the artist)
• Bottom Right: Vanitas, 2006 by artist Chris Peters.
• Painting Near Window: Vanitas: Ash and Bone, 2008 by artist William Eric (Bill Indursky) 12″x12″ Oil on Canvas Panel with custom float frame painted from life with palette knife. ($750 available for sale)
• Cast aluminum bull head from ABC Carpet & Home
• Ceramic centerpiece with grenades "Alzata Con Bombe" By Designer Silvia Levenson For Ginetta Mazzucato and Paolo Segantini Ceramiche Estensi artist protype
• HOUSE TOUR ARCHIVE Check out past house tours here
• Interested in sharing your home with Apartment Therapy? Contact the editors through our House Tour Submission Form.
• Are you a designer/architect/decorator interested in sharing a residential project with Apartment Therapy readers? Contact the editors through our Professional Submission Form.