This Australian Home's Gorgeous Interiors Are Rooted in Biophilic Design
We
independently
select these products—if you buy from one of our links, we may earn a commission. All prices were accurate at the time of publishing.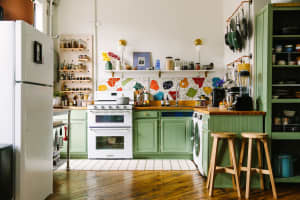 Can't-Miss House Tours Straight to Your Inbox
Keep up with our latest house tours each weekday with our House Tour of the Day newsletter
Sophie Barratt has owned this three-bedroom house for four years, and shared it with her 6-year-old son and two dogs: I built this house 10 years ago as a single first-time home buyer for my 30th birthday. It's small, but with the custom design it feels spacious and bright, making the most of the northern orientation down the side. I was on a tight budget so it was thoughtfully planned out, but many things on my wish list had to be compromised. I was lucky that my work as an interior designer gave me access to some materials that I was able to supply for a fraction of the builder's cost, including large floor tiles and handmade kitchen splash-back tiles.
I moved out for four years in 2016 to start a family, and this house was used as an investment. However, just as we were going into lockdown in 2020, I went through a separation and moved back to my home with my little boy and pets. It was a rude shock to come back here after renovating and living in a sprawling family house. But this home is healing, calming, and bursting with natural light, plus it's in a wonderful location. It is here that I healed. Our family unit looked different, but I decided to make this house a home once again. We spent the lockdowns getting the paint brushes out and changing up the house in any way I liked.
We painted the horrendous bright-red, cheap brick that clads the entire house in Colourbond "Nightsky" (black) and the transformation is miraculous. Never underestimate the power of paint! I painted the back panel of the bench in the kitchen a beautiful pastel blue, a color which I mixed and created myself using white laminate paint and acrylic paint colors I had in tubes. I did a very budget renovation on the laundry, removing the generic trough unit, replacing with a smaller sink, to make space for a bench top and washer/dryer beside each other. The functionality of this space is now incredible and much more pleasant on the eye.
We got a deck built out the back and had a pergola put in to make way for some pink wisteria to grow over gradually. Hedges that I had planted back in the beginning are now sensationally tall and create the most magical green wall that is the backdrop for our backyard and is the view throughout the house. Absolutely sensational. We spend all our days out in this yard, with my son on the trampoline, umbrellas up, picnic rugs on the grass, or lounging on the outdoor lounge, or enjoying a hot day in our blow-up pool with our dogs running around us.
If it's not already obvious that I have a passion for biophilic design, I decided to push it up a notch. A year ago I decided we needed new, fresh carpet. However, I couldn't justify the cost and the effort unless it was something spectacular. I had dreams of installing a mossy green carpet, to mimic the look of grass, inspired by a day spa I visited in Melbourne 20 years ago; it has never left my mind. The hunt for THE perfect carpet was a difficult one, though. I eventually discovered Fyber flooring, who specialize in the most sensational colors of carpet. It blew the budget three-fold, and the agonizing four-month wait for it to be manufactured and imported from Italy was painstaking. But, oh my goodness me, was it worth it!
At the time carpet was being installed, I came up with an idea of how to make more space for my son to play. I hopped onto the computer and designed an entirely different floor plan for his bedroom. I drew up a double loft bed, gutted and moved the built-in robe, which essentially created an entire room for him to play, with his bed up on the loft. His dad is a carpenter so I commissioned him to do the construction. It is a brilliant result and a very cool bedroom, which has many wonderful memories held from the time we did the transformation as a family.
One of my favorite times of day is morning, with the eastern sun pouring in through my bedroom windows. I get my son to open the blinds so we can watch the sunrise together whilst I enjoy a cup of tea. The beautiful Broad Leaf Mioporum ground cover we planted in the front garden wanders up to the window, with the magical green carpet a continuation on the inside. A simple delight in a bold design choice.
One day, I would love to build another home slightly bigger, with a few upgrades. But it will be very difficult to leave this place, as it is truly magnificent and a beautiful, happy home that has nurtured our hearts.
I very much identify with how my house presents. I am a color lover and always have been. It was suppressed for a long time, but as my skills and confidence in design have grown, so has my boldness. Bright white walls are a perfect backdrop for some beautiful original pieces of art I have gradually collected, along with some limited-edition prints. Art makes me so very happy and completes my home. It's an interesting juxtaposition, as you won't often see me dressing in bold colors, as I prefer to let my work speak for itself. My design aesthetic is certainly quite bold and colorful, as is my personality, once I come out of my shell.
Describe your home's style in five words or fewer: Beautiful, bright, colorful, bold, nurturing.
What is your favorite room and why? I would say my favorite room is my bedroom. We have so many beautiful moments in here. There's something so special about being a single mum to a boy and two dogs. We have so much love for each other, we have tickle fights nightly, with dogs getting amongst us and jumping all about. We have calm moments in here also, as well as it being my sanctuary for when things get hard or too much.
What's the last thing you bought (or found!) for your home? My favorite saying is "Things don't stay the same around here for long," because I thrive on change. I gain creative energy with a spatial change-up in particular. The most recent change I made was my bed. I had a beautiful rattan bedhead, which I'd had for about five years. I felt like something new and fresh and found a gorgeous mid-century-inspired bed frame with such beautiful, curvaceous form in a crisp white bouclé. It's wonderful and I love the update.
Any advice for creating a home you love? Advice I have for creating a home you love is don't be afraid of paint. And don't be afraid to be bold. Be yourself, be unique, avoid the trends, and focus on what makes you happy.
If you struggle to visualize or don't know where to begin, hire a designer. Many mistakes can be made and a lot of money can be wasted. But if it's done properly the first time, it will always be worth it.