This Super Luxurious Mattress Saved My Aching Back (Bonus: It's on Sale!)
We
independently
select these products—if you buy from one of our links, we may earn a commission. All prices were accurate at the time of publishing.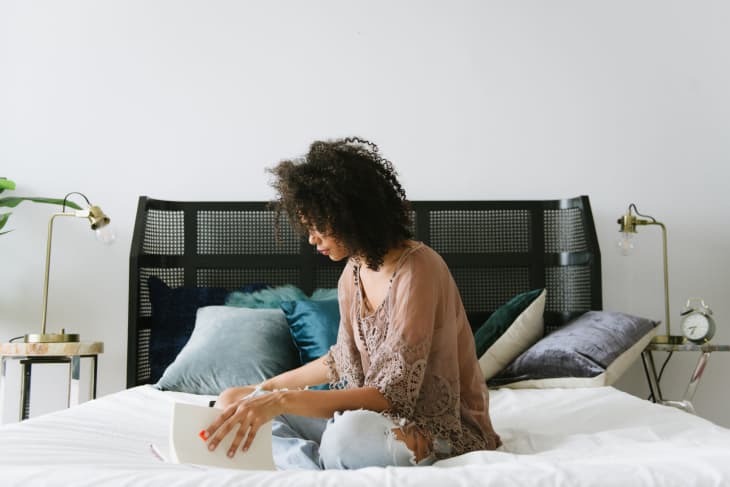 As much as I love to hang out in my bedroom, it was never really a place I prioritized in my home. Was comfort important? Sure, but as long as I had something cushy to lounge around on, I didn't really pay attention to it — until I started waking up and feeling like I needed a good back massage. My tumultuous relationship with bed springs over the years has made me extremely enthusiastic to try out any mattress that's said to bring on that coveted cozy comfort. Birch gave me a chance to try out their new Birch Luxe Natural Mattress that launched last week, and here's what I thought!
Unpacking the Birch Luxe Natural Mattress took some help, but the setup was simple and painless. Once the mattress was on the bed frame, we cut open the plastic and let it unroll, adjusting it as needed. I couldn't help but sprawl out on it as soon as it fully expanded. The mattress is beautiful on its own! The top is quilted and pillowy soft, but doesn't dip uncomfortably. The support of the luxury mattress was one MAJOR factor I noticed right away. After sleeping on a bed that sinks drastically, this mattress brought so much relief! It has a Euro top, so it's more firm around the edges — meaning that even if I'm sitting up against the headboard, the side of the bed isn't dropping low (as if it's trying to swallow me up).
You know you've slept on an incompatible mattress when you wake up with an aching back. I felt none of that with the Birch Luxe Natural Mattress. Its built-in support provided a more restful sleep and no overwhelming need to stretch in the morning. Let's break it down: On top is a breathable organic cotton pillow top that's a dream for a hot sleeper like me. Paired with a set of cooling percale sheets, I stayed far away from the night sweats! Underneath, there's a protective wool and rayon layer followed by comfort layers of organic cashmere and wool that help with temperature, moisture, and cushioning. The three bottom layers of the mattress make up its support system. These layers are dedicated to pressure relief and support, and include a protective base that assists with stability. All of those features together make for a sturdy and firm (but not too firm) mattress.
It can't be denied that the Birch Luxe Natural Mattress is a splurge for the bedroom. I've tried mattresses of all different price points, including hand-me-downs, and I know how easy it is to turn your nose up at expensive bedding. I used to be the same way. But as I've gotten older, I can see why some of my relatives would go all out on their high-quality bedroom furniture. It's not just for show. In terms of this mattress in particular, it's worth it. I'm not constantly tossing and turning throughout the night, my back gets the support that it needs, and as a result, I feel more refreshed and ready to take on the day. Those takeaways are priceless.
Plus, you can now get the $400 off the Birch Luxe Natural Mattress as well as two free Eco-Rest pillows with the code LDS400.