This Man Has Built Over 3,000 Birdhouses to Honor His Late Wife
We
independently
select these products—if you buy from one of our links, we may earn a commission. All prices were accurate at the time of publishing.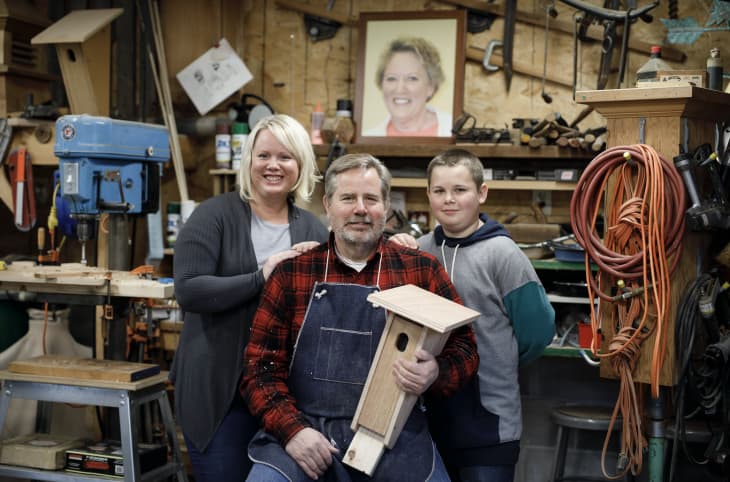 If binge-watching mushy holiday movies hasn't already melted your heart, this next story will certainly do the trick. After losing his wife Pat to brain cancer in 2018, Ron Rudolph decided to honor her life by hand-making bluebird houses. The bluebird—a symbol of joy and happiness in various cultures—was Pat's favorite.
Driven by a desire to keep busy in the wake of such a tremendous loss, Ron devoted many sleepless nights to building mounted birdhouses in his workshop, a heartfelt endeavor that has produced more than 3,000 houses to date. 
When the houses initially began to accumulate, Ron's daughter Kristy began helping him sell the hand-crafted structures on Facebook Marketplace. What started off as Ron's solo nighttime activity eventually morphed into a family affair, with his 4-year-old grandson and 90-year-old father pitching in to help with building.  Each of the hand-crafted houses comes with a blue plaque that reads "Made By Ron Rudolph, In Loving Memory of his Wife, Pat."
The inspiration behind Rudolph's Bluebird Houses clearly resonated with customers, who sought out not only the birdhouses, but an opportunity to share similar stories of attempting to heal from similar experiences.
As Ron told Babble in 2018, the family's passion project has a purpose that goes far beyond an appreciation of birds. 
"Everyone has been affected by loss and grief, and it's been a healing process to connect with people, some complete strangers, over that shared experience," Ron said. 
Also, the family recently started hosting local workshops as a way to help attendees cope with holiday grief while connecting and decorating. They've also put a festive spin on their process by building ornament-sized birdhouses. The Rudolph family has donated a portion of the proceeds to the hospice that cared for Pat.