This Customized Birthdate Candle Is My Favorite Gift and Cyber Monday's Sale Is Letting Me Give It to Everyone
We independently select these products—if you buy from one of our links, we may earn a commission. All prices were accurate at the time of publishing.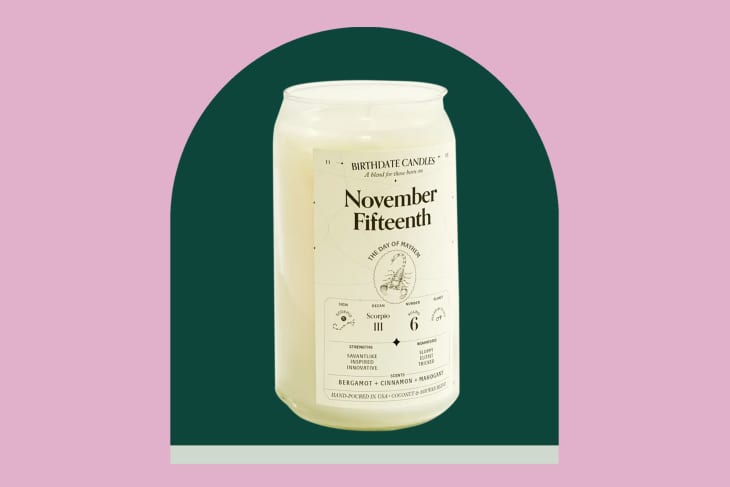 In my opinion, the best kind of birthday gift is one that's a little customized (not a fan of monogram overload and the extra cost that usually comes with it) and looks like the gift giver put a decent amount of thought into it — even if it was as simple as clicking a few buttons. And when I received a Birthdate Co. candle last year from a very sweet and thoughtful friend, I had an aha! moment. This was it: the mythical one-size-fits-all present that still felt completely tailored to me — and one that I immediately knew I'd be gifting others on their birthdays, too. And with Cyber Monday here, Birthdate Co. is offering at least 25 percent off of anything sitewide but up to 50 percent off if your order totals $500 or more. Challenge accepted.
There are 365 unique candles on the Birthdate Co. website — that's right, one crafted for every possible date of birth. All you need to know is the recipient's birthday, and you can search for the corresponding candle by date, month, or sign. Then comes the coolest part: seeing what the candle says about the person based on a mix of astrology, numerology, and tarot. Each Birthdate candle promises to "unlock the secrets of your personality," and even has its own calm, soothing fragrance made by a master perfumer. (They're hand-poured in the US and are a blend of soy, coconut, and apricot wax and custom natural fragrance oils.) Even if your recipient isn't totally into astrology, they're likely interested in reading about what their day of birth says about their personality. My November 17 candle (save your groans; I'm a proud Scorpio) was a total delight to receive.
On the label affixed to the front of the candle, it stated a few fun things about people born on that day, such as our strengths (I'm modern, valuable, and youthful — why, thank you!) and weaknesses (Martin Scorsese and I share a birthday, so he must be burnt out, blue, and withdrawn, too). On the back label, it takes a much deeper dive into your habits and personality, plus your tarot card, ruling planet, and ruling number. My fragrance was described as having "woodsy and floral notes — a base of mahogany and musk and a top note of bergamot and plum, with a touch of cinnamon. Complexity is necessary for the imaginative, passionate, intense souls born on November 17." It was the absolute perfect scent for that cold fall day, and I was able to reuse the pretty glass vessel after the candle burned down.
See? Total thoughtfulness, customization, and fun, all in a luxe candle, is on the way to someone with just a few clicks. Is it your best friend's birthday? Your longtime dog walker's? Your aunt who always blames any personal shortcomings on her zodiac sign? Well, all of them have something in common: They'd likely appreciate feeling special on their birthday — and with this unique gift up to 50 percent for Cyber Monday, they'll absolutely feel the love and be able to ponder the universe (in the most constructive of ways, of course) on their special day while you secretly save!