See How a Stager Transformed a Bland Denver Family Room into a Trendy Hangout
We independently select these products—if you buy from one of our links, we may earn a commission. All prices were accurate at the time of publishing.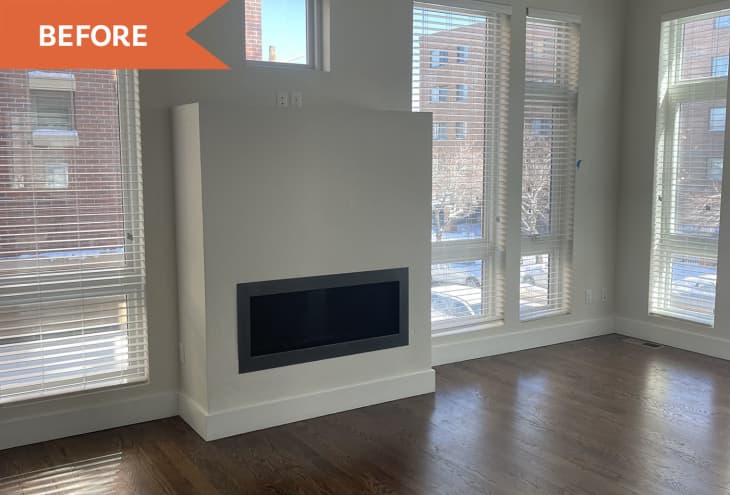 Just like when an artist begins to work on a new painting, a blank canvas makes a great starting point for a professional home stager.
Follow Topics for more like this
Follow for more stories like this
Amanda Eufer-Lewis, owner and lead stylist of The Den Rentals in Denver, had that advantage when she was hired to stage a Denver townhouse. "It was very neutral, which we love, but lacked personality and character," she says of the 2,089-square-foot home, built in 2014. "The architecture is simplistic."
In order to transform the "average, stale townhome with a lot of rectangles and harsh lines," Eufer-Lewis used "soft, curvy furniture to let the eye travel and scan the space," she says.
She also wanted the three-bed, four-bath townhouse to have a modern vibe to appeal to the younger demographic that lives in the neighborhood, which is in the heart of the city. "We wanted the interior to feel elevated, more trendy, and add a punch to the otherwise run-of-the-mill interior," she says.
When it came to the family room, arranging the furniture was tricky thanks to several tall rectangular windows and a boxy fireplace with a small square window above it. "There are a lot of rigid lines," says Eufer-Lewis. "It's a nice open floor plan but has what could be awkward dead space on the way to the kitchen." 
Her goals were to give purpose to that space near the kitchen, which was challenging since the home already contained a dedicated breakfast nook. She also sought to soften all the boxy shapes and lines.
To maintain the openness of the floor plan, Eufer-Lewis decided against the obvious choice of placing a sofa directly across from the fireplace. "We chose a more unconventional route," she says. Instead, she paired a kidney-bean-shaped sofa by Article with a jelly-bean-shaped glass coffee table and curvy accent chairs in a funky, neutral snake print.
A West Elm floor lamp adds extra illumination, and a light-colored area rug by Safavieh, featuring a subtle geometric pattern, offsets the curvy furniture and showcases the room's generous size. 
Eufer-Lewis topped the vintage coffee table, from Mile High Coop, with some of her "favorite pieces to add a point of interest," including a planet vase from Motif Modern, a vintage brass snake from JKC Vintage Decor, and assorted coffee table books. 
In terms of artwork, a black-and-white sculpture by Angela Chrusciaki Blehm over the fireplace perfectly plays into the "theme of curves and organic shapes," she says. Hanging the piece "immediately softened the harsh lines of the multiple long windows and boxy fireplace," Eufer-Lewis adds. A large white Abbey Ratcliff painting offers plenty of texture but doesn't overwhelm the room.
As for that odd extra space off the kitchen? She used a waterfall glass console from Safavieh to create a small bar area, complete with two ottomans tucked underneath and a custom painting by AOTH above. The finishing touches include a marble bust, glassware on a tray, a potted plant, and a lamp by Nathan Lee Beck.
"Setting up the room in this unconventional way allows the previous dead space to be a part of the overall composition and allows the eye to scan the entirety of the room versus focusing on each boxed-off zone," Eufer-Lewis says. "We set the tone for a great entertaining space."
The home's buyers likely thought so, too. The property recently sold for $145,000 over asking price.