One Expert's Genius Solution for Blocking Out Your Neighbors' Loud Sex Noises
We independently select these products—if you buy from one of our links, we may earn a commission. All prices were accurate at the time of publishing.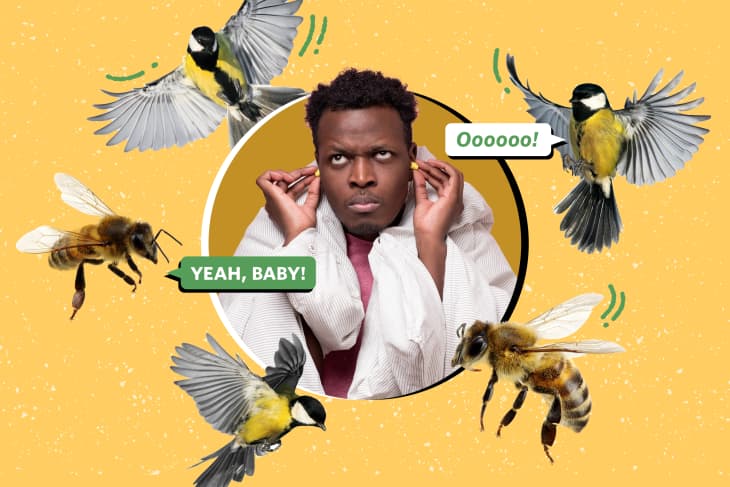 Welcome to Key Questions, a real estate advice column where we address your conundrums related to renting, moving, buying, selling, housing, and more. Ask us your weirdest and weightiest wonderings at advice@apartmenttherapy.com.
Follow Topics for more like this
Follow for more stories like this
I want to start my question by acknowledging that I'm aware living in New York City has its tradeoffs. I've been here for close to a decade, and have seen my fair share of rats, cockroaches, and ripped-open packages strewn on the stoop. Before I moved into a new apartment this year, I thought I'd had the classic noisy neighbor experience, too. But I was very wrong. 
On the first night in my new place — and on many nights since then — I've been able to hear, in great detail, my neighbors having sex through the walls. Their voices are just plain loud and they often keep me awake when the action continues long past midnight. I don't think the problem I'm having is unique (this is a city of more than 8 million people, after all) but I would like a unique solution to it. A lot of articles suggest slipping them a note asking them to quiet down, but I feel pretty weird about doing that. Is there anything else I can do besides getting the nerve to have a talk with these lovebirds?
Sincerely,
Can't Sleep a Wink, Wink
Dear Can't Sleep a Wink, Wink,
My condolences on the lost sleep. Neighbors having loud sex is one thing, but neighbors making lots of noise late into the night? That's tough.
I understand where you're coming from when you say you don't want to approach your neighbors. Sex is part of being alive for most people! What right do you have to tell somebody they're doing it in a way you don't like?
Contrary to the advice of the advice columns before me, I don't think gently talking with your neighbors about the noise is a good first step. I tend to agree with this excellent essay from The Cut about never apologizing for loud sex. It asks an important question: "If adults can't have noisy sex in their own homes, with the doors and windows shut, then where can noisy sex occur?"
Therefore, the onus isn't on the people having sex to eliminate the noise, but on the unwilling listener to block it out. "You can dull the noise by turning on a radio, putting in earplugs, or making some noise of your own. You can simply ignore it for a couple minutes," continues the essay. "Neighbors who throw noisy parties are generally allowed a few hours of indulgence. Shouldn't vocal sex-havers be afforded a few minutes?"
In your case, though, those few minutes are keeping you awake, and sleep is a precious commodity during a pandemic. It's really not the sex that's getting on your nerves, anyway, it's the noise level at nighttime. One expert I spoke to said that's something you might be able to fix — and you can go beyond shoving some earplugs in your head to get there. 
Dr. Bonnie Schnitta is the founder of SoundSense, an acoustical consulting and engineering company in New York. While she did recommend some professional soundproofing methods and materials, she understands that not every renter will be game to hire an acoustic consultant and invest time and money to soundproof a temporary home. One of her suggestions really stuck with me, and it's something I want to pass along to you, Wink.
Schnitta continuously recommends the same product to New York City renters struggling to sleep: Lumitex. Originally developed to block out light in shades and curtains, Lumitex is a thick, fairly inexpensive fabric that provides excellent acoustic absorption. Instead of sewing it into window curtains, Schnitta insists on using the stuff to surround a canopy bed.
"A friend of my daughter's has a great apartment, but they can hear the neighbors sneeze at night because the walls are so thin," Schnitta says. "I said, 'Hey, you know, tell them to get a canopy bed, make curtains for it, line them with Lumitex, and they should be fine.' Sure enough, that helped and they weren't woken up in the middle of the night."
A little soundproofed cocoon! How sweet is that? Before you go inserting sound-absorbing panels between your drywall, you could try creating a little haven for sleep in your apartment. It won't solve the sex noise problem at all hours of the day, but it will give you back your precious shut-eye. I'd also argue that canopy beds are one of the top three coolest beds you can have, aside from water beds and murphy beds, of course.
Good luck, Wink, and sweet dreams.