Macy's Pulled Those Body-Shaming "Mom Jeans" Plates After Twitter Rallied Against Them
We independently select these products—if you buy from one of our links, we may earn a commission. All prices were accurate at the time of publishing.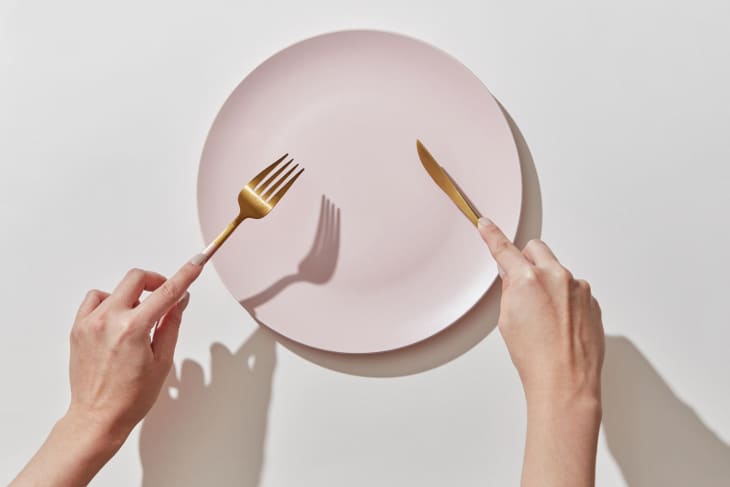 Forget hot plates—Macy's recently found itself in hot water. On Monday, the department store became embroiled in a social media firestorm after CBS correspondent Alie Ward tweeted a photo of a set of plates she spotted in their New York store.
Follow Topics for more like this
Follow for more stories like this
The plates, made by a company called Pourtions, features circles meant to indicate food portion sizes, with comments like "skinny jeans" around a circle for the smallest portion size, and "favorite jeans" around a larger one. The largest perimeter is labeled "mom jeans."
"How can I get these plates from Macy's banned from all 50 states?" Ward mused on Twitter.
On the Pourtions website, the plates are described as a "helpful—and hilarious" method of portion control, or as they call it, "guide rails."
"Research shows that people unintentionally consume more calories when faced with larger portions," the website reads. "It'll spice up your dinner table, and your conversation. We'll save a seat at the table for you :)"
Pretty quickly, people on Twitter chimed in with responses to the tone-deaf decor.
"Fixed them," wrote one reply, who had doodled "you're great" over the pre-existing words. 
"The Good Place" star Jameela Jamil even chimed in, writing "F— these plates. F— them to hell."
"Jokes on them because my favorite jeans are my skinny mom jeans," another user replied. 
"Theses labeled plates are AWFUL and I am glad Macy's has agreed to remove them. This fuels eating disorders," one response read. 
Not everyone felt the plates were offensive, however. Several people quickly jumped in to attack Ward. "The Real Housewives of Beverly Hills" star Kyle Richards also chimed in, telling TMZ that she thinks people are "too sensitive."
While many respondents were quick to snap back at Ward by suggesting that she just not buy them, she made it clear that it's not just about the plates. Instead, it's about the way of thinking that they promote.
"When you take half a population and make them think that their power is in their value as a sexual object, you weaken their voice as a whole and you end up with a system that's lopsided and out of balance," she told HuffPost. "So it's not about plates, it's about letting women know it's okay to say 'hey, f*ck this.'"
Later on Monday, a spokesperson for Macy's told TODAY Food that the company has removed the collection from stores. 
"We apologize to our customers for missing the mark on this product. After reviewing the complaint, we quickly removed the plates, which were only in our STORY at Macy's location in Herald Square."
Mary Cassidy, the president of Pourtions, responded, telling HuffPost that the collection was "meant to be a lighthearted take on the important issue of portion control," and not "hurtful to anyone."