This Bohemian Apartment in Madrid Has the Most Magical Black and White Tile Floors
We independently select these products—if you buy from one of our links, we may earn a commission. All prices were accurate at the time of publishing.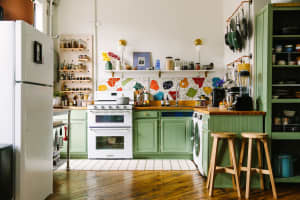 Can't-Miss House Tours Straight to Your Inbox
Keep up with our latest house tours each weekday with our House Tour of the Day newsletter
Name: Caroline Martin
Location: Madrid, Spain
Type of home: Apartment
Size: 968 square feet
Years lived in: 1.5 years, renting
Tell us a little (or a lot) about your home and the people who live there: This is my first real "me" home. You know when a place so fully fits with who you are and your lifestyle that it practically feels like an extension of yourself? That's how I feel about my casita.
About me: I'm half French, half British, and my family moved frequently growing up, so you could say I'm the classic "third culture kid." After living in Nairobi for three years, I wanted to come back to Europe but had no idea where to go. I love France, but not enough to settle back there. And I'd already done London for seven years on and off. So I picked Madrid after speaking to a cousin who lives in Barcelona and said Madrid was more local, less international. I had never been to Madrid, but I moved here with all my possessions in January 2020 to study. My on-again-off-again partner decided to join me, right before lockdown. Fast forward a heartbreak and three consecutive Airbnbs with all my stuff in storage (I have two potato peelers to remind me of this time) — I finally found my "palace" in May 2021.
The apartment: The photos were not promising. It was filled with furniture that was so stained, it looked like someone had died there. Not quite: the owner had lived here for the last 20 years, until her daughter decided to move her into her own home. (The Spanish really know how to take care of their elderly). It has tall ceilings, traditional mouldings, and Spanish-style tiled floors. Even though I pay for a furnished rental, I asked them to remove all the furniture to give me a blank canvas to start with. I consider it the sunk cost of moving!
The neighborhood: The neighborhood is called "Palacio" as it is located a close walk from the Royal Palace, where the Spanish royal family no longer lives (too many windows, apparently!). Despite this grand context, it's also close to busy shopping and also to Asian supermarkets. I love it: I selfishly feel it's a good analogy for my life, balancing tradition with interculturalism, as well as for my apartment itself: mixing old and new.
I'm a closet artist who unleashes her creativity on her home. Having never had the guts to be an artist, my only outlet is to fill my home with art. I have a predisposition for illustration and cartoon art, but I'm not exclusive.
I love hosting, so I prioritized a large dining table. I like fitting in as many people as I possibly can, even though I know they'll be uncomfortable — I think I make up for it with good food and lovely people. "People will forget about an elbow nudge, but not how you made them feel."
I'm a yoga teacher, so I needed a space I could practice and breathe in, that would make me feel at peace. I mixed as many natural materials as I could: linen, jute, rattan, wool, wood —anything to make me feel connected to the earth elements. I don't own a TV.
Describe your home's style in 5 words or less: The joyful fusion of traditional Spanish and bohemian Yogi
What is your favorite room and why? My favorite room is not a room, it's the entrance hall. I love it because it's so ridiculously spacious it doesn't make logistical "sense" for the use of a space in a one-bedroom apartment. It feels like a nonsensical luxury! When you walk in, you can see through to the windows that open to the street, and it's a perfect gallery wall/hall.
Any advice for creating a home you love? I've been able to create a home I love by not over-investing in pieces. Everything here is either vintage, second-hand, DIY, or IKEA, which gives me incredible freedom. If my tastes change or I get bored of a piece of furniture or style, I could just as easily sell it online again and swap it out for something else. I like thinking of the home as a growing, moving, changing thing — nothing has to be permanent, unless you want it to be!