I Replaced All of My Cleaning Products With This Non-Toxic Brand and I'll Never Go Back — Here's Why
We
independently
select these products—if you buy from one of our links, we may earn a commission. All prices were accurate at the time of publishing.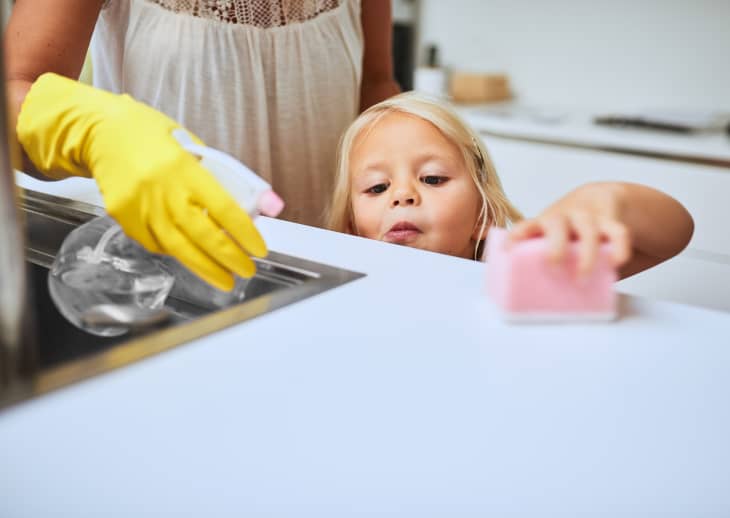 I don't know about you, dear reader, but I have been using the same Fabuloso brings to mind the vision of my grandmother twirling her mop around the kitchen every Saturday morning). As I got older, however, I started to take a closer look at my cleaning supplies and began wondering if there was something better out there. Better for me and better for my home. You see, after some health issues, I was advised to cut down on the number of chemicals I was exposing myself to, and thus, began looking into natural cleaning products. That led me to Branch Basics and reader, I'm a changed woman.
Founded by aunt and niece duo Marilee Nelson and Allison Evans, along with family friend Kelly Love, Branch Basics was formed to create non-toxic alternatives to home products and get back to the basics of cleaning. At the heart of each product is a simple mix of cleaners that get the job done: purified water, decyl glucoside (a mild surfactant), organic chamomile flower extract, coco-glucoside (a coconut-derived surfactant), sodium citrate (a soap aid), sodium bicarbonate (good ol' baking soda), and sodium phytate (a stain-fighting foaming aid).
Now you may be wondering just how complicated making the switch to clean products may be. Thankfully, Branch Basics makes it easy with its Premium Starter Kit, outfitted with everything you need to get started. This includes the brand's staple Cleaning Concentrate, five pre-labeled reusable plastic spray bottles (there's also an option for glass bottles!) designed to mix and measure all-purpose, bathroom, glass, foaming wash, and laundry cleaner, as well as a bag of the brand's Oxygen Boost laundry stain remover. The best part? One bottle of the Concentrate makes up to three bottles of each liquid cleaner, making this a cost-effective move, too.
Let me just say one thing: I used to be fully subscribed to the idea that natural cleaners couldn't possibly clean as effectively as harsh chemicals could. Boy was I wrong. Since making the switch to this cleaning system, I found the opposite to be true: these products cut through some messes better than my tried and true market staples! From stuck on food in hard-to-clean pans to stubborn tub grime to wine stains, each of these products has been effective in keeping everything in my home clean. Best of all, I feel so much better using these products — there's truly nothing better than not choking on your cleaning supplies.
Ready to put Branch Basics to the test for yourself? The Premium Starter Kit comes in at $75 for the plastic bottle set and $125 for the glass bottle set. So say goodbye to toxic chemicals and get your home sparkling today. Spring cleaning season is a great time to make the switch, don't you think?