Brett and Rachel's Creative & Colorful Lafayette Mid-Century Modern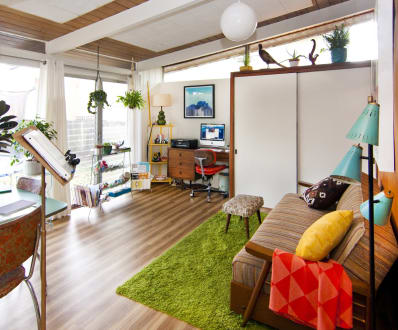 (Image credit: Lucius Fontenot )
Name: Brett and Rachel
Location: Lafayette, Louisiana
Our home was built in 1955 by David L. Perkins, an architecture professor who played a key role in starting the architecture school at what is now The University of Louisiana At Lafayette. It was one of the first of many modern homes and buildings he designed that shaped the contemporary landscape of Lafayette, Louisiana. Located near the UL Lafayette campus, it is now 1874 square feet, four bedrooms and two bathrooms with some additions that were added in 1965.
(Image credit: Lucius Fontenot )
There is also an attached fallout shelter built in the late 50s. Our real estate agent friend noticed it while driving home from a showing of another house on the street. It wasn't for sale but the owner was working on it outside and after talking to him for a few moments, he invited us in to take a look. We instantly fell in love with the modern post and beam design. The owner was up in the air about renting or selling, as he had bought it for his kids to live in while attending the university.
(Image credit: Lucius Fontenot )
We expressed our interest and about a month later it was ours. We have always been attracted to mid-century design, so the oak and cypress tongue and groove walls and ceiling, red gum wood paneling, open floor plan, walls of glass, and clerestory windows, were everything we had wanted. This home is a rare find in Lafayette as well, particularly in our target area close to downtown and the University. So we feel very fortunate to have found it at the right time.
(Image credit: Lucius Fontenot )
Our style range is very wide. Obviously we have a love of mid-century items but we also have Brett's boyhood collection of Breyer horses and bulls on display. The main goal when moving in was to have the house feel cozy and interesting, like once you come in really want to stay awhile and check everything out. Apartment Therapy was a huge source of inspiration for learning about symmetry and the flow of a home.
(Image credit: Lucius Fontenot )
We have many collections and really wanted them to appear thoughtfully put together rather than crowed and cramped. We are most proud about how besides our sofas and televisions the things in our house come from thrift shops, garage sales and estate sale. It has been many years of collecting things that speak to us that makes the house feel so special and all of the glass and natural lighting helps too.
Thanks, Brett and Rachel!
• Interested in sharing your home with Apartment Therapy? Contact the editors through our House Tour & House Call Submission Form.