Love Persimmons? Brightland Just Launched a Fruit-Forward Vinegar You'll Be Using on Repeat
We
independently
select these products—if you buy from one of our links, we may earn a commission. All prices were accurate at the time of publishing.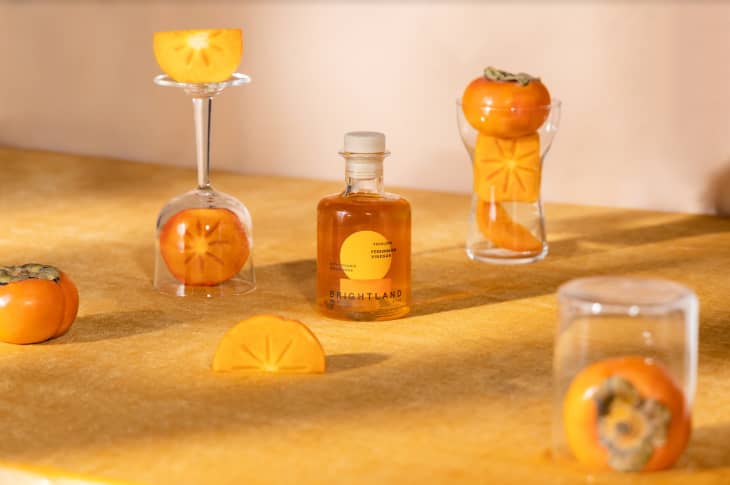 We all have that one friend who's got impeccable taste (and yes, if that friend is you, it still counts). Surely, we all too have snooped through that friend's kitchen cabinets, hoping to get an idea of what our own pantry should be looking like. Well, chances are, behind those cabinet doors you're bound to find a bottle (or three, or five) of Brightland's delicious, high quality, and totally gorgeous pantry staples. Whether it be an Oprah-approved collection of olive oils, a fragrant, rosemary infused EVOO, or the vinegar Kitchn editors cannot and will not ever stop talking about, Brightland's got their finger on the flavor pulse, and we're here for it. So, when we found out they'd be adding a new addition to their lineup, we weren't just excited, we were ecstatic. Drumroll please … meet FOLKLORE.
I'm sure it'll come as no surprise to you that, as former pastry chef and lover of all things delicious, I too am a MAJOR Brightland fan. So, I pulled a few strings (wink wink) and got a sneak peak (or should I say sneak taste) of this all new vinegar. And let me tell you folks, in just a few days, I've already used up a fourth of the bottle! Yes, it is that good. It is that unique, and that dynamic, and that fresh!
The secret ingredient in this little bottle of fermented, tangy goodness? Persimmons. Now, being from California, I'm quite familiar with the fruit (I love the plump little orange things so much that a family member sent me a whole boxful in November from their tree), but it came as a surprise that many of my East Coast friends had never heard of them. These fruits have flesh that begins as hard as an apple (it shouldn't be eaten then, it'll be bitter) and then ripen off the tree until they're complete mush — at which point you can turn them into jam. However, they're best enjoyed when their consistency is right at an apple-meets-juicy-peach nexus. If you catch them at the right moment, their deep-orange flesh is creamy, sweet, and subtle with a hint of warm spice (cinnamon, star anise). They have a slight date-like under tone and a fresh, clean finish.
They're scrumptious on their own, but when they're turned into vinegar? Now there's an idea I wish I had years ago. Those flavor makers over at Brightland are so genius. And what's more: the persimmons they used were grown regeneratively in California — they've got a hand in the future of agriculture, too, it seems! Once fermented, though, the unique fruits produce a gorgeous warm, orange liquid that looks like a literal sunset in a bottle and tastes even more heavenly. This vinegar is similar to a champagne vin in its base — meaning it's sorta dry, sorta sweet, super versatile, and hard to beat. But it's got a unique yeasty undertone, like a good croissant. You can taste a little fuzzy pique running through the flavor that complexifies each drop tenfold.
I can't get enough of this bright, juicy vinegar. I'd drink it if I could. In fact, I have. I recently added it into cocktails, and it functions like a shrub giving a delicious, thirst-quenching quality that convinced me I'm never making drinks sans FOLKLORE again! I've also whisked it into every salad dressing I've made since its arrival (it pairs particularly well with mustard). I've mixed it with fish sauce, lime, and cilantro to dress vermicelli noodles, added it when deglazing the pan for my seared halibut, and used it for a quick golden beet pickle (I swear, that's the best pickle Ive ever had). Heck, I haven't yet, but I can't wait to sprinkle some into apple filling for pie. No one said vinegar and dessert don't match!
While most vinegars lighter in color seem to correlate with the arrival of summer, or at least warmer days, this game-changing vinegar says otherwise. The flavor notes from the persimmon ensure the bottle is warming and cozy — especially when drizzled over lentil soup topped with creme fraîche — and yet, FOLKLORE still does its job and then some.
If you're privy to Brightland's past launches, you'll know that this gem of a pantry staple is bound to sell out. There's a finite amount of bottles and after that, it's gone! And because persimmons are a late-fall harvest, I'm just not sure exactly when (if ever) FOLKLORE will be restocked. So believe me when I say, this is one Brightland drop not worth missing. In fact, I've run through mine so fast I better head over to the site to restock ASAP.