The Splurgy (But Totally Worth It!) Balsamic Vinegar That Helped Me Recreate My Favorite To-Go Salad at Home
We
independently
select these products—if you buy from one of our links, we may earn a commission. All prices were accurate at the time of publishing.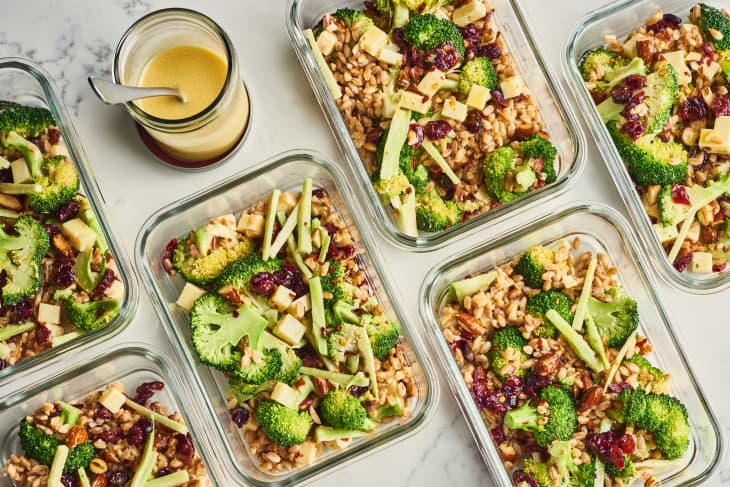 Now that summer is here, I've been stumped on what to make for lunches while working from home. Avocado toast, turkey sandwiches, and the occasional pasta dishes do the job, but they're getting a bit tired. Naturally, I don't like putting a lot of time and effort into my WFH meals, so I had to get creative. I'm still not fully back to the office, so I haven't been frequenting my favorite (ahem, pricey) salad spots that are my typical default during the work day. To fulfill my craving, I decided to try and recreate one of my go-to fresh combos at home to mix things up. My favorite salad, the Harvest Bowl from Sweetgreen, is one of the salads I crave the most. It's actually a breeze to make, but the part that intimidated me the most? Making the mouthwatering balsamic dressing — I thought it could never be replicated! But let me tell you — it was so easy to make and worth the few extra steps instead of just buying a pre-made dressing.
The secret to the goodness of this DIY dressing? Brightland's Rapture balsamic vinegar. I've had this pretty bottle sitting on my kitchen shelf for a while now and I've really only used it to dip bread into (which is delicious, BTW!), but this is the first time I've really used it with purpose. The creamy, dreamy dressing recipe I used consisted of Rapture, Brightland's olive oil, lemon juice, some mustard, Greek yogurt, and a little salt and pepper. Let's just say these ingredients were a match made in salad-dressing heaven!
I've been a longtime fan of Brightland and, to me, this is just more evidence that they can do no wrong. I'm the furthest thing from a pro chef, but their elevated pantry staples make me feel like one (almost). This salad was such a breeze to whip up altogether, but having Rapture on hand instantly took the flavor to the next level. The actual salad itself includes a base of kale, roasted sweet potato, goat cheese, a grain of your choice, and chopped apples. The zesty-yet-sweet dressing combined with these ingredients basically made my tastebuds dance in the best way possible. In fact, my DIY bowl was so tasty, I don't even crave the real salad as much anymore (but yes, I am still going to buy it when I'm in a pinch!).
So what makes this balsamic so irresistible? It's double-fermented with California Zinfandel grapes and infused with perfectly-ripe Triple Crown blackberries. Basically, it's the Rolls-Royce of balsamic vinegar. It's also made on a small, family-owned farm, so you know that a lot of love and care is put into every bottle — you can taste the difference. Trust me when I say it's worth every penny. You won't find me buying just any bottle of balsamic vinegar at the grocery store anymore.
Now, I'm inspired to find more ways I can put this bottle to good use, from other salad dressing recipes to marinades and more — the sky is the limit! While you're at it, I also recommend getting The Pair from Brightland, which teams Rapture with Parasol, Brightland's luxe champagne vinegar.