Britney Spears' Childhood Home Is on the Market for $1.2 Million
We
independently
select these products—if you buy from one of our links, we may earn a commission. All prices were accurate at the time of publishing.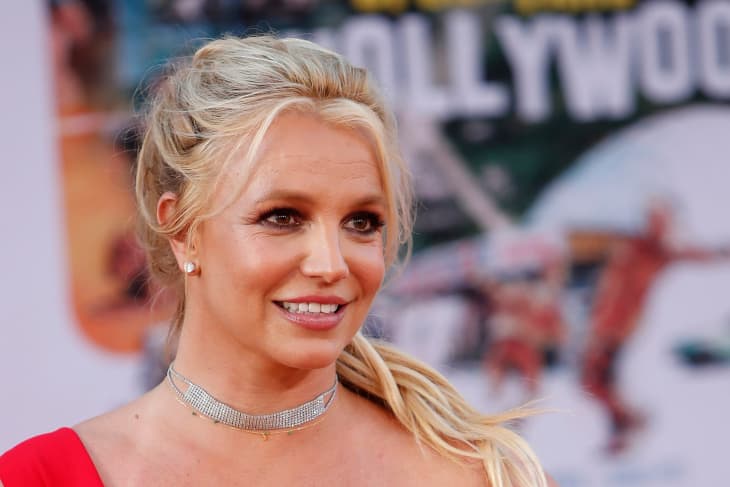 On the heels of the release of Britney Spears' bombshell memoir, The Woman In Me, it seems the current owner of her childhood home is hoping to capitalize on her big moment in the spotlight. The Kentwood, Louisiana, home where Spears lived with her family before she catapulted to stardom in 1998 is on the market, but it'll cost you a cool $1.2 million to own a piece of pop culture history.
The rural Louisiana ranch home sits on nearly two acres of land and offers 2,300 square feet of living space (much of which has been preserved with items that represent the young pop star as she became a household name). Along with three bedrooms and three bathrooms, the home still has the original dance studio where "Britney's incredible journey began," as the listing notes.
Fans will also find Spears' name etched into the cement outside the home, and several of her childhood drawings and mementos, including stickers bearing her name from the release of her first album and an *NSYNC sticker on a mirror. The interior includes what appear to be original features, including green striped wallpaper, '70s-style wood paneling, ceiling fans, granite countertops, and a wood-burning fireplace. There are also two metal storage buildings on the property and a two-car garage.
Spears moved into the home with her family at some point in the 1980s, and it remained in the hands of her father and conservator, Jamie Spears, who sold it for $289,000 back in 2021. Jamie lived in the house long after splitting from Britney's mom, Lynne, who lived in a nearby estate called Serenity that was purchased as a gift by her daughter in her early years of fame. Lynne reportedly still lives in the roughly 6,500-square-foot property.
The high price tag reflects the Kentwood home's legacy, as listing agent Yvonne Hulsey, of Keller Williams Realty Services, told Mansion Global. "What I'm selling is a legacy, a piece of history, memories. It's definitely not square footage I'm selling. Someone may want a piece of Britney Spears and her life, and where everything began in that dance studio. She originally taught aerobics there at 12, and started dancing at 2 years old. It's just such a beautiful piece of history."
It's unclear how Spears herself feels about the sale, but some fans think she should purchase the home herself and do with it what she pleases — a particularly fitting prospect, as Spears noted in her memoir that she discovered her parents had thrown away her childhood mementos back in 2020. "The Madame Alexander dolls I'd collected as a girl were all gone," she wrote. "So were three years' worth of my writing. I had a binder full of poetry that had real meaning for me. All gone. When I saw the empty shelves, I felt an overwhelming sadness. In that moment, I made peace with my family — by which I mean that I realized I never wanted to see them again, and I was at peace with that."

Buy: The Woman in Me by Britney Spears, $30.68 (regularly $32)