This Brooklyn Rental Has Boutique Hotel Vibes
We independently select these products—if you buy from one of our links, we may earn a commission. All prices were accurate at the time of publishing.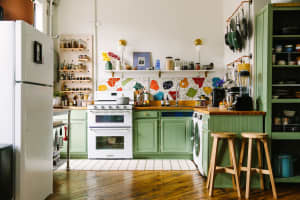 Can't-Miss House Tours Straight to Your Inbox
Keep up with our latest house tours each weekday with our House Tour of the Day newsletter
Textile Designer Rebecca Atwood isn't the only one with talent in her family. Her sister, Grace Atwood, started (and runs full time) a blog called The Stripe as a "source of inspiration for the modern woman" eight years ago, covering all sorts of topics like DIY, beauty, fashion, travel, design, and more. Grace recently made the move from a small studio apartment in Manhattan to a roomy rental in Williamsburg, and she's spent the last year designing a space as bold and inspiring as her blog.
Upsizing from a studio into a one-bedroom—while great for more space—can be a challenge when it comes time to fill a larger space with few existing furniture pieces. But Grace didn't want to rush to fill her new home with cookie-cutter furniture from just one brand; her aim was to get creative to craft a space that is unique to her personality.
Patterned wallpaper and fabric is a vibrant accent in nearly every room, and she painted the floor of the the living and dining areas in a large-scale, energizing green-and-white checkered design. Partnered with storage solutions and small space designs, her home is a great example of how to design a truly unique space.
And yes, her sister Rebecca's designs can be seen in Grace's home; Rebecca's first permanent bedding collection launched earlier this year, and the master bed's covered in soft selections. Rebecca's curtain and fabric designs can be seen in the living room. And her wallpaper designs enliven the bedroom and bathroom's walls. The whole rental apartment is truly a reflection of two talented sisters!
Apartment Therapy Survey:
My Style: Colorful, eclectic, mid-century.
Inspiration: The Beverly Hills Hotel
Favorite Element: My floors—I painted them myself! Besides those, I absolutely love my bed—it's my happy place. Big and fluffy with lots of cozy bedding from my sister Rebecca Atwood's line.
Biggest Challenge: The floors—they were painted an ugly grey color. When I moved in, the space felt so cold and harsh—like the Shore Club in Miami (nothing wrong with that, just not my aesthetic). I asked my landlord to finish them and she didn't want to; so she gave me permission to paint them.
What Friends Say: They call it The Stripe Hotel (a play on my blog and the fact that I like my home to feel like a hotel.)
Biggest Embarrassment: I like color, maybe a bit too much. I realized quickly that I needed to chill on the color and add more neutral items to my space to keep from looking like a lunatic.
Proudest DIY: Probably the floors… but I love how the bathroom and bedroom wallpaper turned out, too!
Biggest Indulgence: My Hermès blanket (which my cat has totally taken over), and art! I love art and have started a (very small) art collection—I have an original Hunt Slonem bunny painting in my bedroom, a Catherine Howe art piece in my kitchen, and one of my best friends Aly Harte painted me The Beverly Hills Hotel.
Best Advice: If you're a renter, don't be afraid to experiment and ask your landlord if you can change things up. Especially in New York, where moving is expensive and we tend to stay in our rentals a while. I got permission to paint my floors but also did removable wallpaper in my bedroom and bathroom. I also swapped out all of the hardware on the kitchen cabinets. There's a lot you can do that can easily be un-done later.
Dream Sources: ABC Home for everything.
Wallpaper is listed below – I actually didn't paint my walls.
For the floors, my how-to tutorial is here.
The colors I used were Behr Satin Finish in Garden Cucumber and Swiss Coffee!)