The Best Budget Kitchen Transformations of 2017, All Well Under $1000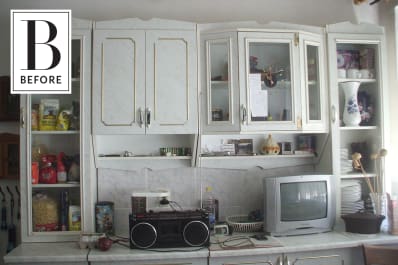 (Image credit: Submitted by Luliana )
Think a new kitchen is currently out of reach? If yours is bringing you down, but you don't have the means to do a full renovation, don't give up too soon. These budget renovations all cost under $1,000 (and some well, well under that) and prove beyond a shadow of doubt that you don't need a wad of money to give your kitchen a brand new look. Sometimes, it's just a matter of paint, a little bit of elbow grease, and some good ideas. Use these five as inspiration.
Avery's 1980s kitchen was dark and dated, and she needed some quick and inexpensive updates to transform the look of the space.The total cost of this update (not including the rug) came out to $200.
Not only was this kitchen makeover completed in 30 hours, it also cost just $600. A truly remarkable project and outcome!
(Image credit: Submitted by Kristyn)
This was definitely the kitchen equivalent of "It's not you, it's me." There was nothing terribly wrong with the space, it just wasn't the bright, colorful, organic modern look that owner Kristyn was looking for.
(Image credit: Submitted by Kristyn)
Hannah's kitchen was devoid of any character or personality. It felt dark and depressing, and —worst of all — did not make the most use of the space. She set aside $120 a month for six months to make some miraculous, yet doable, changes.
(Image credit: Submitted by Luliana )
This makeover (also lead image above) is all about the power of paint —yellow paint to be precise. Which means this kitchen got a cheerful facelift for under $200.
(Image credit: Submitted by Luliana )