5 Budgeting Apps That Make Money Planning Easier, According to Finance Experts
We independently select these products—if you buy from one of our links, we may earn a commission. All prices were accurate at the time of publishing.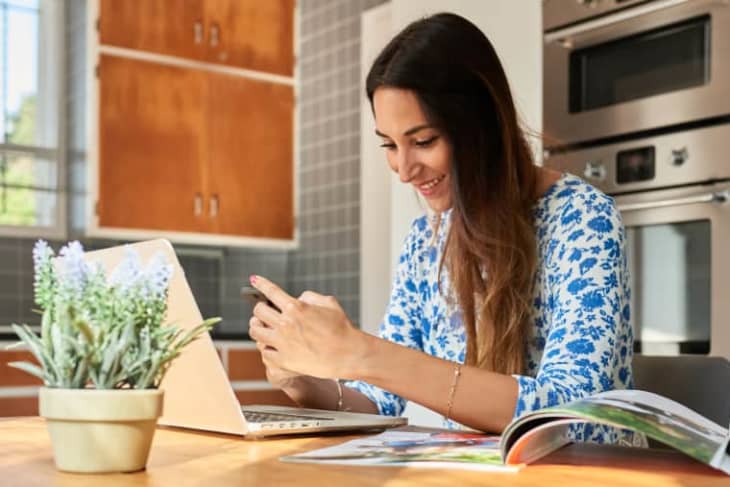 Having budget goals is crucial to staying on track with your finances — but it can be tough to figure it all out on your own. Have no fear: Attaining financial goals can be as simple as coming up with a practical plan and sticking to it. First steps include logging incoming revenue, as well as any liabilities and daily expenses. 
Here's where help comes in: an app on your phone can eliminate you from having to think too much about the what's and when's of financial planning, and help automate the process so you're more apt to stick to your budget. If you're looking to get your finances under control, consider an app to help get you started. 
Follow Topics for more like this
Follow for more stories like this
When choosing a budgeting app, make sure you find the right one for you and your goals. "Budgeting is such an individual thing; we each have our quirks. So what works for one may not work for another," explains certified financial instructor, Kari Lorz. "Your best bet is to try a few apps and give them at least three months, so you can really get a feel for how you do. If you don't like it, then try a different one." Ultimately, the best app is one that you use consistently and will help you achieve your financial goals. 
Here are five budget apps to make money planning easier, according to financial experts.  
Use Mint.com for simplifying budgeting. 
Mint.com was created in 2007 — it's a web-based app that has over 15 million users. This app is ideal for budget planning, expense tracking, and credit monitoring. It's free, user friendly, and is accessible to all age groups. 
"I personally use Mint.com and recommend it." says Gary Grewal, a certified financial planner. He likes the app for several reasons. First, Mint.com is about accountability. "You get emails if you are over budget on an item and there are visuals that show how much of your budget goes to what category over time," Grewal says.
There is a convenience factor with Mint.com, too. Grewal likes that every transaction from all cards are synched and categorized. And if you struggle with paying bills on time, "You get emails once a deposit comes in so you can schedule your own payments without risking overdraft or late fees," says Grewal. The app allows Grewal to save time since he doesn't have to log into every account and review each transaction since all information is present on the app. 
Pocketguard helps curb overspending.
Pocketguard's catch-phrase is "Always know what's in your pocket," to ensure people refrain from overspending. The app, launched in 2005, offers a free subscription, as well paid tiers from $4.99 a month to $34.99 annually. Pocketguard differs from other budget apps as it specifically targets overspending. 
According to Scott Spivack, finance expert and director United Medical Credit, "This app is highly effective because it shows simple numbers." Pocketguard will show you spending power and how much you need to pay for bills. 
"The best thing is that PocketGuard uses an algorithm to track your expenses, income, and savings goals to set a limit on how much you can spend every day. This helps you control the urge to overspend and gain better control over your finances," adds Spivack. 
PocketGuard creates a monthly budget that is automated since it keeps track of income, expenses, and your personalized financial goals. It also offers information on different practical ways to save money like finding a savings account that has a high interest rate.
YNAB creates a comprehensive budgeting plan. 
The You Need a Budget (YNAB) app is a paid app that costs $14.99 a month or $98.99 annually, though there's an option to sign up for a free trial that lasts 34 days. YNAB also offers a money-back guarantee if you're unsatisfied. 
YNAB tries to provide users with a comprehensive budgeting plan that requires individuals to think in advance how each dollar they earn will be used. 
"The key to a successful budgeting app isn't necessarily the variety or complexity of features it offers — after all, a budgeting app won't be very helpful if it doesn't motivate you to actually change how you manage your finances," explains Kenny Li, financial consultant and director of investments at LNG Management LLC.
YNAB tries to integrate a budgeting philosophy "which prompts users to plan in advance and allocate every dollar they earn each month to specific purposes," Li says. 
Li adds that other apps function as an organizer for your finances by providing an overview of your income and expenses. "By contrast, YNAB actually forces users to plan ahead and adjust where their money is going if they overspend in one category. It also gives them concrete feedback on how well they're following their budget," he says. "Committed users who stick with the app will see results because of fundamental changes in how they view their finances and spend money; on average, new budgeters save $600 in their first two months and more than $6,000 their first year."
Mvelopes encourages you to think about money before and after you spend it.
Mvelopes upgrades the traditional physical envelope method, in which a paper envelope is labeled with a category and a spending amount is designated. The idea is that you can't spend additional money since amounts are preset. 
With this app, you're able to link your bank accounts or manually input your budget. If you'd like a basic subscription, it costs $5.97 a month. Premier subscriptions cost $9.97 a month, while a plus subscription is $19.97 a month. If you'd like to try out the membership to see if it works for you, the first 30 days are free. 
Financial therapist Lindsay Bryan-Podvin says, "Mvelopes works well for people who need a little bit more guidance than just seeing where their money is going." The app digitizes the old-school method of envelope budgeting.
"With the app, you 'fill' your envelopes digitally by securely linking your bank account and when you swipe your credit or debit card, it'll show you a deduction from that particular envelope. It's similar to the YNAB philosophy of giving every dollar a job but allows more wiggle room," says Bryan-Podvin. 
Zeta helps couples budget together.
If you're combining budgets with a partner or spouse, Zeta could be the app for you. Donna Tang, a credit and financial expert, recommends Zeta. If you and your partner don't necessarily like discussing finances, Zeta handles some of those conversations. There is a built-in system to split bills, as well a way to communicate with each other through the app. It can be hard for couples to agree on a budget, but Zeta allows users to share their financial goals. 
"Zeta specifically caters to couples and helps them manage their finances effectively. You can sync your different accounts, which would help you track spending and make bills easier to manage," Tang says. "It is a free budgeting app that also allows you to create a no-fee joint bank account."
Other features include paying and tracking your bill payments online. "With more efficient budget management with Zeta, couples can increase their savings. You could use the savings to make an investment which could be a source of passive income," Tang says.