This Customizable, Easy-to-Assemble Bed Frame Is Exactly the Upgrade My Bedroom Needed — and It's on Sale
We independently select these products—if you buy from one of our links, we may earn a commission. All prices were accurate at the time of publishing.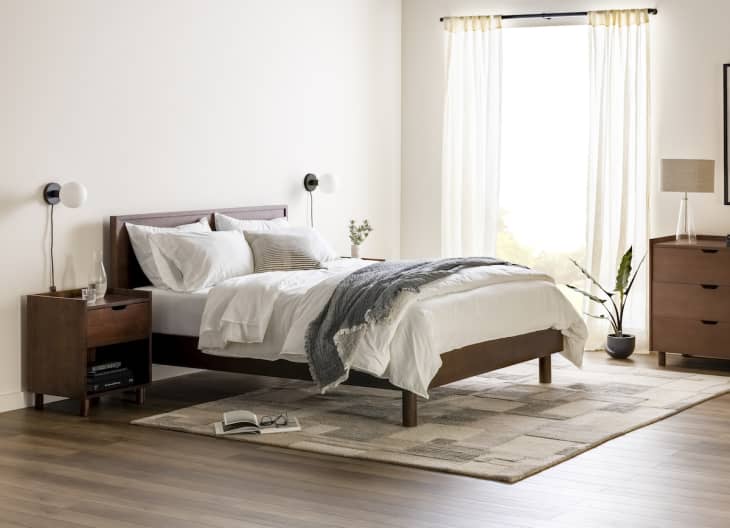 When I traded my metal bed frame and box spring for a platform bed in high school, I never looked back. Why? Because platform beds are both low maintenance and stylishly low key. I'd been shopping around for a new platform bed frame since upgrading my mattress a few months ago, but finding the exact right one for me was proving quite challenging. I'm not really a fan of tiny legs, and I definitely wanted wood, possibly with an attached headboard. Unfortunately, all the styles I liked were either sold out or not exactly what I was looking for.
Follow Topics for more like this
Follow for more stories like this
I knew there had to be something out there that suited my tastes, and then (finally!) the sun broke through the clouds in the form of The Chorus Bed, which launched as part of Burrow's bedroom collection. Let me tell you, as a platform bed enthusiast, it's an absolute dream.
The Japanese-inspired bed frame is made from solid hardwood, so it's definitely got some weight to it. And while it takes a minimalist approach, there are still a number of style combinations to choose from. The frame comes in an Oak or Walnut wood finish, with or without a customizable headboard. And yes, you can mix and match to your liking! I chose the Queen bed frame with an Oak finish and a matching Oak headboard. I know it's not the most creative combination, but I absolutely love the look, especially since it matches the furniture I already have. I'd toyed with the idea of getting a headboard that mounts to the wall, but as a renter, getting one that connected directly to the frame was a much better option.
The Chorus Bed arrived in clearly labeled boxes that took a team of two of us to carry and assemble. Once my friend and I got it all inside, opened the boxes, and laid out all the pieces, it took us less than half an hour to put together. But the best part? You don't need tools! It's all hand screws, which meant I wasn't left with yet another Allen wrench when all was said and done.
As for how the bed looks and feels, I'm 5'2" and my feet don't touch the floor if I'm sitting on it — and I love the higher view! The bed frame doesn't shift, wobble, or squeak when I am on it. I've even propped pillows up against the headboard while on my laptop in bed, and it doesn't feel like I'm bending the board back at all while resting on it. Plus, it has single center-leg support, which leaves a ton of room for under-bed storage.
The Chorus Bed is a high-quality, strong, and sturdy frame that shines when it comes to getting a comfortable night's sleep. I can move around as much as I want without worrying that it's going to fall apart, and I look forward to crawling into it every night. After all of the headaches I had in searching for a replacement for my old bed frame, it's so nice to know I won't have to find a new one for a long, long time.