I'm the Proud Owner of a Beautiful Burrow Couch — And It's on Sale
We
independently
select these products—if you buy from one of our links, we may earn a commission. All prices were accurate at the time of publishing.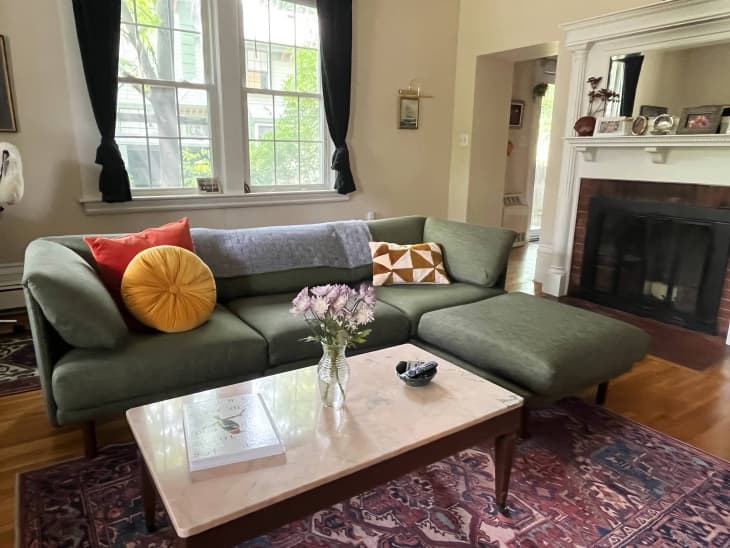 For a time, my friends were sick and tired of hearing me talk about couch shopping. I'd just moved into my first one-bedroom apartment solo, and I was about to make the biggest purchase for it so far: my very own sofa. In all of the apartments I'd lived in previously, the couch was pre-owned (thanks, Craigslist!) or owned by one of my roommates. Now, as a grown-up gal with a place of my own, it was high time to invest in a piece of furniture that I could lounge on for years to come.
It came as no surprise to those friends when I mentioned that I did tons of research on couches — and ended up compiling that research into what I'll simply call the "sofa spreadsheet." I was fixated on finding the best (and comfiest) brown leather sofa on the market, and I could not rest until I did. When I finally landed on a sofa I was sure about, the company that made it started having massive shipping delays. I'd already gone a few months without a couch, so I decided I would have to pivot, in the famous words of Ross Geller. 
Leaving my dream couch behind was tough, but coming to terms with dropping more than $1,000 on a piece of furniture that might not fit into my next home was even tougher. In my frenzied efforts to find the perfect sofa, I realized something: I wouldn't always be in this exact living room, despite just getting here. What if the couch configuration I chose looked strange in my eventual house? (That is, if I'm ever able to buy a house.)
So, I went back to the drawing board. And then somehow, in one of the rare moments when my brain was turned off from sofa shopping, it came to me: Burrow's Range Sectional Lounger. I stumbled upon a photo of it somewhere online and I fell in love. The most surprising part was that it didn't look anything like the sofas I had put into my spreadsheet: It wasn't brown leather, and it wasn't super plush or poofy. Instead, the Range was all clean lines and mid-century flair, upholstered in a gorgeous green fabric. 

Looking for more great deals? Check out our complete Labor Day sale coverage, and be sure to sign up for our Retail Therapy newsletter for the latest sales and must-have home finds.
While this beautiful green couch wasn't the sofa that lived in the thought bubble above my head for so many months, there was one important feature that sold me: It was modular. This meant that I could change the configuration anytime I wanted. 
I chose the four-piece sectional lounger — so it's three seat cushions with one extension — and when I first set it up, I made sure the sectional's footrest was on the right side of it. Eventually, I want to reconfigure it as a two-seater loveseat with two foot extensions to make it into a super lounge-y loveseat. But most importantly, this bad boy can change shape to fit seamlessly into my next home, no matter the layout of the room. I can even add on to it if I want to: My goal is to get another ottoman extension when I have the budget for it — which might actually be quite soon, as Burrow is running a major Labor Day sale right now with discounts up to 20 percent off. Oh, the possibilities! 
Something else that sold me on it, aside from its handsome shape and modular design, was how it arrived at my doorstep. Each piece shipped in a separate box that I could lift on my own (single gals, unite!). While I did enlist my brother to help me build the couch, it was a fairly simple process that took a little over an hour.
It's been almost 11 months since I first became the owner of my very own couch, and I'm quite pleased. Although I didn't stop by a Burrow showroom to take its sofas for a test run (seat run?), my Range sectional is plenty cozy. It's just the right amount of firm so you don't feel like you sink into it, yet it's surprisingly soft for such an angular style of sofa. I kick back on it nightly to watch Wheel of Fortune and Jeopardy (single gals, unite!) and feel quite content.
Although the sofa spreadsheet was cast aside in the end, I did arm myself with quite a bit of couch knowledge during the process. The final result was what I wanted, anyway. Now I'm the proud owner of a beautiful, comfy couch that I love.