This TikToker's DIY "Butter Bench" Is Going Viral, And You're Going To Want One
We independently select these products—if you buy from one of our links, we may earn a commission. All prices were accurate at the time of publishing.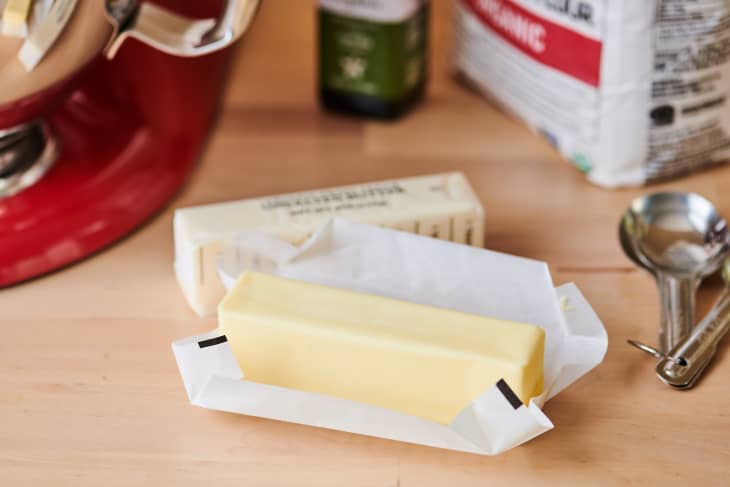 In this latest installment of "things you didn't know you needed until right now," enter the butter bench, a DIY project that is taking TikTok by storm. TikTok user Thriftstorejor (@thriftstorejor) built a bench that looks like a stick of butter and took their TikTok followers along for the ride. And the finished result is a kitsch-lover's dream.
Follow Topics for more like this
Follow for more stories like this
The masterpiece all started with the top of a bookcase. Thriftstorejor removed the backing, sanded down the old paint, and wood filled all of the blemishes and nail holes it had. They then rounded the edges of the entire thing "for maximum butteriness.'
Then came paper mache to make the finished butter stick look like it's actually wrapped in that waxed paper butter comes in. 
And you know those folded ends of the paper wrapper? Thriftstorejor made those out of cardboard and paper mached those to ends of the bench. 
Before painting, Thriftstorejor added some interior support blocks to attach the legs to. Then a few coats of "Banana Mania" yellow paint was added atop the paper mache.
Finally, the blue lettering and tablespoon measurements were traced and painted, and the butter bench was complete.
Perfect to use as a sideboard or a plant stand, the butter bench is making waves on TikTok. "It's definitely giving Andy Warhol vibes," one commenter wrote. "It looks fantastic and is definitely a work of art."
Another commenter added, "This literally would match nothing in my house but I need it immediately."Thriftstorejor wrote in the comments that the butter bench might be going up for sale, so if you're interested, keep your eyes peeled (just like a butter wrapper) because it could be yours.