4 Tasty Boards to Try for Your Next Gathering Beyond the Trending TikTok Butter Boards
We independently select these products—if you buy from one of our links, we may earn a commission. All prices were accurate at the time of publishing.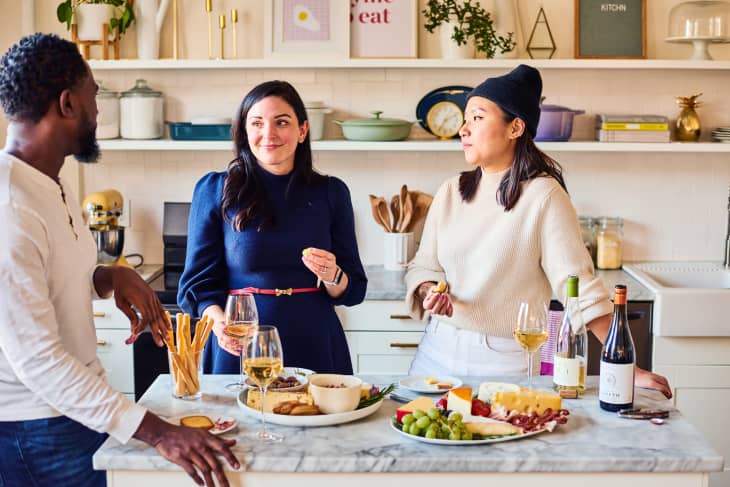 Yes, butter boards seem kind of ridiculous. Butter is great, don't get me wrong, but an entire board of it? Layered with toppings? It seems like something that might end up in a melted, greasy mess. And, Kelly Scott of Kelly's Clean Kitchen agrees — she even made a video that went viral parodying the idea with a guacamole board. 
Scott explains, "I did the guacamole board as satire. Items that are more difficult to pick off of a board, shouldn't be on a board. So naturally I chose to go with guac because it makes no sense, there is more oxidation and opportunity for it to quickly brown, it is unsanitary, and hard to scoop off a board." 
Guac and butter: Perhaps two ingredients best kept off a board. But, there are a few boards that actually sound like decent ideas, especially those where you want toppings in every single bite, yet you'll lose that ratio with a bowl of dip. As the "board hoard" continues to grow, here are a few platters that might actually find a place at your next gathering.
"My inspiration for my feta board comes from my Greek heritage, and my most recent visit where we had some of the most delicious dips in Santorini and Athens," says Stella Drivas of Hungry Happens. 
Recalling the night that inspired her creamy feta board, she says, "One warm night we were out at my favorite seaside restaurant Latini, and the server brought over a dip sampling platter for the table. One of them tasted absolutely phenomenal, so upon asking about it, she told me that it had feta and mayonnaise — bingo, perfect combination!" She serves olives, honey, and sesame seeds on top, and uses pita chips or crostinis to dip.
"The Spicy Tzatziki Board takes a basic tzatziki recipe and levels it up with the addition of some Sriracha for the heat. I'd never had tzatziki like that before," says Drivas, explaining another Greek-influenced board she created. This one takes a homemade tzatziki (you could substitute store bought, but her homemade version is definitely worth trying!) and layering it with simple ingredients, including olives, feta, dill, olive oil, and paprika.
The result is a spicy, fresh board that transports you to seaside Greek celebrations with the scoop of a pita chip.
Everything Bagel Cream Cheese Board
Everything bagel dip has had its heyday, but it always had one fatal flaw — the ratio! Those top scoops are so good, getting all of the red onion, lox, and capers, while by the time you're scraping the bottom it's plain old cream cheese, with a stray sprinkle of Everything but the Bagel seasoning, if you're lucky.
The everything bagel cream cheese board solves that. In TikToker @erekasfood's video, she makes a board that starts with a thick layer of cream cheese, then adds a healthy helping of red onion, scallions, capers, smoked salmon, and, of course, EBTB seasoning. Serve with chunks of bagel or bagel chips for the perfect brunch appetizer.
Hummus is often a solo act, but it's even better with accompaniments in every bite. In this Mediterranean Hummus Board by Joy Bauer of the Today Show, a bottom layer of hummus is topped with black olives, red onion, scallions, olive oil, and a sprinkle of paprika. 
You can serve this savory, light board with slices of pita, pita chips, or even bell peppers and cucumbers if you're accommodating various dietary needs.