The 5 Most Important Things to Know If You Want to Buy a House This Spring
We independently select these products—if you buy from one of our links, we may earn a commission. All prices were accurate at the time of publishing.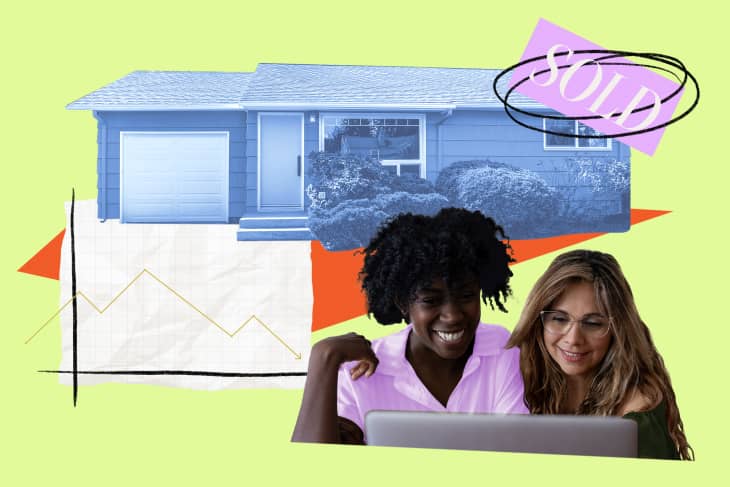 Interest rates are high, two U.S. banks just collapsed, the number of homes for sale is low, and everyone is grappling with inflated prices at the grocery store and elsewhere. In other words, the economy — and, more specifically, the real estate market within it — is basically one big tangled ball of string right now, with lots of different threads getting pulled in all directions. 
Follow Topics for more like this
Follow for more stories like this
If you're hoping to buy a house this spring, you may be trying to puzzle out how these macroeconomic conditions apply to you and your situation. Unfortunately, there's no hard-and-fast answer. But there are some high-level factors to take into account as you peruse listings and schedule tours. Here's what real estate experts have to say about how the next few months could shake out for homebuyers.
Buyers Still Have Leverage
In late March, the Federal Reserve bumped up interest rates for the ninth time in a row. But the leaders of the nation's central bank also indicated that rate hikes may be coming to an end in the near future. Whether — and when — the Fed actually starts cutting rates is anybody's guess and the subject of much speculation.
Right now, high mortgage rates are making it too expensive for many people to buy houses. This means that, if you are able to afford financing, you won't face much competition from other buyers — as long as rates stay high, that is. But if and when rates start to drop, you can expect many more buyers to flood the market, thus increasing competition for houses and swinging the pendulum back toward being more of a seller's market. 
In short: Yes, interest rates are high right now, but they're also putting buyers in the driver's seat and giving them more leverage for price reductions and other concessions. That may flip in the future so, as a result, this spring is an "excellent time to consider buying," says Rick Arvielo, CEO and cofounder of mortgage company New American Funding.
"Buying now could result in getting a better deal and, when rates drop in the future, which is expected, homeowners can refinance to a lower rate," he says.
Interest Rates Are Driving the Market Right Now
The Fed doesn't actually set mortgage interest rates itself. Banks and lenders determine their own mortgage rates, which may fluctuate up or down depending on an array of economic factors, including the Fed's actions and comments. And this spring, buyers are watching those fluctuations like hawks.
Spring is usually when home-buying activity really picks up again after the slower winter season. But this year, the market isn't following that typical seasonal trajectory. Instead, buyers are riding the interest rate wave: When rates drop, even just a little bit, buyers are springing into action to lock in a cheaper monthly payment. But when rates creep back up, buyers are going dormant, according to Zillow's February housing market report.
Home Prices Are Starting to Drop (or at Least Plateau)
Although there's a lot of regional variation on this, home prices are inching downward or plateauing — or, at the very least, they're not increasing by as much or as rapidly as they were over the last two years. It's a nuanced situation out there, but one that generally spells good news for buyers.
"After the unprecedented increases in home pricing over the last two years, we are seeing the froth coming off some markets that saw home prices increase significantly," says Arvielo.
Another factor buyers will have to contend with this spring: A shortage of available homes for sale. Many would-be sellers have ultra-low or reasonable interest rates on their existing mortgages. If they sell right now, they'll have to face the same high interest rates as everyone else. This is making them reluctant to list their homes for sale, which is driving down supply. This low inventory is, in part, what's preventing home prices from tumbling dramatically.
"Sellers are still sitting on the sidelines," says Amanda Pendleton, Zillow's home trends expert. "If they don't have to move, they are staying put."
Buyers may still be able to get into a house this spring, but they may have to settle for one that's smaller, outside their preferred neighborhood, or lacking in some of the items on their wish list. 
Competition for affordable homes will remain high, just because there are so few options out there. But the good news is that buyers won't be facing bidding wars or long lines at showings because there just aren't that many other people out looking right now.
The Bottom Line: Buy When You're Ready
Although you could wait until a zillion different factors align all at once, a better course of action is to simply buy when you and your family are ready, says Pendleton. If that happens to be this spring, then go for it.
"If you're financially ready and you know you'll be somewhere for the next five years, buying a home this spring could allow you to take advantage of today's better buying conditions and start building equity, instead of paying rent, which is on the rise," she says.