4 Things to Know About Buying a House With a Recession Looming, According to Experts
We independently select these products—if you buy from one of our links, we may earn a commission. All prices were accurate at the time of publishing.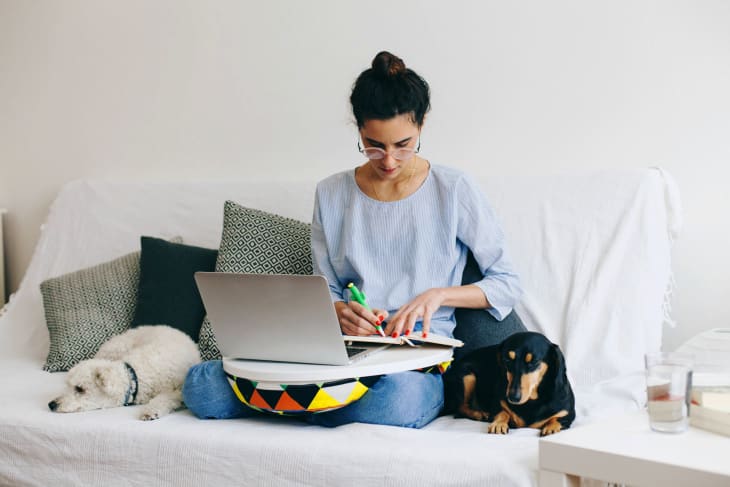 When you hear the phrase "looming recession," your initial reaction may be to freeze your spending — especially if you're still haunted by the last economic downturn in which a housing boom and bust led to a subprime mortgage meltdown. 
Economists are pretty split on the probability that the U.S. will head into a recession within the next 12 months. But, as The New York Times points out, the Federal Reserve has been aggressively raising rates to tame inflation, which has given way to a drop in home construction and sales and will likely cause consumers to reign in spending and companies to slow hiring and announce layoffs.
Much is at play, and much like you can't predict the final score of a football game in the first quarter, it's hard to tell exactly how a potential recession could affect the real estate market. 
"A lot of people may assume that when the Fed's rates go up, mortgage rates go up, but if you look at the last hike, mortgage rates actually went down," explains Glenn Brunker, president of Ally Home. "There's no direct correlation so I would not get overly focused on rates and instead look at larger market trends."
With all the uncertainty, now is an opportune time to get an understanding of your personal financial identity (you can take a quiz here) and discover how comfortable you are with risks, says Keisha Blair, the founder of the Institute on Holistic Wealth. 
If you have adjusted your down payment strategy in these tough economic times and are considering buying a home, real estate experts say a recession shouldn't necessarily sideline you — in fact, there could be some upsides in this type of housing market.
Here are four more things real estate experts say to consider when you're buying with a recession in the financial forecast.
A Mortgage Could Bring Stability
Between rising interest rates and continued price growth in many housing markets, now may not feel like the opportune time to buy a house, says Kate Wood, home and mortgage expert at Nerdwallet. But if you have a steady income, and you're in a position to purchase, you can create a hedge against inflation by stabilizing one of your largest costs. 
"If the rate of inflation continues increasing — and rents keep going up along with it — with a fixed-rate mortgage, you'll be insulated by having a consistent principal and interest payment," Wood points out. 
'Date the Rate and Marry the House' 
There are some signs that the red hot housing market is beginning to cool, with home price growth slowing. But current interest rates on 30-year fixed mortgages have climbed to 6.4 percent, more than double what they were when we were in the thick of the pandemic. 
The expression "date the rate and marry the house" sounds like it could be HGTV's next real estate show. But this real estate motto actually means that you can capitalize on lower list prices and then refinance your mortgage down the line when interest rates drop, says Rebecca Hidalgo Rains, the CEO and managing broker at real estate firm Integrity All Stars at Berkshire Hathaway HomeServices in Phoenix.
You Might Have Some Negotiation Power
While it may not be a buyer's market, the slowing pace at which homes are selling is a telltale sign that the market is beginning to cool. If this keeps up, sellers might be willing to assist with additional closing costs or helping buyers buy down their interest rates, says Deb Gontko Klein, branch manager of residential mortgage company Reliability in Lending – PRMI in Chandler, Arizona. "We're also seeing new home builders cut prices and offer incentives that are typically unheard of in a hot market," she says.
It May Be Harder to Get a Mortgage During a Recession
While home prices may be lower during a recession, it may be more difficult to obtain financing, explains Cliff Auerswald, president of All Reverse Mortgage. 
"Lenders are typically more cautious about approving loans during an economic downturn, so you may need to have a higher credit score and down payment to qualify for a mortgage," he says. "If you're thinking about buying a house during a recession, it's important to talk to a lender beforehand to see what type of loan you might qualify for."
Also, it's more important than ever to have an emergency fund in place because during economic downturns as many companies begin layoffs or hiring freezes, he points out.