Buying a Vacation Home You Plan to Rent Out? Here Are 7 Features You Should Prioritize
We independently select these products—if you buy from one of our links, we may earn a commission. All prices were accurate at the time of publishing.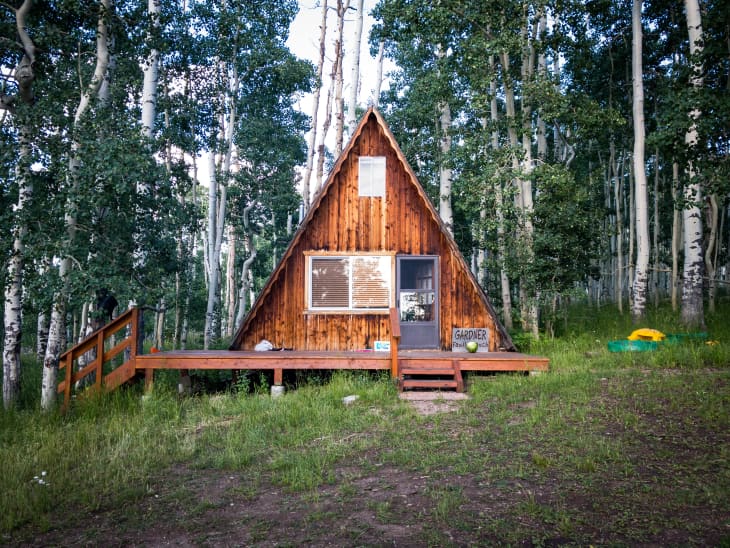 You've reached the point of Zillow scrolling where your saved searches look more like weekend getaways than starter homes. Maybe you're thinking of joining the Baby Boomers and buying an investment property that's purely a vacation rental. Perhaps you're one of the millennials buying a "second home"-style property while continuing to rent in your own city — and booking guests whenever you're not there. Or maybe you're taking advantage of a permanently remote work culture to travel and are curious about renting your home on Airbnb to help pay the bills. 
Follow Topics for more like this
Follow for more stories like this
As you compare charming country cottages and boho modern A-frames, you'll quickly realize purchasing a vacation home looks different than a primary residence, particularly if you're not the only one who will use it. The features that make sense day-to-day aren't necessarily what makes a Superhost. You have to consider the experience. 
Hannah Hamburger, a DIY and design blogger with a lake rental in Michigan, recommends starting out with at least one unique feature and understanding who your rental appeals to. "Is it near the lake? Nestled in the trees? Close to town? What's the reason you want your guests to stay there?" she says. "Some people may want to be close to town and others might want to get away. Know your ideal guest!" 
Once you have that ideal guest in mind, here are seven features you should prioritize in your next Zillow search.
As Hamburger, who has taken on everything from drywall to light fixtures herself, knows well, you can change almost everything — except the location, and a vacation rental is only as good as its location. 
Check out websites like AirDNA to research whether your hunch that a particular area is traveler-friendly is accurate. You may think a charming small town is the perfect spot for a short term rental, only to find out you would have to stay 90 percent booked to cover the mortgage, and the average occupancy rate in the area is only 20 percent. Or, there may be an under-the-radar ski resort nearby where you can find an A-frame for a steal, and it will rent out 75 percent of the time, covering your monthly expenses and then some.
There are two ways to consider heads in beds. In scenario one, if you're buying, for example, a mountain cabin or a beach house to welcome multi-family gatherings, then you want to maximize heads in beds. Bunk rooms and multiple twin beds will up your guest count and your nightly rate. 
But if you're looking at a luxury property, a boutique hotel-esque experience, or simply don't want the wear and tear on your home, then you may want to limit the number of pullout couches and rooms with multiple beds. Instead, focus on one to three bedroom properties that will appeal to one family, a couple's getaway, or a small group of friends.
A Layout That Makes Sense
Piggybacking off heads in beds, if you're investing in a home that's ideal for groups — think family vacations, bachelorette parties, friends' trips — consider whether the layout allows for both socializing and sleeping. An open living area is perfect for groups but, as Hamburger points out, "Are the bedrooms away from the common area? Late night hang outs can get loud!" If potential guests could include children (or adults!) with early bedtimes, make sure at least one bedroom has enough distance for quiet hours.
"Having a fully loaded kitchen ready for use will allow guests to save money by dining in and have an indoor space for entertaining," explains DJ Olhausen, a Realtor with Realty ONE Group Pacific. The ability to cook is a motivating factor for many travelers to book a vacation rental. Even if you book a hotel suite with a kitchenette, it still doesn't measure up to the experience of a full kitchen with an island or large kitchen table to gather your friends and family around. And, regardless of your thoughts on open floor plans, they make sense for groups of travelers — whoever's doing the cooking will appreciate being able to hang out with the group while whipping up dinner in the kitchen.
A fully functioning laundry room is key for two reasons. First, guests booking a vacation rental may plan on a longer stay with the comforts of home. They want the flexibility to do laundry halfway through a weeklong stay or to toss a few items in the laundry before they pack their suitcase to come home. Second, many guests book vacation rentals for the flexibility in family travel, and travel with kids often translates to lots of dirty clothes and laundry. Access to a washer and dryer is a huge bonus for these groups.
All the Outdoor Amenities 
"Focus on amenities that attract a consistent flow of renters. Features such as hot tubs, pools, barbecues, and other outdoor activities will be top of mind during a renter's decision making process," says Olhausen. Think about all the activities you don't have at home — these are what make a property stand out. This could be the only time each year that a guest spends their evenings soaking in the hot tub or sitting by the fire pit. While they're scrolling through pages of listings, that infinity pool is going to stop travelers in their tracks.
Updated Appliances and Electronics
Have you ever heard someone say they would never rent a vacation home that's less updated than their real home? First, I'd love to know their travel budget. But there is something to be said for having all the comforts of home in a short term rental. As Olhausen says, "Smart TVs, new appliances, and tech savvy gadgets allow vacationers to feel they are indulging when choosing to rent your home. These are some of the top features that are important for a successful vacation rental." Remember, most people like to think they won't turn on the TV on vacation, but when a rainy day sets in, they're going to want to catch up on the latest season of "Love Is Blind."