Buying a "Second Home" First Might Be the Best Real Estate Move of 2021
We
independently
select these products—if you buy from one of our links, we may earn a commission. All prices were accurate at the time of publishing.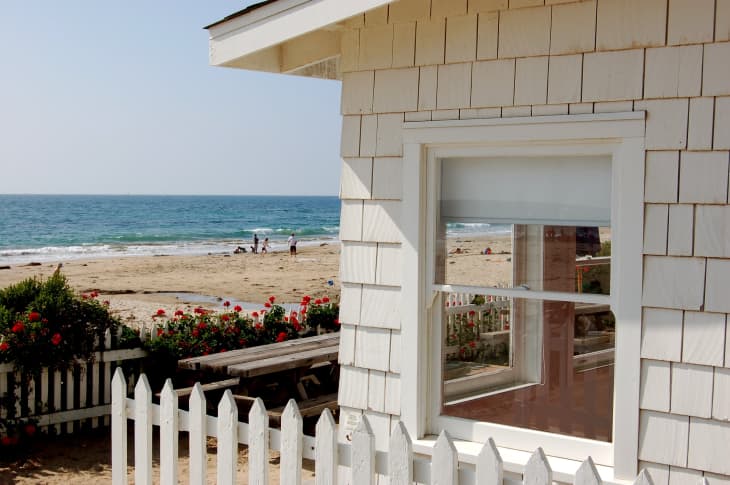 But there's another way renters in big cities are angling to take advantage of the low interest rates without the stress of entering a bidding war. For some urban dwellers, buying a "second home" before purchasing their first is looking more appealing — especially when those second homes are located in areas that have yet to see skyrocketing prices. They're buying country cottages and mountain cabins while continuing to rent apartments in the city — and it's not just New Yorkers going upstate, either. People in metropolitan areas across the country are approaching real estate with the same vacation-first mentality.
Instead of investing in a primary residence in the city where they live, homebuyers are weighing the option of springing for a small getaway home in a less competitive locale: a "second" home that might technically be the first home they've purchased. Add in the ongoing reality of remote work, and buying a secondary home first could be a win-win for buyers eager to invest in real estate but less than thrilled with the current state of hot urban and suburban markets.
Jamie Manning, founder of real estate blog Exposed Brick DC, didn't expect that she and her husband would buy a vacation home, a fixer-upper cottage in Charlottesville, Virginia, before buying property in the Washington, D.C., area. But that's how things played out. 
"[We] see this as a true second home, somewhere we can spend weekends and possibly work remotely during the week. This idea had been on our radar because real estate costs are so high in D.C. that we felt buying here may not be realistic," Manning says. "We have been diligent and saved and were anxious to make some kind of real estate investment. We were craving a change of scenery and a different pace of life."
The pandemic tipped the scales in favor of actually making a purchase.
"Interest rates were a huge driver," she says. "We did the math and realized that for about the same amount of a weekend away (flights, hotels, eating out) we could own a second home and could enjoy it several weekends out of the month."
It's an attractive investment opportunity for renters across the country. But what are the steps you should take if you want to join the ranks of the second-home-first? Here are five things to consider. 
Talk to an accountant about the tax implications of buying a vacation home while renting.
There can be tax benefits to buying a home, regardless of whether it's your first, second, third, or tenth. Lisa Greene-Lewis, CPA shares her knowledge: "You can deduct mortgage interest on your vacation home" just as you would on a primary residence, she explains. "If your loan is taken out after December 15, 2017, then you can deduct mortgage interest on a secured mortgage loan up to $750,000. In addition, you can deduct property taxes. However, there is a cap of $10,000 on the total state income or sales tax and property tax you can deduct on your federal taxes." 
Consider the pros and cons of a vacation property.
The pros are easy here. A vacation home likely offers you more space than your city apartment. With more closets! With a yard! It's another place to decorate, to escape to — these are all wins, right?
Even though it's a weekend retreat, it's still a house and houses require upkeep. Take into account not only the price of regular maintenance, including yard work, but utilities like water, electricity, trash, and internet. Plus, if you're someone used to pinging a super each time the disposal clogs, this could be an adjustment.
Additionally, Manning, who bought an older cottage in need of work, says, "If you are going to buy a fixer-upper, make sure you have a local network that can help. We feel very lucky to have family nearby who has been able to connect us with a great renovation team and oversee all our projects."
Decide if renting it out will be part of the plan.
If this is a secondary home where you'll spend weeks or months at a time working from home, renting it out may not be on your radar. But if you're looking for a way to offset the mortgage, turning it into a part-time rental is a great option.
"A lot of people were excited to purchase getaways during the pandemic because of limited travel options," says John Coleman, a realtor who works with many first-time homebuyers. "Buying and renting out on Airbnb has been very lucrative for some and it will be interesting to see if that can hold up moving forward."
If renting is the plan, here are a few further items to consider:
How is the rental market in the area? What are the short-term rental laws in the city or county?
How has the region been positively or negatively impacted by the pandemic?
Would you use a property management company to run maintenance, bookings, and cleaning, or do it yourself?
"If you decide to rent your vacation home for just 14 days a year or less, you don't have to claim the income," Greene-Lewis notes. "If you rent it out beyond the 14 days, you have to claim rental income but you can also deduct more expenses than you can for your main home, including advertising, property management fees, mortgage interest, repairs, maintenance, and utilities."
Think about how another home will impact your lifestyle.
It's easy to focus on numbers, like the monthly mortgage and down payment, while also getting caught up in the dream of a weekend getaway. However, it's important to consider the more nuanced implications, specifically around travel. 
Will you feel obligated to skip your European holiday in lieu of going to your weekend home? Will you feel okay shelling out for a beachfront hotel when you own a mountain cabin? Are you comfortable with your answers to those scenarios?
Be realistic about owning a property that isn't your primary residence.
As someone who can get caught up in scrolling through country estates on Zillow, I know firsthand the appeal of a vacation home that's absolutely nothing like my current city abode. While it can be a win-win move, particularly in an era of remote work, make sure you head into the decision with a healthy dose of reality. 
Manning, the D.C. renter with the Charlottesville cottage, reflected on her experience. "I read a lot of articles about city dwellers fleeing to the country and then felt very overwhelmed. We don't have any experience owning a single family home or maintaining a yard so we knew we had to ease into it," she says. "As romantic as it sounded to have a remote cabin with a lot of land, we knew we weren't prepared for that kind of property. The house we chose is a small cottage with a small yard that will be easy to maintain."