I Don't Have "Buying a House During the Pandemic" FOMO — And That's Okay
We
independently
select these products—if you buy from one of our links, we may earn a commission. All prices were accurate at the time of publishing.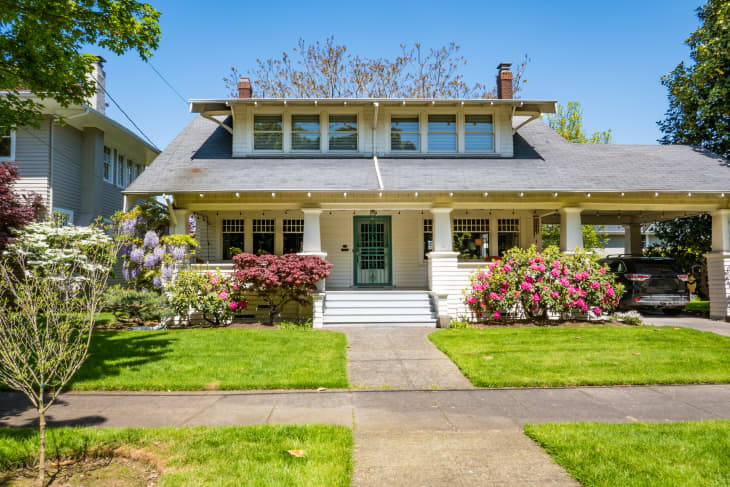 If you're a millennial, you've likely been lectured on homeownership and how it's an important mile-marker of adulthood and wealth management. If you're a millennial in 2021, you've probably been advised to buy a home because "you'll never see interest rates this low again." If you're a millennial and married, you can't escape the pressures of homebuying (and babies). So when my husband and I tell family and friends we're actively saying no to both, they often try to change our minds. 
Despite their cajoling, those low interest rates, and feeling like we're the only people not buying a house these days, we're still pumping the breaks. While others might have "buying a house during the pandemic" FOMO (aka fear of missing out), we do not, in fact, fear missing out. It's been tough, but here's how we're coping with resisting the pressure to buy a house right now.
We're actively choosing not to buy a house.
Our choice not to buy right now is the accumulation of many reasons, but they mostly come down to timing and preferences. 
Homeownership doesn't make sense for the season of life we're in at the moment. We are child-free by choice, and both work in professions that grant us flexibility. Because of this, we're not overly concerned with square footage or planning our lives around little ones. Plus, we've been entertaining the idea of living abroad for a few years. Homeownership, for us, feels like a commitment that we're not quite ready to make with any one city. (Sorry, Dallas.) 
This leads to our next reason: homebuying in Dallas has been next-level, and the pandemic has only pushed prices to soar. We live in a neighborhood that hasn't been immune to gentrification. Even modest homes on our street — which actually comprises a healthy pre-war mix of single-family houses, duplexes, fourplexes, and small apartment buildings — sell for a half-million dollars, with some inching toward the $1 million mark. And don't get us started on the bidding wars. We have friends who have paid $20,000 above the asking price for a home that they're not totally in love with. The idea of putting our savings toward something we don't absolutely love seems a bit short-sighted. 
We're making a list of self-motivated goals — and checking it twice.
As hard as it is to admit, I can still fall prey to the trappings of outside opinions, the chance to be admired, and "doing it for the 'gram." Being one of the few renters left in my friendship circle has come with bouts of self-doubt and gut-punches of curiosity: Is everyone growing up without me? So I also ask myself, What will it mean if you don't own a home? This allows me to check in with myself and examine if my motivation for homeownership is intrinsic or me trying to appease my parents and society. Turning over our life savings to a bank because "everyone else is doing it" isn't a good enough reason for us. 
To combat feelings of insecurity, I remind myself of the goals we have for ourselves — goals that don't involve buying a home. For us, we want to live in a neighborhood we love (check), curate a home that feels cozy and lived-in (check), work towards financial independence (getting there!), and build enough balance in our lives to enjoy relationships and indulge our passions. (So far, so good — most days). 
We're setting up our finances for the future.
In addition to checking in with myself mentally, I'm militant about checking in with my finances, too. We may never buy a home; we may choose to invest in a business or exercise other options available to us. Regardless of what we spend our money on, we both want the decision to be rooted in sensibility and security. Currently, we put a high percentage of our income toward different savings accounts, including managed investments, long-term savings, stocks, and retirement accounts. 
Choosing to buy a home is an intimate decision, but we shouldn't be made to feel inadequate if we can't or don't want to be a homeowner.