Here's Why You Should—and Shouldn't—Refinance Right Now, According to Experts
We independently select these products—if you buy from one of our links, we may earn a commission. All prices were accurate at the time of publishing.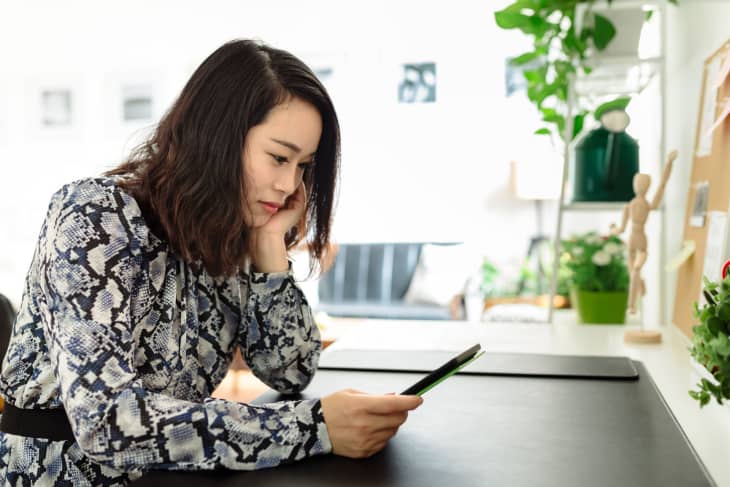 With mortgage interest rates dropping because of the coronavirus outbreak, it may seem like the perfect time to refinance. We have the Federal Reserve to thank in part for this—the bank slashed interest rates to historic lows in an effort to boost the economy, which is signaling lower rates for mortgages across the board. But given the market's volatility right now, is refinancing really a good idea?
Ruth Shin, founder and CEO of the real estate listing site PropertyNest, explains the current prime rate is now at 3.25 percent. She says your decision to refinance, however, depends on a long list of factors. We turned to Shin and a number of other experts to establish the pros and cons of refinancing your mortgage during the coronavirus outbreak. 
Is the window of opportunity to refinance at a low rate closing?
Interest rates have remained relatively low for the past few years—long before the pandemic—causing many finance experts to advise homeowners to refinance. But if you didn't take advantage of the low rates before, is it too late now? Broker Bill Kowalczuk of Warburg Realty in Manhattan believes that the window indeed may be closing on refinancing. "Rates jumped up this week by 0.5 percent for a 30-year fixed rate (from 3.13 percent to 3.65 percent) and I've even seen rates as high as 4 percent."
That jump was the largest weekly increase in the average 30-year mortgage rate since November 2016, according to MarketWatch. The financial news site reports it's also the highest mortgage rates have notched since January.
Why are rates rising? "Yields on mortgage bonds have risen as a way to keep the overwhelming action for refinancing at bay," explains Kowalczuk.
In today's market, more consumers are looking to refinance than purchase a new home. In fact, Kowalczuk estimates 10 times more consumers are choosing to refinance. Still, he recommends that if available rates are lower than what you have, it's a good idea to try refinancing. Kowalczuk says that those 3.13 percent rates may have been a fluke, but only time will tell.
On the other hand, James McGrath, a co-founder of the NYC real estate brokerage Yoreevo, recommends borrowers wait to refinance. "While market interest rates have indeed come down, mortgage rates haven't budged much," he says. "This is because the gap between the two—the 'spread'—has widened." Banks aren't in a hurry to issue loans, so McGrath says there isn't much competition.
"To put some numbers to that, mortgage rates usually track the 10-year U.S. Treasury rate," he explains. "If the 10-year yield goes down 0.25 percent, you should expect mortgage rates to go down about that much as well." Instead of mirroring the Fed's movements, mortgage rates follow bond yields like the Treasury rate. 
Still, McGrath explains, "We've seen the 10-year U.S. treasury rate go down over 1 percent while mortgage rates have gone down much less than that."
Depending on your situation, there are both advantages and disadvantages to refinancing. Here are some of the factors to consider.
Why you should refinance right now
The advantage to refinancing is, of course, nabbing a lower interest rate on your mortgage. But you'll only want to do this if you're in a specific financial position.
If your current mortgage rate is close to 4 percent, Mihal Gartenberg of Warburg Realty believes that it's a great time to refinance. What's more, if you have a jumbo mortgage and your interest rate is over 4 percent, you should be running to refinance, advises Daniele Kurzweil, a licensed real estate salesperson with the Friedman Team at Compass in New York. She says this is the perfect time to knock a point off your rate and lower your monthly payments. "Take advantage and lock in your new rate so you can get a bit more breathing room in your monthly budget," Kurzweil explains. In this newly turbulent economy, that could be a huge benefit.
Even if you're comfortable with your current mortgage payment, she says a refi can be advantageous. "It will allow you to sock away the difference every month and use it to pay down your principal faster, or take the difference and throw it into a retirement account." 
If you choose the former, you could take years off of your loan period. "You could convert a standard 30-year into a 20-year mortgage, for example, and potentially save yourself years of payments and thousands in interest," according to Andrina Valdes, executive sales leader and COO of Cornerstone Home Lending, in San Antonio, Texas.
Another alternative is to use the refi to upgrade your home and increase its value. The average homeowner sees about $5,300 in equity gains, according to Valdes. "So, with a cash-out refinance, you might be able to use this recent increase in home equity to fund a renovation, potentially adding even more to the value of your property," she says. "You might also cash out to pay for education, medical expenses, or other big-ticket items."
Why you shouldn't refinance right now
While there are plenty of reasons why refinancing now might be a good idea, there are also several possibly negative consequences to consider. Your credit score could take a hit, for one. "Refinancing involves a hard pull on credit and submission of income documentation," Shin warns.
And just because rates are low doesn't guarantee you'll qualify for them. "The best rates go to the people with the best credit," explains Warburg's Arlene Reed.
In fact, it's possible you may not even qualify for refinancing at all. "If your financial situation has changed for the negative, which may include a pay cut, lower credit score, loss of assets, or increase in debt—aside from your current mortgage—refinancing may not be an option," says Shin. This is especially important to keep in mind as layoffs and other financial hits loom due to the virus.
You'll also want to consider the type of loan you have. "For people who have smaller loans that do not qualify as jumbo, the rates have not come down enough to really justify a refi," Kurzweil says.
The costs associated with refinancing shouldn't be ignored. According to Reed, the closing costs on a refi could be anywhere from 2 to 5 percent of the principal. Kurzwell adds that it might take you anywhere from two to three years to make up the difference in payments.
"See how much your current lender will charge you for a refinance—you might only be saving $47 a month and it might cost you $3,000 to refinance," she reasons. The lender may only be able to give you a ballpark figure, but that should be enough to determine if a refi is worth the cost.
For those close to paying off their mortgage, a refi might not be the best course of action. "Your 30 years will start over, and in the long run, you'll pay more interest, especially if you're close to paying off your loan," says Donovan Reynolds of Intown Coldwell Banker Residential Brokerage in Atlanta. "In that case, I don't recommend refinancing if you're close to paying off your existing home."
Consider holding off on refinancing, too, if you're not in it for the long haul."If you're planning on selling in the next year or two, it may not make sense to refinance due to fees the lender is charging," says Julie Upton, a realtor at Compass in the Bay Area. Instead, Upton recommends homeowners seek a loan modification first. "That would mean no lengthy application process, and it would be just a small filing fee to get your current mortgage recast with the new, lower mortgage rates."