These Viral Cactus-Shaped Measuring Spoons Are the Kitchen Staple You Didn't Know You Needed
We
independently
select these products—if you buy from one of our links, we may earn a commission. All prices were accurate at the time of publishing.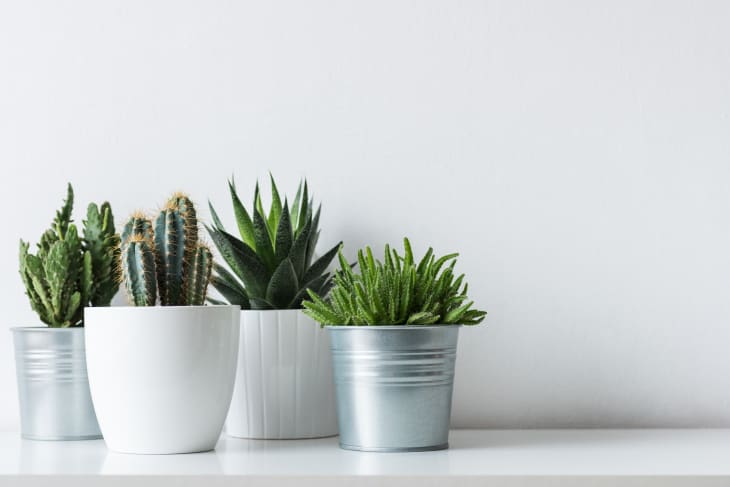 If you don't have a cactus in your kitchen, maybe you should consider having one. Not only will it improve air quality and boost your mood, but it can double as a cute item on your windowsill. If you're hesitant about placing the prickly plant into your kitchen though, perhaps you can opt for some cactus-shaped porcelain spoons.
On TikTok, a set of measuring spoons disguised as a potted cacti has gone viral for their quaint similarity to a cactus plant. In the video posted by TikTok user Abigail Salz, a "pot" of four "cactus pads" is actually a variety of porcelain spoons. The specific measurements of the spoons include a 1/4 teaspoon, a 1/2 teaspoon, a teaspoon, and a tablespoon.
But that's not all: The video also reveals that the tan-colored base of the pot is a measuring cup with markers at 1/4 cup, 1/3 cup, 1/2 cup, and 1 cup.
"I've never ordered something so fast????" read one comment. Another viewer added, "Need these even though I rarely cook or bake."
This is an ideal gift for the incoming holiday season for your pals that are obsessed with plants, but don't be afraid to buy yourself a set. According to their Amazon reviews, the item doesn't take up much space on kitchen countertops and will prevent you from rummaging through your kitchen cabinets to find your measuring spoons. Isn't that enough of a relief to justify the purchase?
Just like a majority of products that are popular on TikTok, the measuring spoons are selling like hotcakes, and they may run out of stock soon, so better hurry. Fortunately, the green cactus — priced at $19.99 — has another variant available online with more colors and patterns, including a flower version, all available on Amazon.