Calm Down, Chip & Joanna Haven't Sold Their Waco House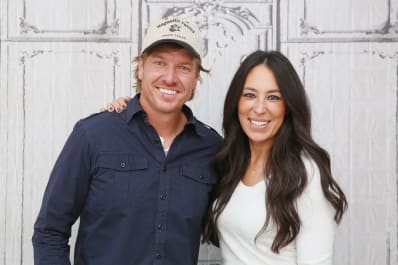 (Image credit: Mireya Acierto/Getty Images)
Don't worry people, the Gaines might be leaving their HGTV show, but they aren't leaving Waco. Here's what went down.
Fixer Upper fans were freaking out all over the internet yesterday at reports that the couple behind Magnolia Market was selling their farmhouse and skipping town. The Blast got ahold of some property records that appear to state that "on October 5, Chip and Joanna handed over the deed for their spectacular property to another couple for an undisclosed amount."
Turns out, Chip and Jo aren't selling the six bedroom, two bathroom, 2,729 square foot home (yep, it was a fixer upper) they purchased back in 2012.
"Any report that Chip and Joanna have sold their farmhouse is completely untrue. They have not sold their home and they do not have any plans to do so," Magnolia spokesperson Brock Murphy told People.
Instead, it was a small adjustment to their 40 acre property. "The Gaines recently moved their property line to match their fence line—this is not uncommon and is a matter of public record—which is likely what triggered this false report," Murphy said.
Just like all the suspicion surrounding why they're ending Fixer Upper—with gossip ranging from security concerns to bad contracts to relationship issues, all of which they've denied—this isn't the first time the fan favorite couple has faced moving rumors, including back in February.
😂 Not sure how that got twisted but Waco is our home, we love it and we aren't going anywhere...

— Joanna Gaines (@joannagaines) February 22, 2017
Clearly, when you have passionate fans like these two, you're bound to spend a lot of time correcting people.
The final season of Fixer Upper premieres November 21, while the couple's Target collaboration, Hearth & Hand, drops on November 5.