Kick Back Under the Twinkle Lights with This Camping-Themed Night at Home
We
independently
select these products—if you buy from one of our links, we may earn a commission. All prices were accurate at the time of publishing.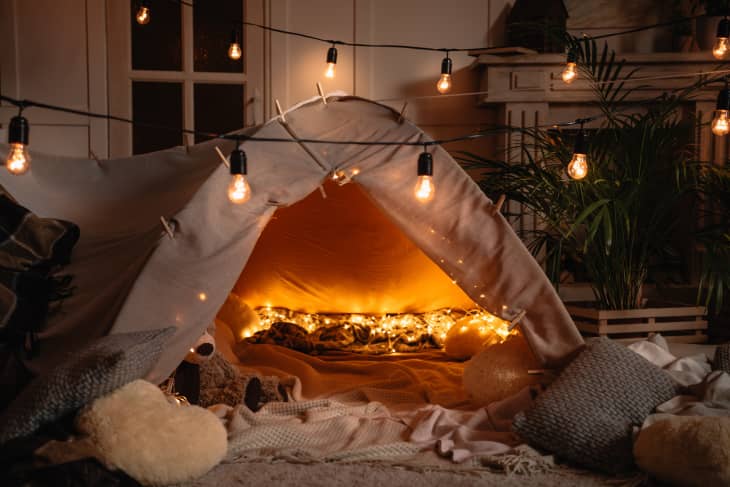 Everything is just a little more fun with a theme. Think of a high school prom: Without its "Roaring Twenties" or "Under the Sea" branding, it would be an underwhelming collection of crepe paper and circular tables. Themes bring things together in a campy way that lets you embrace creativity and get excited over the little things. That's why we're suggesting a theme for a fun night in each month, where you can gather a few friends, a partner, or simply indulge in a solo shindig. 
To start off the season on a nostalgic note, this month's themed night suggestion is: Summer camp. I was actually too much of a homebody to ever go to sleepaway camp (cool of me!), so this DIY that doesn't require me to leave my home at all? Perfect. Here's how to make it happen. 
If you have your own summer camp days to harken back to, now is the time to recreate your favorite dining hall dish or fireside meal. If not, the category is: comfort food. It could be sweet corn on the cob, corn dogs, or a big, gooey, messy burger. My pick would be a hot-to-the-touch grilled cheese stuffed with slices of tomato, accompanied by crisp apple wedges. Whatever you decide on for the main entree, be sure to mix up a hefty batch of gorp for later — packed with raisins, peanuts, pretzels, M&Ms, and whatever else strikes your fancy. 
First, buy a log cabin. Kidding! Summer camp is low-maintenance and so is this night in. The night's activities will likely take place in a living room or bedroom, so just cozy up the floor with some cushions, blankets, and a lantern if you have one — I love this portable, USB-chargeable lamp. If you have some twinkle lights to mimic a starry sky, go ahead and plug those in, too. Then, feel free to add in some details: Have an old "Goosebumps" book on your shelf? Throw that in the mix. A ukulele begging to be strummed? Lean it up against the wall. 
If you have a projector, angle it at a blank wall or pin up a white bedsheet. This will be the canvas for whichever classic you decide to pull from the cinematic camp canon. "It Takes Two"? "Wet Hot American Summer"? "The Parent Trap?" "Camp Rock"? The choice is yours. If you lack a projector, just cue it up on your TV or laptop and settle into the comfy floor situation you've created. 
If you're anything like me, a movie won't be quite enough to capture your full attention. Instead of turning to your phone for additional distraction, busy your hands by making some friendship bracelets. In the velvet-lined drawers of my childhood jewelry box, I still have a few frayed embroidery thread creations that remind me fondly of certain road trips with my sisters or summers with friends. If you're hosting a night in with friends, you can drum up that nostalgia together and make them for each other. Or if you're flying solo, you can make them for loved ones and dole them out later — maybe even slip them in cards and mail them out to long-distance friends. And in between tying knots and marveling at Lindsay Lohan's ability to play identical twins as one person, be sure to dip into that bowl of gorp for the perfect sweet-salty movie snack.
🪩Welcome to First Night, a series all about having fun at home. The first week of each month, we'll publish a new idea for a creative at-home experience, from what to do, to how to decorate, to what to serve. Browse ways to make your next night in feel special here.