This Tiny Portable Projector Will Transform Your Movie Nights
We independently select these products—if you buy from one of our links, we may earn a commission. All prices were accurate at the time of publishing.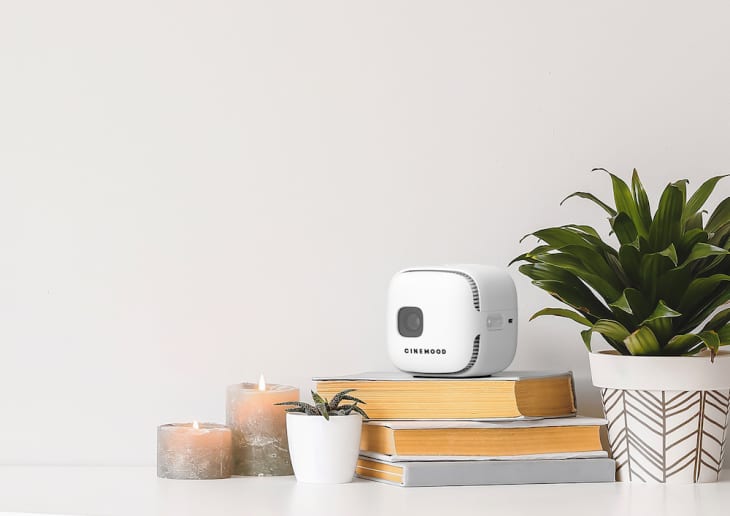 The nostalgic video projectors from yesteryear are now being redesigned for a new millennium. The latest exhibit is Cinemood TV, a portable projector so compact that it could fit in the palm of your hands. Yep, gone are the days of the bulky projectors that your elementary school teachers wheeled out from the closet for educational documentaries and films in the late '90s. A new era of technology is here, allowing consumers to turn just about any room (or outdoor space!) into a home theater. 
Cinemood TV, available to pre-order for between $499 and $699, depending on preferred delivery dates, is a lightweight projector that comes with wireless LTE connectivity, allowing people to stream their content anywhere (think vacations or camping trips). Described as a portable movie theater, the projector comes with a selection of titles ("Harry Potter and the Sorcerer's Stone," "Doctor Who," "Spirited Away") and could also connect to major streaming platforms, including Netflix, Amazon Prime, YouTube, Disney+, Hulu, and ESPN. 
Follow Topics for more like this
Follow for more stories like this
And great news for parents: the projector also comes with a selection of kid-friendly content and motion games. Some of the other product features include a bright projection that can be viewed in daylight and dim, dark settings, built-in sound, and the ability to connect to Bluetooth speakers. Whether you're watching content in the living room, in the backyard under the stars, or, heck, even in the bathtub, the projector essentially transforms any flat surface into a TV screen. 
Not entirely sure if you should make the switch from TV to projector? Check out more of Apartment Therapy's home entertainment coverage below.