This Jazz Singer's Canadian Condo Has a Simple but Smart Rug Hack (and a Heck of a View)
We independently select these products—if you buy from one of our links, we may earn a commission. All prices were accurate at the time of publishing.
About this tour
Location
South Burnaby, British Columbia, Canada
Style
Modern, Scandinavian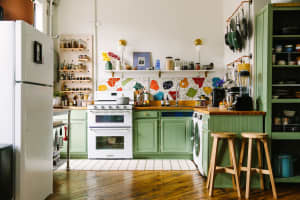 Can't-Miss House Tours Straight to Your Inbox
Keep up with our latest house tours each weekday with our House Tour of the Day newsletter
Name: Mathew V and partner, Justin
Location: South Burnaby, BC Canada
Type of home: Apartment/condo
Size: 950 square feet
Years lived in: 1 year, renting

I've moved five times in the last six years in search of a home that felt like just that: home. I travel a lot and it's always been important for me to return home to a property that I love. I feel like I've finally found that. Something I'd never realized I needed before was the view. Since having a view of the Rocky Mountains, it's now something I can't live without. This home also has a few vital things on my wish list: size and privacy. As a singer (and a pretty loud singer), the corner unit with concrete walls (and no connecting walls in the living space) has been such a blessing. I've actually become a lot better of a singer, as I can belt in my home and not feel like I'm being a bother.
My style: I always want my home to feel polished. I like things to have a place and to be thoughtfully designed. Functionality is important. My past homes have been beautiful but not comfortable, so comfortability in this home was very important. I like having staple elements that I can accent with bolder features. As you'll see a lot of my main pieces are quite neutral, which I like to accent with a bold throw or cushion, coffee table books, or artwork. The most important thing besides polish is personality. I want my home to reflect the people who live here. I love when we have friends over — they can walk through the unit and find little pieces of us.
Favorite element: The view has become my favourite element quite quickly. I tried to design the space without elements competing with, but rather complementing, the view. One of my favourite pieces in my condo is my antique carved wood chest that holds my family history and heirlooms. My grandmother gave it to me and it holds all of our memories that date back many generations. The other prized possession is our commissioned Kelsey Woof painting that we have above our bed. We've taken it with us to many homes and people are always drawn to it.
Proudest DIY or product hack: This may not be a DIY, but a pro tip. Rug tape is my new best friend. It quite simply is double-sided tape that holds your rug corners in place. We have a woven rug under our bed and it would drive me up the wall when it would shift or fall out of line. Some cheap double-sided rug tape has changed the game for issues like that and I'll never place a rug without it now!
Is there something unique about your home or the way you use it? We actually do have a formal dining room that we chose to keep open and place a reading nook in the corner.  We have a very large island and we have a big comfy couch. At our previous place we would entertain and everyone would stay at the dining table all night. I was always frustrated that no one would ever use our nice living room that we had set up for entertaining. I decided in this home, I would force everyone's hand … haha. We have a big comfy couch and chairs in the living room now. If we ever need a formal seated dinner we can all sit at the island. However, I didn't want a formal dining room blocking the view, cramming the flow, and preventing the living room from actually being used. As people who primarily do big charcuterie/feasting boards anyways, it seems to work perfectly for us.
Please describe any helpful, inspiring, brilliant, or just plain useful small-space maximizing, cleaning, or organizing tips you have: As people with a lot of clothes, living in a four-season city like Vancouver, we have limited closet space. However we decide to have the clothes for the current season in our closet, and the clothes for the other season in storage or in our guest closet. Once a year we'll go down to our storage and swap out our clothes. It's been a life-saver for allowing our clothes to breathe and not overcrowding our closets.
Finally, what's your absolute best home secret or decorating advice? My favourite thing when I go to someone's home is the personal elements. I want to know who lives there based on the design. I challenged myself to take personal elements about us and to incorporate them in a stylized way.
Gleaming Primrose Mirror — Anthropologie
Chuck Log Holder — CB2
Kellen Organic Cotton-Blend White Duvet Cover and Pillow Shams — CB2
Key Tencel Lyocell Linen-Blend White Sheet Set and Pillow Cases — CB2
Ciello Collection – Sunset Beige 5 Seater with Corner R Ciello Arms with Ottoman — Cozey
Vinyl Stand — Etsy
Office Chair — Full Circle Furniture
Metal Candle Holder — H&M
Artwork & Frames — Opposite Wall
Albury 27.25″ Wide Polyester Lounge Chair — Wayfair
Hackleburg Bar Chart — Wayfair
55″ Wide Buffet Table — Wayfair
Antique Chest 
Kelsey Woof Custom Painting