This Ridiculously Luxurious All-Season Down Duvet Makes Me Feel Like I'm Sleeping at a Fancy Hotel (and It's 25% Off!)
We
independently
select these products—if you buy from one of our links, we may earn a commission. All prices were accurate at the time of publishing.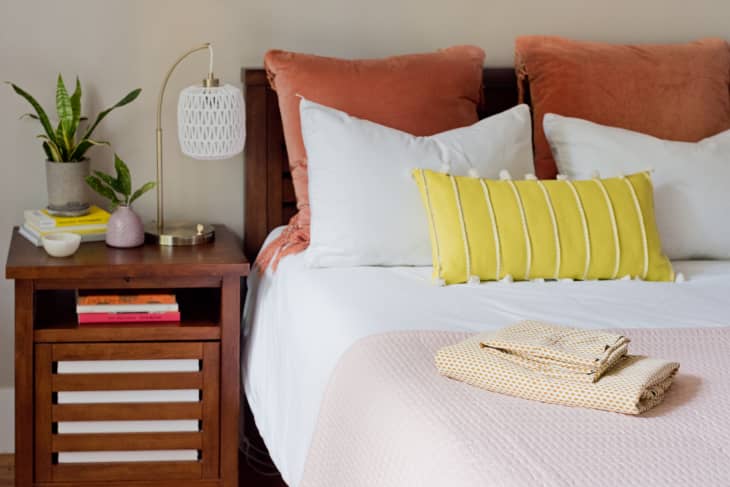 Even though I am a Taurus, stereotypically known as someone who craves lavishness over all, there are still some things in my life I tend to not make a fuss over when it comes to quality. One of those things surprisingly is my bedding, which often becomes an afterthought with other life necessities taking precedence over which kind of comforter would be the most comfortable.
I'll usually wait for the occasional hotel visit to indulge in a nice duvet, and then remark on how great it is to sleep with such glorious covers. But now that I have the Hutterite Goose Down Duvet from Canadian Down and Feather, I no longer have to take a trip to have my luxurious sleep, which finally feels more fitting with my zodiac sign. Even better, the brand is currently hosting a sitewide sale, so you can snag the duvet for 25 percent off!
When the duvet arrived, I tried it straight out of the packaging for a week and almost didn't want to put a protective cover on it, because it was so soft with its 400 thread count. Eventually, it felt best preserve the outer shell, so I paired it with a cover to ensure it could last as long as possible. But whether with a comforter or on its own, the 100 percent fine cotton surrounding the goose feathers, glides along your skin with a puffy, yet soft texture, that makes it easy to cuddle up under at any time of the day.
Inside the casing is the finest of goose feathers, farmed in Alberta, Canada by members of the Hutterites community, who are world-renowned for creating the highest quality fills for duvets and blankets. When you press or squeeze the duvet, you can feel the clusters of fluffy down that expand back to its original shape, which is a great sign that this is a comforter made to last a long time, which makes it a great long-term sleeping investment.
The Hutterite Goose Down Duvet is the perfect weight to make both hot and cold nights feel comfortable and cozy. It's definitely enhanced my sleep by keeping my temperature stable throughout the night. During that odd time of the year where the seasons transition from the warm summer to the cool fall, I wasn't worried at all about having to switch out the duvet for a heavier option because it adapts well for any temperature.
Canadian Down and Feather believes "your bed should be your sanctuary, your refuge, your happy place," and as a homebody who fully subscribes to this notion, I feel that my sleep space has been extremely enhanced by their duvet in all the ways promised. With pillows, mattress toppers, cushions, covers, and cases, in addition to their variety of duvets, I would not be opposed to making my entire bedroom into a Canadian Down and Feather sanctuary.