Why I Love Living in a Cape Cod-Style House — And a Few Reasons I Don't
We
independently
select these products—if you buy from one of our links, we may earn a commission. All prices were accurate at the time of publishing.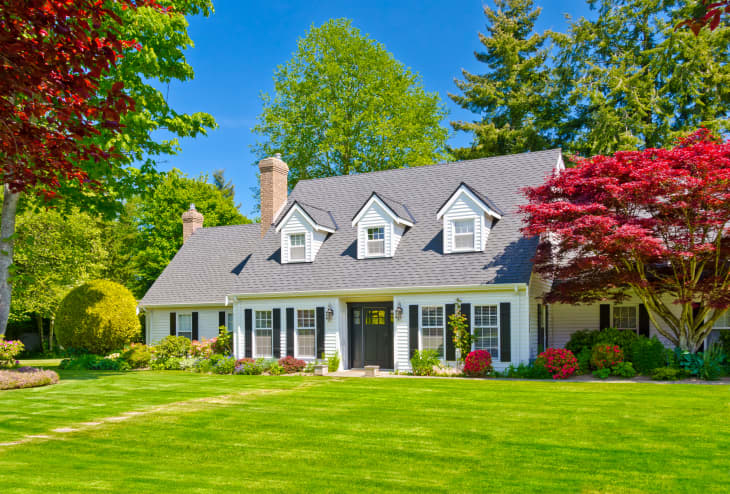 When my husband and I bought our first house together, we were mainly thrilled to be saying goodbye to apartment living. Sure, we had a basic wish list of what we wanted our house to have — a backyard, second bathroom, a finished basement — but as far as what the house actually looked like, we kept an open mind.
So it was a happy turn of events that we ended up buying an adorable Cape Cod in Staten Island, New York. This style of home does indeed get its name from those early 17th-century New England homes with gabled roofs that could stand up to ferocious weather, particularly during the winter.
"Cape-style homes are evocative of a simpler time," says Eugene Colberg, principal of Colberg Architecture. "There is a nostalgia and an ease in the layout, often a small structure with a few rooms and stairs in the middle." 
Yup, sounds like the home of yours truly. Allow me to share with you a few reasons I'm crazy about our Cape.
The Pros of Living in a Cape
A Cape Cod creates instant curb appeal.
I know I'm partial, but I do believe that the classic Cape Cod architecture makes for one of the prettiest homes on any block. The sloping roof is striking, and the front door at the center offers a pleasing symmetry to the exterior. 
Many Cape Cods also feature second-floor dormers — those are the tiny spaces that extrude from the roof. We don't have any dormers, but I covet the look when I see it on other Capes. They might not do much in terms of added square footage, but dormers do add more natural light and create an extra nice aesthetic.
It's the perfect size and layout for my small family.
Our little Cape would likely be described as a "starter home" in listings. It's a term that I actually abhor for its bold assumption about who's living under the roof. And while I don't believe this will be our forever home — another term that I dislike, by the way — I can say that it's the perfect size for me, my husband, and our Labrador Retriever mix. 
Our home is currently a two-bedroom, but there's room on the first floor to create a third bedroom. Between that and our second full bath — which is not always something you see with small Capes — we feel good about our prospects when it comes time to sell.
We've got cold winters here in New York, and though we usually don't get nearly amount of snowfall that our neighbors farther north get, we have been covered in recent seasons. The snow looks rather pretty on our gabled roof, but it usually doesn't stay there for very long — and that's a good thing. Ye old New Englanders were onto something when they made those pitched roofs that make it rather difficult for ice dams to form after a snowfall.
There is one caveat: Storms can be fierce in the Northeast, but when you're on the second floor of a Cape Cod-style home, it sounds like the world is ending. I learned this the hard way during one particularly terrifying thunderstorm. It turns out that when your roof is that much closer to your head, even the soft pitter-patter of rainfall sounds like imminent disaster.
The Cons of Living in a Cape
To be clear, I am grateful for our lovely home. But as a home and real estate writer, I'm not above focusing my critical eye at my own abode. Here are a few things I would share with house hunters looking at Capes.
The second floor is really half a floor.
Cape Cod homes are often billed as one and half stories, and for good reason — our second floor does not have nearly the same amount of square footage as the first floor. Upstairs, we've got two large bedrooms connected by a very short hallway leading past our bathroom.
Then, there's the fact that the bedrooms have sloped ceilings on either side of the room, thanks to our pitched roof. We've set up our furniture just right, but I'll admit to you, dear reader, that I have bumped my head on the ceiling more times than I can count while cleaning or making the bed.
The second floor gets hot in the summer.
As I write this, we've gotten a bit of a break in hot weather this summer — but it's been a doozy with an air conditioning bill to prove it. 
"Cape Cod-style houses situated in warmer climates are difficult to cool during summer as the heat in the attic makes the upper story hot," says Alex Capozzolo, co-founder of Brotherly Love Real Estate, a home buying company in Philadelphia.
We don't have an attic, but we have found our second floor to be quite stifling when the mercury is on the rise. We've found it also gets pretty cold during the winter, but I'd much rather deal with adding a heavier comforter to our bed than keeping the heat on full blast.
Colberg says that a Cape's small and simple floor plan makes it a good jumping-off point for expanding — but there are certain ways to do it if a homeowner wants to keep the distinct Cape style intact.
A renovation plan that would maintain the Cape exterior requires the addition of front dormers in the front or "bump-outs." which are usually in the rear of the home. (There are Capes with bump-outs in the front, though this does alter the look of the home greatly). Our home's bump-out is indeed in the rear of the second floor — it was added to create the second bathroom at some point after the original construction of the home. We're glad the previous owner did that work for us, because having a second full bathroom in a small home can only help us out at resale.
A Home That's Built to Last
Since we don't really need more room, my husband and I are content with making minor interior improvements over time. We are aware that when we sell this house, there is an excellent chance the new owner will do a roof raise and transform our cute little house into something completely different, like a center-hall Colonial. Now that's another lovely style to be sure, but it's not a Cape. 
I can't control what the next owner will have in store for our little Cape, but I'd much rather focus on enjoying our home. This might not be our forever home, but it's a good feeling to know that it can be. "A well-designed Cape Cod-style home can last the average American family for a lifetime," Capozzolo says.