Before & After: An Outdated Captain's Bed Gets a Fresh Update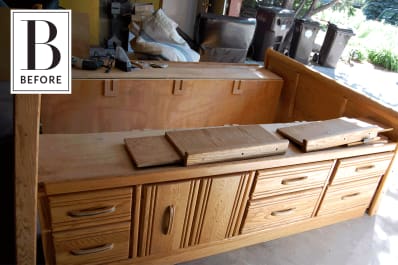 (Image credit: Submitted by Madeleine)
Madeleine needed both storage and a sleeping option in her small mountain bedroom. She figured that a captain's bed would solve both dilemmas and after getting super lucky on Craigslist, set about making her find a little more visually pleasing.
(Image credit: Submitted by Madeleine)
From Madeleine: When we bought a tiny (600-square-foot) condo in the mountains, we needed to furnish it efficiently both in terms of space and cost. The master bedroom was too small for both a queen-size bed and a dresser, so I looked for a captain's bed, with drawers underneath the mattress. I found an ad on Craigslist for a disassembled one with a matching nightstands for $100. It was all solid oak with brass pulls: high quality but woefully dated. But I had a vision.
I usually don't like painted wood, but I'd seen an antique display bed at Crate & Barrel painted in a medium-gloss white and loved its cabin/beach-y look. With not much time and not much to lose, I thought a few coats of paint and some updated wrought iron pulls would be the best way to make the bed and nightstands not only livable, but pretty.
(Image credit: Submitted by Madeleine)
It took two gallons of no-sand primer and two coats of semi-gloss white paint to cover the bed. We live in Colorado so the drying time was fast. I found the pulls online for $4 each.
There were two (minor) setbacks: The wrought iron pulls were not quite the same width as the existing pulls, so I had to drill new holes in every door and drawer front; not a big deal. A bigger deal was the existing bunkie-boards were warped, so I had two pieces of plywood cut at Home Depot to replace them. One was too wide by about 1/4", which I didn't find out until I was assembling it at the condo. Motivated by the desire to sleep in the bed that night and emboldened by a glass of bourbon, I hand-cut the excess away with a 7" handsaw; it took about 45 minutes.
(Image credit: Submitted by Madeleine)
I love everything about the way it worked out. The bed has a solid heft that makes sleeping in it feel especially luxurious and secure, and the white paint lightens and brightens the space it would otherwise look too big for. The drawers are so handy, and offer plenty of storage, even for bulky ski gear. It looks modern and classic at the same time.
Thank you, Madeleine!