Carly & Chip's Resourceful & Refined Home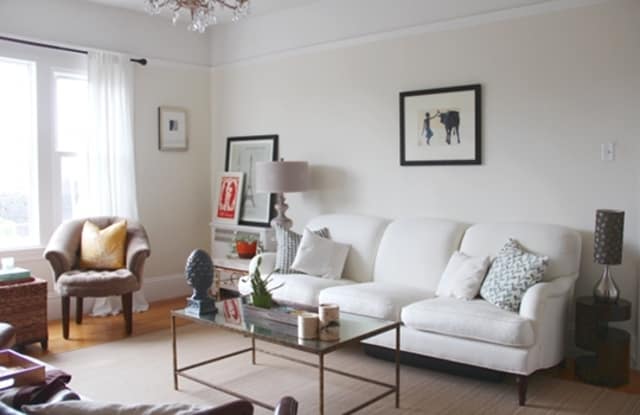 Name: Carly, Chip and their dog Lucy
Location: Pacific Heights — San Francisco, California
Size: 1,200 square feet
Years lived in: 3 — rented
Carly, Chip and Lucy live down the street from Alta Vista Park, in an apartment set on the hillside overlooking San Francisco. On top of their serene location, there is something about this couple's home that draws you in and makes you want to stay. Part of the charm may be contributed to the soothing soundtrack of Chip's record player humming in the background and their adorable pup Lucy, always in the center of the action. All elements factored in, their home embodies the perfect mix of elegant homeyness, with a refreshing style, that's both eclectic and sophisticated.
Carly, the mastermind behind the decor, always has an eye out for furniture and other additions to their home. She has an uncanny ability to uncover items of that are both unique and high-quality, finding furniture everywhere from the street corner, to flea markets, to high-end design stores. With an eye for color, texture and pattern, she has a knack for seamlessly meshing various styles and creating spaces that are both stunning and cohesive. She showed me some of her fabric samples for reupholstering a few of the pieces in the living room and it became apparent that (in addition to her day job as a lawyer) this girl knows what she's doing when it comes to design. Not afraid to test out furniture, move things around and make subtle changes as she goes, her decorating process is a mindful adventure.
The first six months of living in the apartment, Carly and Chip focused on making it beautiful and livable. But now, ready to embrace a few modifications, they've slowly started moving from room to room, making small improvements along the way. The couple have been proactive in dealing with the quirky charm of old San Francisco architecture as well as some of the less appealing aspects of renting. From painting the fireplace to creatively covering cords, they've enhanced their space for the better, with great attention to detail.
Apartment Therapy Survey:
My Style: Chic, timeless and elegant.
Inspiration: Domino
Favorite Element: I enjoy mixing textures, from patterns on chairs, to paintings, to dressers. The combination of all these pieces makes the apartment feel unique and interesting.
Biggest Challenge: Taking different styles and making sure they don't compete with each other.
What Friends Say: When are you moving out? Can you come help me with my apartment? How do you live with a white linen couch and a black short-haired dog?
Biggest Embarrassment: My wedding dress from almost 4 years ago is still hanging in the foyer. Maybe it's time to get that thing boxed up.
Proudest DIY: Redoing the closet doors in my bedroom closet. I had these 70s mirrored sliding doors that made the entire room look outdated. As soon as they came off, the whole room came together.
Biggest Indulgence: Barclay Butera white linen sofa.
Best Advice: Try to focus on one room at a time, otherwise you'll get too overwhelmed.
Dream Sources: Oly studio, Dwell, ABC Carpet, Bungalow Classic in Atlanta, Aria bedding.
Resources of Note:
ENTRY
LIVING ROOM
DINING ROOM
KITCHEN
BEDROOM
BATHROOM
Thanks, Carly and Chip!
Images: Lindsay Tella
• HOUSE TOUR ARCHIVE Check out past house tours here
• Interested in sharing your home with Apartment Therapy? Contact the editors through our House Tour Submission Form.
• Are you a designer/architect/decorator interested in sharing a residential project with Apartment Therapy readers? Contact the editors through our Professional Submission Form.
Originally published 1.31.12 - JL